To provide a more in-depth perspective on development, Bohemia Interactive today released the first of a two-part series of developer diaries about the upcoming Arma 3 Marksmen DLC.

Exploring the new weapons and supporting platform features, in the video. Arma 3's Creative Director Jay Crowe, Project Lead Joris-Jan van 't Land, and Encoding Lead Petr Kolar discuss the vision behind the Marksmen DLC, its development process, and the contribution it makes to the Arma 3 sandbox.

In the next developer diary, members of the Arma 3 development team will discuss the new End Game multiplayer mode, showcase scenarios, firing drills, training courses, as well as the Virtual Garage feature, which will all be shipped alongside the Marksmen DLC.



Arma 3 – Marksmen DLC Developer Diary: Weapons & Platform Features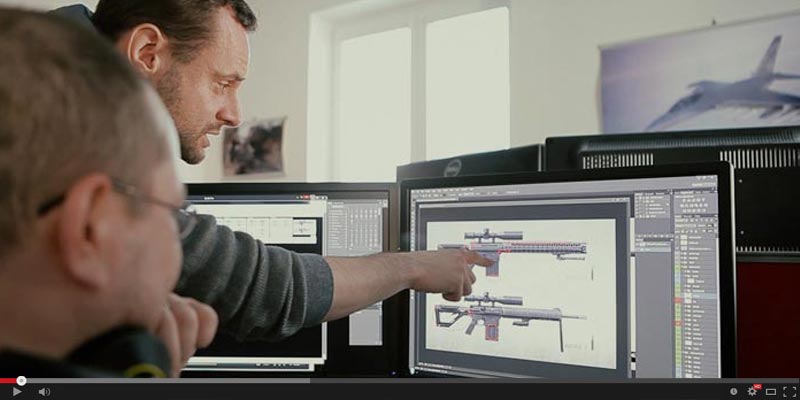 DOWNLOAD VIDEO (MPG)
"This trailer/video may only be displayed if it is behind an age-gate that: (1) is age-neutral (i.e., requires the user to input their date of birth or select it from a drop-down bar; (2) employs reasonable technical measures to keep underage users from re-entering their age after initially being denied access; and (3) does not display any ESRB rating information on the video player or the age-gate itself. Failure to implement these requirements may jeopardize your ability to obtain material of this nature from us in the future."

The Arma 3 Marksmen DLC consists of seven new weapons, two scopes, remote designators, ghillie suits, firing drills, and the Marksmen showcase scenario. The DLC will be accompanied by a major platform update, which will be free for all people who own Arma 3. The supporting update will introduce weapon resting and deployment, improved recoil simulation, improved AI suppression, various sound enhancements, a new multiplayer mode and showcase scenario, suppressor and bipod weapon attachments, heavy and grenadier vests, nine additional face paints, and Virtual Garage. The Marksmen DLC, and the supporting platform update, will be released on April 8th 2015.

More information on the Marksmen DLC, and supporting platform update, can be found here. A more in-depth explanation of Bohemia Interactive's approach to DLC for Arma 3, and how it prevents a split in the game's multiplayer community between those who own DLC and those who do not, is available in a previously released dev blog.

The Arma 3 Marksmen DLC will be available on April 8th for 12.99 EUR/10.99 GBP/15.99 USD on Steam and Store.bistudio.com. People can already purchase the Arma 3 DLC Bundle, which includes the Arma 3 Karts, Arma 3 Helicopters, and the upcoming Marksmen DLC, for 19.99 EUR/16.99 GBP/24.99 USD - saving them more than 25% over buying the DLC piece by piece.

Those who are completely new to Arma 3, but are looking for the complete experience, can now seize a massive discount of 50% on the Arma 3 Extended Edition at Bohemia Interactive's official store. The Extended Edition includes the Arma 3 Digital Deluxe Edition and the Arma 3 DLC Bundle, which already saves people 9.99 EUR/11.99 GBP/14.99 USD over buying the vanilla game and DLC bundle separately. The special offer runs from March 23rd until March 29th.

To enlist for regular Arma 3 service, people can purchase the standard edition of Arma 3, or the Arma 3 Digital Deluxe Edition, from Steam and Store.bistudio.com. Both editions will be available for purchase with a 50% discount later today until March 29th.

For more information about Arma 3, please visit www.arma3.com and/or follow Arma 3 on Facebook, Twitter, and YouTube.
Press assets
Arma 3's press assets are available for download on the Arma 3 Press FTP -
host press.bistudio.com – username arma3press – password e3551cc224
About Arma 3
Arma 3 is a tactical military shooter for Windows PC, which is set in the massive Mediterranean sandbox of Altis (270 km²) and Stratis (20 km²). The game features a diverse range of official and unofficial singleplayer and multiplayer content, which is supported by more than 20 vehicles, 40 weapons, customizable gear, and 5 different factions. An in-game scenario editor enables players to create their own scenarios, which – alongside player-created addons - can be shared via the Arma 3 Steam Workshop. Game modification is also supported. More information about Arma 3 is available at www.arma3.com.
About Bohemia Interactive
Established in 1999 in Prague, Czech Republic, Bohemia Interactive is an independent game development studio which is primarily known for its award-winning mil-sim Arma series, starting with Arma: Cold War Assault. Published in 2001, this debut title became the no. 1 bestselling PC game around the world and has won many international awards. The hugely successful series was followed by Arma 1 and Arma 2 on PC as well as Arma 2: Firing Range on mobile devices, before a standalone PC expansion Operation Arrowhead was released, as well as three DLC which greatly added to the series. The latest installment in the Arma series, Arma 3, pioneered Steam's Early Access form of development, and was successfully released in September 2013. Bohemia Interactive is also the developer of Take On Helicopters, Carrier Command: Gaea Mission and Arma Tactics – a turn-based strategy game for Android, iOS, PC, Linux and Mac. In addition to their ongoing support Arma 3 , the studio is currently working on Take On Mars and the standalone version of DayZ, which are currently both available as Early Access titles on Steam. More information about Bohemia Interactive is available at www.bistudio.com.