Bohemia Recap – April 2022
April Was Nobody's Fool
Welcome back to another edition of the Bohemia Recap!
You'd think with all the great weather we've been having that Bohemians would be slacking off left, right, and center. The exact opposite is true, however, as April was a festive month full of nonstop activity. We had jokes and interviews and updates and live streams; spotlights, competitions, and warm holiday wishes. So ease back and grab a beverage and dive headfirst into the latest headlines and happenings!
Vigor
We started April strong with an April Fool's joke connected to DayZ. We also gave away some Noob Shields to our Outlanders. That was quickly followed by a Double XP Weekend.
Another interesting batch of Vigor Data was shared with the community, and we also introduced them to our Junior Graphic Designer Peter Rajčan.
We wished everyone a Happy Easter and delivered some fresh limited outfits. Our community, in turn, proved that they have a great sense of humor by sending some fresh memes our way.
Our community and fellow Outlanders also enjoyed update 11.2, which introduced a couple of onboarding improvements, as well as fixes, revisited packs, and Legacy Season 7: Mercenaries. You can get the full rundown by reading our blog.
And finally – don't forget to check out our bi-weekly streams! In case you missed any of them, you can always watch the VOD or read the Dev Stream Summary.watch the VOD or read the Dev Stream Summary.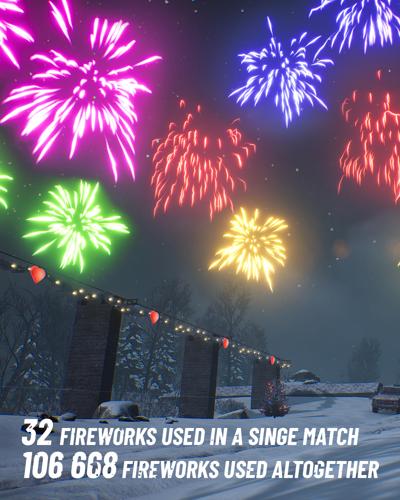 Ylands

Last month was all about update 1.9 – Ocean Odysseys. Ylands' underwater world is now full of life, including fish, glowing corals, and more. Sharks made a comeback too. There are now five different kinds of them, as well as a cool sawfish.
The response to the update has been great, as players have begun adjusting to some of the new gameplay. Oxygen management is one example. Players need to remember that they can't breathe underwater, so they'll have to find the appropriate resources to craft some diving gear. Another example involves ship devices and ship damage. Ship systems are more sophisticated now and can be damaged by other players or by sailing recklessly in shallow waters. New ship devices have been introduced to track this damage, as well as important factors like a ship's speed and the amount of fuel it possesses.
If you have any questions, you should definitely check out this Q&A stream with Nikki and Aleš. Here's more about the update from Project Lead Aleš Ulm: "For a long time, the seas in Ylands have offered bare, empty depths with an uninteresting seabed. Update 1.9 changes that in a big way. Players will now be able to look for resources and enjoy gorgeous underwater life, both harmless and dangerous, while exploring new depths."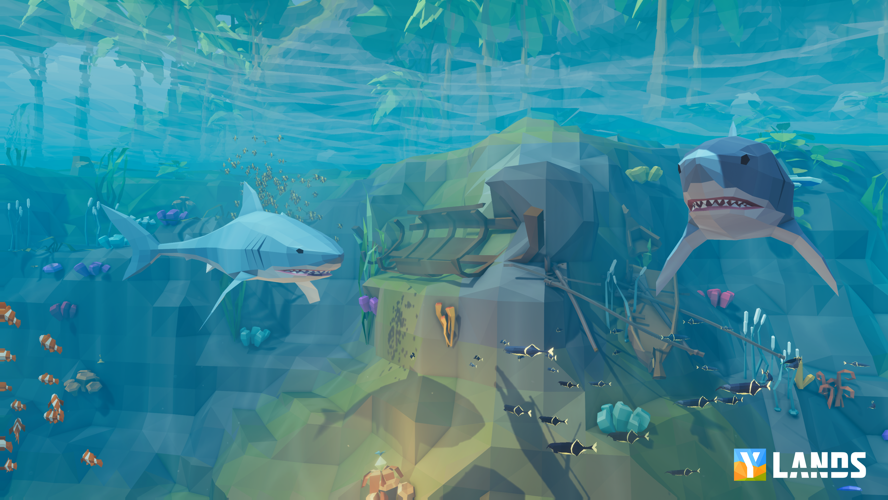 DayZ
We started the month with an April Fool's post that featured a cross-promotion with Vigor. Warm wishes were sent during the Easter holidays, as was the announcement regarding our Community Easter competition winners.
If you're interested in getting to know the DayZ brand better, make sure to listen to our playlist on Spotify. If you'd like to get to know one of our team better, head on over to the latest Meet the Bohemians interview featuring Community Manager Lynn Htun Zaw. And if you'd like to see how creative our thriving community is, have a look at our latest Community Spotlight.
And here's the BI streaming room, we will be taking advantage of soon.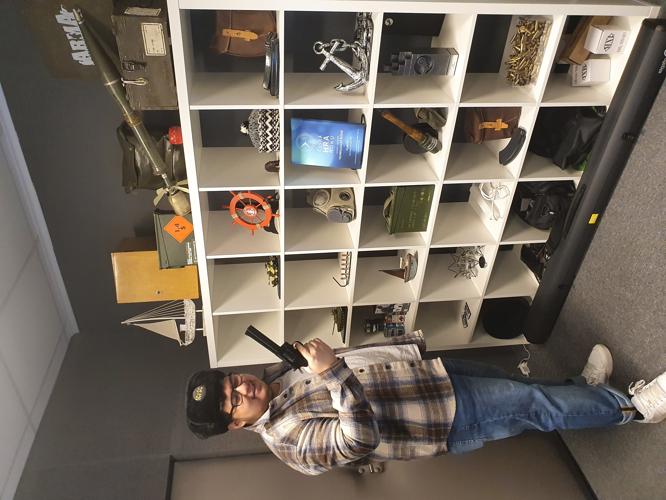 TikTok continues to help spread DayZ to the world. Our #gamingskills campaign broke records with over 140,000 views, and our Walpurgis Night TikTok received plenty of love as well.
As if that wasn't enough, DayZ broke its record of concurrent players with over 58,000 of them, and reached the 14th spot on Steam's most played games list.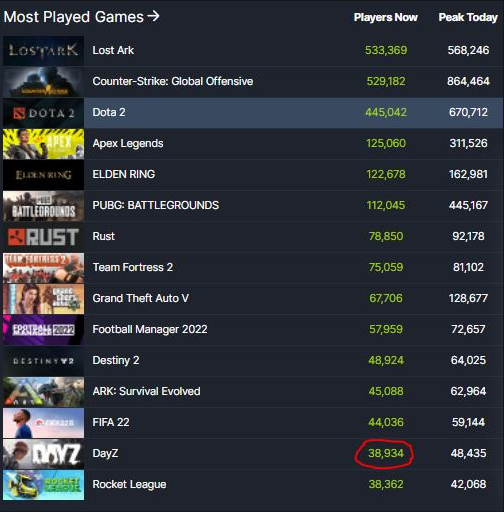 Last but not least, spring update 1.17 is out! It brought back the Longhorn pistol (a fan favorite), and introduced many new additions. Learn all about it via our article and trailer.
Arma 3
In April, we had not one, but two Community Play Session Livestreams!
On April 8th, Community Manager LeClair returned to play with team v. team community Friday Night Fight, this time with their North American playerbase. You can see the action with the Video on Demand here. Check out the Friday Night Fight Discord if you or your community are interested in playing in their weekly events!
On April 23rd, we featured content creator and streamer UselessFodder and the FoddSquad. Playing a custom edition of Liberation on the community map Pulau, LeClair joined the action as an honorary member of JTF-KINGFISHER as they took on the militant Brotherhood of the Red Tiger. If you missed the stream, watch the Video on Demand here. If you like what you see, then join the FoddSquad Discord and become a member of JTF-KINGFISHER.
Finally, we published yet another Community Radar (or COMRAD, as we call them) last month. From artwork to modifications to operations and videos, Issue #26 is filled with splendidtm community content made by the players and communities of Arma 3!
Behind the Scenes
The vast majority of sounds, effects, spoken words, and music are created at our own professional recording studio in Mníšek pod Brdy. If you are interested in music and want to listen to your favorite soundtracks from our games, then head over to our Spotify or Apple Music or just take a look at our short blog post article.
The photos above were taken during separate audio recording sessions under challenging conditions. We believe it's best to record sounds in their original environments for maximum authenticity.
Community Spotlight
This month's Community Spotlight belongs to everyone who took part in DayZ's Easter competition for a chance to win a branded hoodie.
We were truly amazed by the number of submissions we received, and by how creative and adept at painting you all are!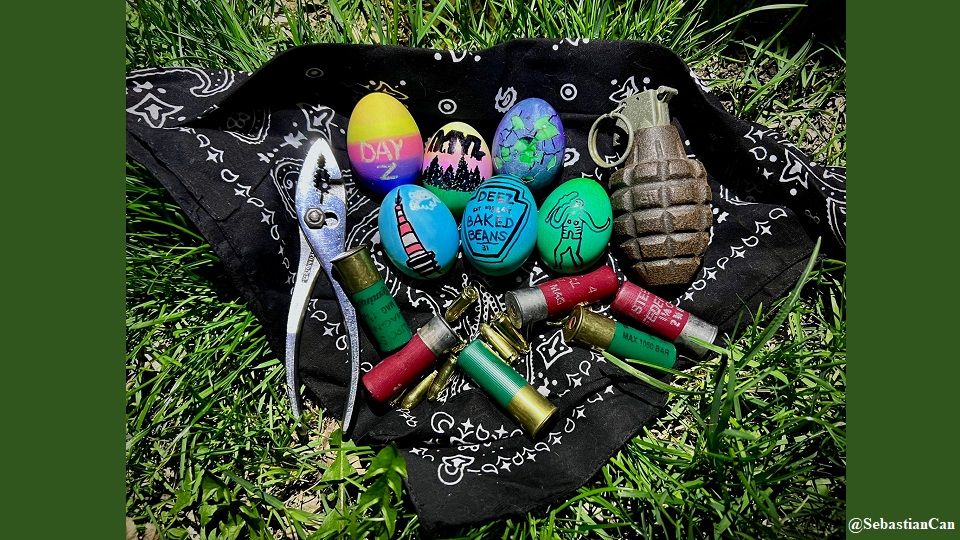 If you'd like to enjoy more awesome content made by the DayZ community, make sure you check out DayZ's Community Spotlight.
Meet the Pet Bohemians
Name: Chester Rick from Lusatian Mountains
Species: Shiba-Inu
Age: 2 months

Team: Vigor
Favorite food: We don't know yet
Toy: Simple rope knot!
Random fact: Chester was named after Chester Bennington - the frontman from Linkin Park.

Become Bohemian
We're always looking for fun and creative people who are passionate about games. Check out the career board below and get in touch if you think you're the right fit.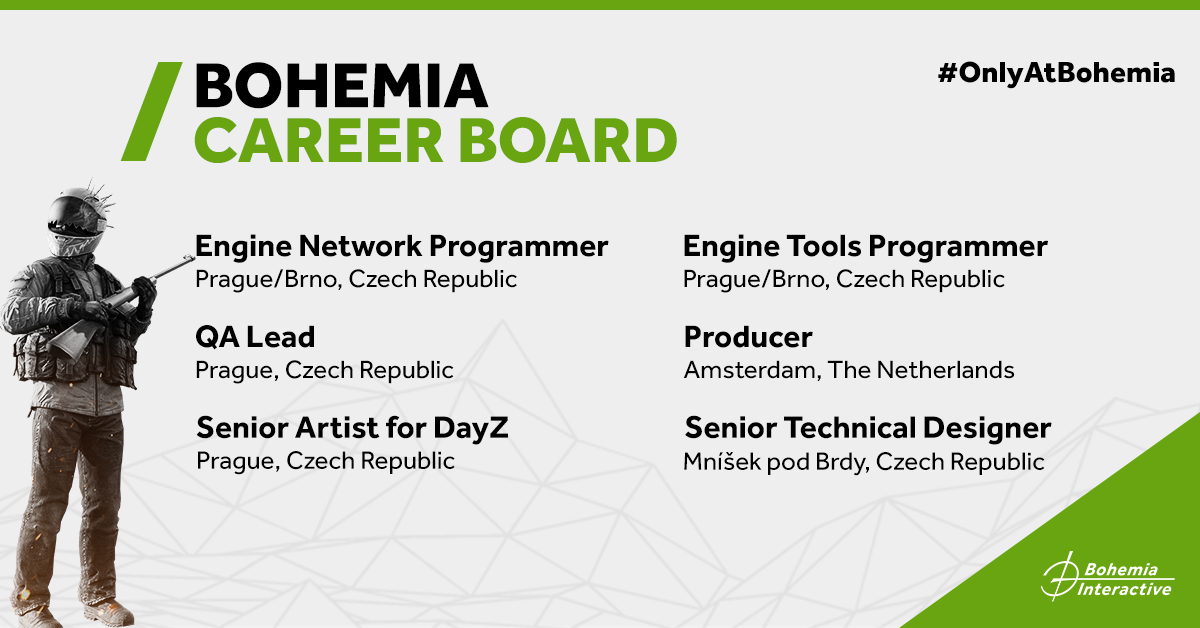 Don't see something that speaks to you? Then head on over to our careers page to see all the positions that are currently open at Bohemia.

What Else?
That's it for April! If you'd like to learn more about Bohemia Interactive, or want to stay updated on all the latest happenings, make sure to follow us on Facebook, Twitter, Instagram, YouTube and LinkedIn.
Until next time, stay safe and game on!