Bohemia Recap – March 2021
Another month is in the books, which means it's once again time for the Bohemia Recap!
We took a trip back to the past, engaged with our communities in fresh new ways, and released a hotfix, update, and experimental build, as well as an open beta on both Android and iOS.
So enough with the intro. Let's dive into March's highlights!
Bohemia Interactive
With so much going in the present and even more to look forward to in the future, we thought it would be a good idea to take a fond look back at some of Bohemia's cherished past. Which is why we released the second installment of our Bohemia Interactive History articles entitled 'Turning Point'.
Not to be outdone, our CEO Marek continued the stroll down memory lane by sharing footage of 'Invasion from Aldebaran', the first commercial game he developed with his brother Ondřej, which was released with the help of our CFO and Bohemia co-founder Slavomír Pavlíček.
Bohemia's Top Tweet in March: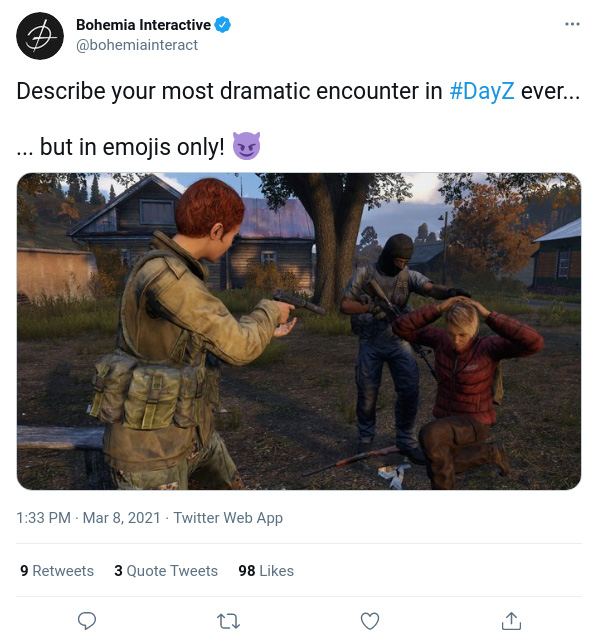 Vigor
We took care of a few issues on PlayStation and released the PlayStation®Plus Get Ready Pack. Another important achievement we accomplished was refocusing the spotlight on our awesome community. One of the ways we did that was by bringing back our popular Community Corner – a fun contest where players share themed screenshots in an effort to win Crowns. We also revived our Vigor team interviews. Shoutout to our Associate Producer Philip Hilal who was our first new subject.
We also hosted a couple of successful Dev Streams and introduced some cool new formats on our social media pages. You can now hunt for new tips on Twitter every week and express your honest opinions in our polls every Monday on Instagram.
Finally, we prolonged Season 7 last month and had another fun Double XP Weekend.
Vigor's Top Tweet in March: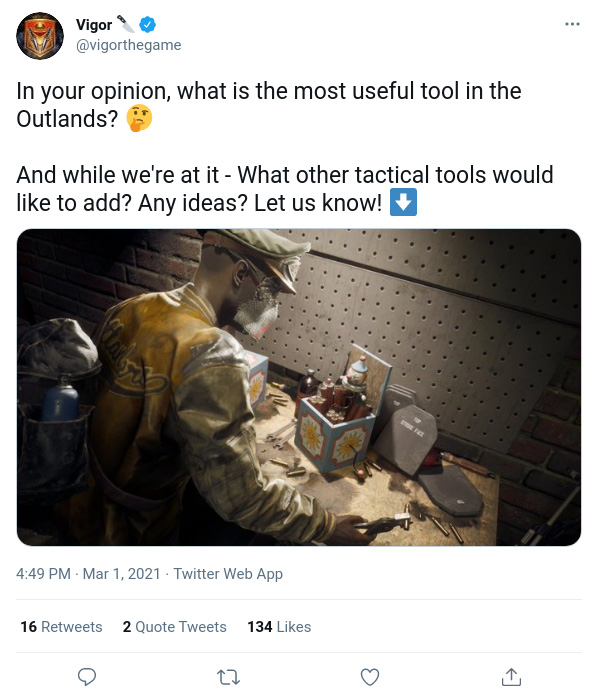 Ylands
We released the Experimental Build for update 1.6, as well as a bunch of information regarding update 1.6, which included details on vendor crafting, importing midi files, and our player reporting tool. After that came the actual release of update 1.6 – Trading Territories. Its biggest feature involves the ability for players to discover handcrafted ylands while exploring their world map. There's plenty more to enjoy with the update, which you can read about here.
Our Creative Director Ales had himself quite the busy month. Here he is on the state of Exploration, the community, and going forward; on Ylands' past, present, and future; and answering community questions on Naru's stream.
Ylands' Top Tweet in March: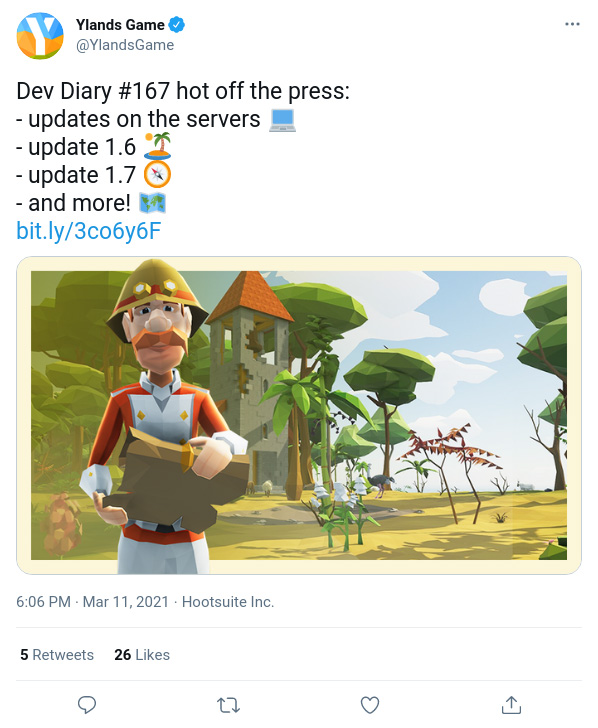 DayZ
There's not a whole lot to report at the moment but we hope to share more with you next month as we move closer towards our new experimental and 1.12 update. In the meantime, however, make sure to check out our informative blog entry DayZ in 2021, as well as our Community Spotlight.
In other news, we're continuing to expand our development team, so if you happen to be interested or know someone who is, do check out our website for available positions.
DayZ's Top Tweet in March: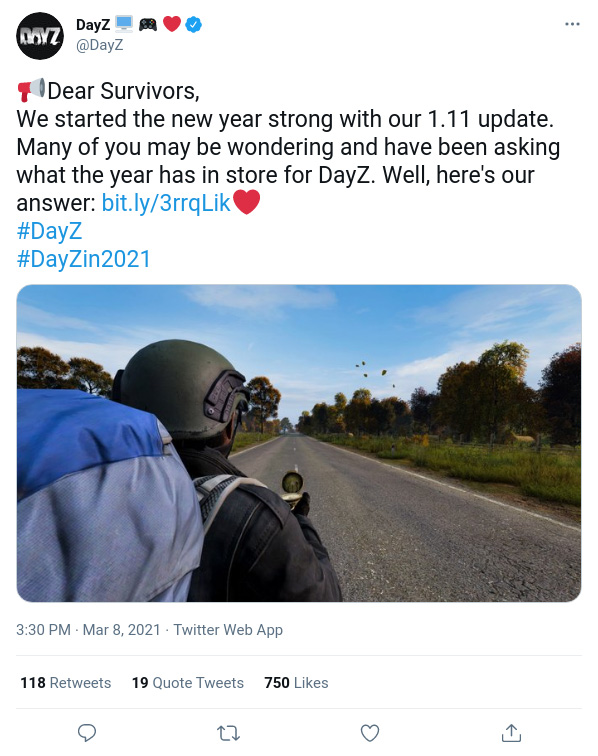 Arma 3
Just a few quick hits from the Armaverse this month.
First up, we released a small hotfix for update 2.02. Next, we released update 1.3 of Arma 3 Creator DLC: Global Mobilization, complete with a wide variety of free new assets. And lastly, our fearless Art of War Designer/Project Lead Scott Alsworth took some time to discuss the finer points of the Arma 3 Art of War Charity Pack in a new Report In dev interview.
Arma 3's Top Tweet in March: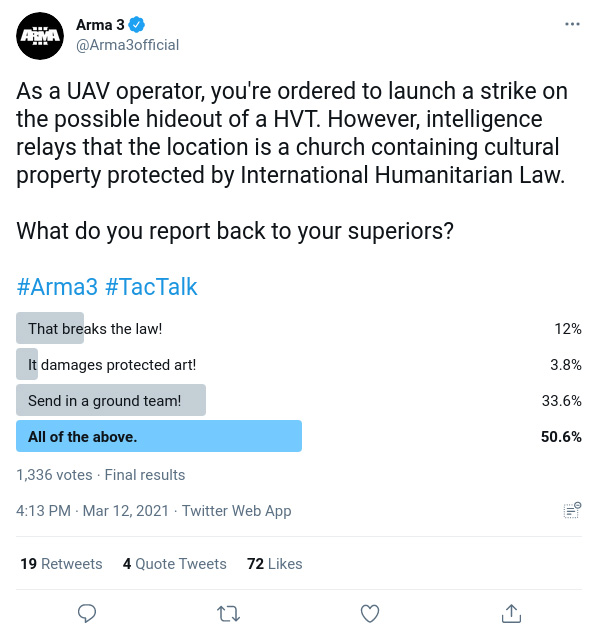 Mini DayZ 2
We released our open beta last month, which means Mini DayZ 2 is now available on both Android and iOS all around the world (excluding China). You can download it directly or read more about the release on our website. If infographics are your thing and you'd like to read about our experiences with the geo-beta release, then make sure to take a look at our blog post.
While the game is still in its early stages, we do have more features planned like adding bandits and a multiplayer option. We're also eager to get as much feedback as we can from our players.
Mini DayZ 2's Top Tweet in March: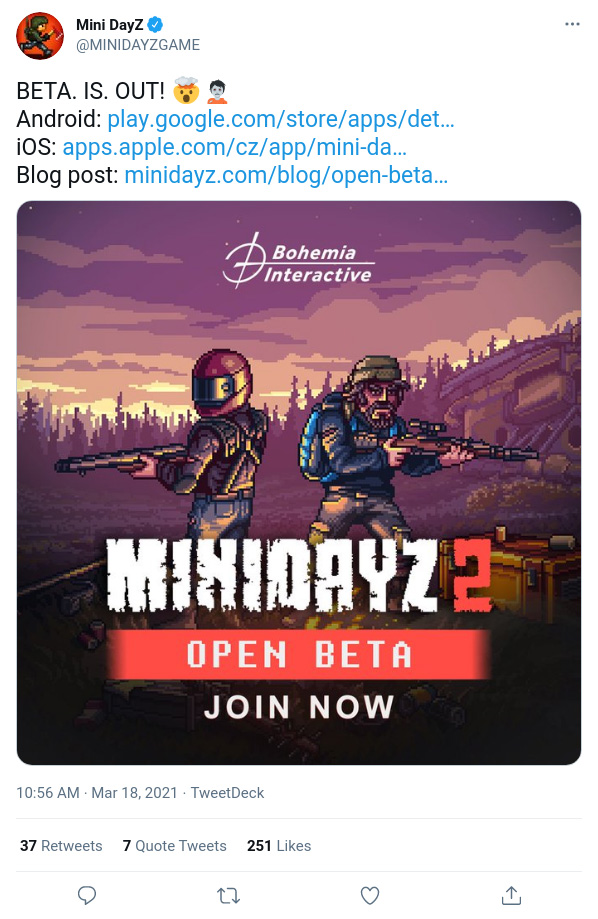 What else?
That's it for this month. If you'd like to learn more, or want to stay updated on all the latest happenings, make sure to follow us on Facebook, Twitter, Instagram, and LinkedIn.
Until next time, stay safe and game on!