Bohemia Recap – September 2020
September was an eventful month here at Bohemia with several important announcements, updates, and releases. To help you get up to speed, we've prepared a quick summary of all our public highlights. Enjoy reading this edition of the Bohemia Recap!
Bohemia Interactive
This month there wasn't much public company news to share. However, if you're interested about life at Bohemia, we did publish another Meet the Bohemians interview with one of our Senior Designers on Ylands, Rudolf Klenovský. He talks about how he got into the games industry, what he does at Bohemia, his approach to game design, and what he likes to do besides work. You can read the full interview on our website!
Bohemia's Top Tweet in September: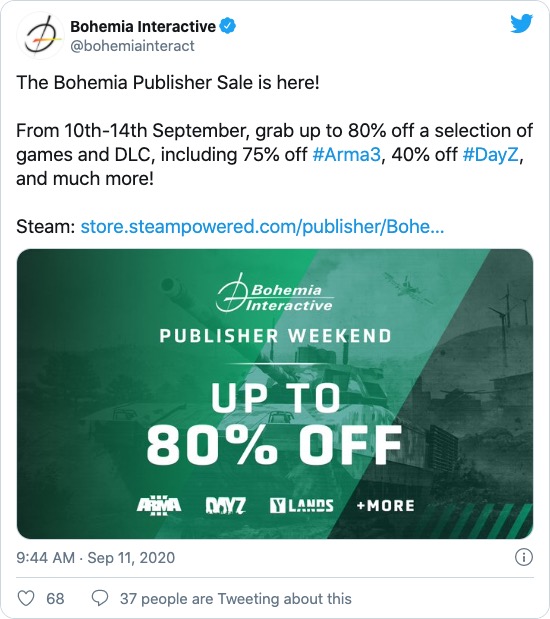 Vigor
September was once again a big month for Vigor. Starting off, we released Season 5: Renegades. This season challenges you to a duel by adding Wild West-themed cosmetic clothing items and weapons. Furthermore, we've made the Sawmill map compatible with the Encounter game mode as well (before it only hosted the Shootout mode), plus implemented a new system for map selection. It's now also possible to head into Encounters as a trio (on top of solo and duo), or as a brave 'lone wolf' against groups and other lone wolves. These are just some of the new additions and improvements. Read the full Season 5 blog on the Vigor website for the complete rundown - and watch the Season 5 trailer and Dev Diary #7 on YouTube.
Earlier this year, in July, we first released Vigor on the Nintendo Switch. Initially, it was only possible to play the game on Switch by purchasing the Founder's Pack. But as of September 23, Vigor has gone fully free-to-play on Nintendo Switch, just like it already was on Xbox One. Start playing now by downloading Vigor for free from the Nintendo eShop. Of course, such a big milestone needed to be celebrated with a slick new trailer, which you can watch on Vigor's YouTube channel (remember to like/subscribe!).
But what about PlayStation? Many of you have been asking us this question on social media. Good news! We'd like to remind everyone that Vigor is indeed coming to PlayStation 4 and PlayStation 5. More information can be found in this blog post.
Lastly, the Vigor team selected the winners of its anniversary contest. In this contest, we asked you to submit any of your creations related to the game, whether it was a video, cosplay, fan art, fan fiction, or something else. Take a look at the top 5 winning entries! Congrats to the victors, and thanks everyone who participated.
Vigor's Top Tweet in September: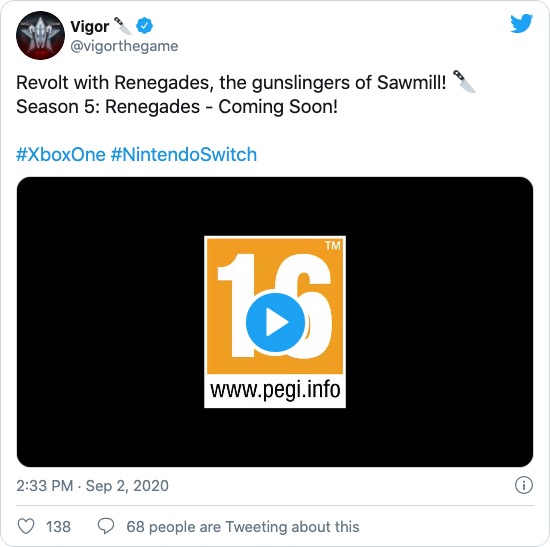 Ylands
Ylands hit one of its most important milestones ever with the release of Update 1.4 "Creators Club"on September 10. Those who join the Creators Club, and have monetized any of their creations in Ylands, can now also apply for the Creators Commission as long as they have enough Coyns to do so. In other words, creators can earn real-life money with their projects, whereas players can support their favorite creators while enjoying more and higher-quality Ylands content. In support of the Creators Club, we also revamped the Ylands Workshop, making it easier to share, find, and play games. For more information about Update 1.4 and the Creators Club, visit the Ylands Creators Club website, and inspect the update changelog on the Ylands forums. But who better than the Major General to fully explain the entire Creators Club concept...
Whereas Update 1.4 represents a big step for Ylands as a game creation and sharing platform, we know that many of you have been disappointed with the lack of attention for the original Exploration game mode. The feedback was heard loud and clear, which is why Project Lead Aleš Ulm shared a Dev Diary to confirm that Exploration will be one of the development team's main areas of focus in the upcoming period. The first changes to Exploration are expected as part of update 1.5.
Before then, the development team will release update 1.4.1, which adds some new, ancient, Egypt-themed content in the form of clothing, weapons, and enemy types.
After such a busy month for our development team, it was all the more satisfying to hear that Ylands had won in two categories of the 2019 Czech Game Awards, namely in the "free-to-play" and "best technology" category. The award show was meant to take place earlier in the year, but was postponed to September due to the corona virus outbreak. You can watch the entire ceremony on YouTube (but be aware that it is in Czech and unfortunately there are no subtitles). Kudos also to our Vigor team for being nominated three times, and shout out to Amanita Design for winning the 2019 GOTY award for their game Pilgrims! All in all, these awards were again an indication of how the Czech game development scene has been flourishing, and we're very grateful for the recognition of our efforts as well.
Ylands' Top Tweet in September: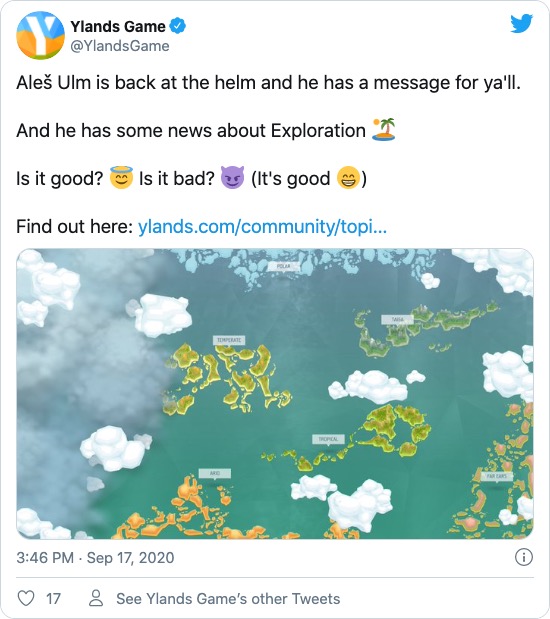 DayZ
Game Update 1.09 for DayZ arrived on PC, Xbox One, and PlayStation 4 on September 8. It brought along many bug fixes, but also new content, balancing tweaks, and a new structure for base building. Specifically, the revolver made its return, and the brand new Deagle pistol was added. In terms of balancing, our developers adjusted the durability of individual firearms and suppressors, and made changes to the central loot economy. Additionally, they've improved several textures of buildings and objects on Chernarus and Livonia. And, last but not least, the new 'flagpole' helps to make base management easier and comes with 27 flag variants. Read the blog post on the DayZ website for more information and check out the 1.09 changelog on the DayZ forums. A teaser video for the update demonstrates that people carrying the revolver or Deagle are not to be messed with!
Ahead of the official 1.09 update release, our DayZ community team organized a base building contest on our PC experimental servers to help test the new flagpole system, and for players to show off their base. Community member Roy Beer took the top spot - check out screenshots of his lovely base in this Tweet. It's the intention to repeat the contest in the future and include console players as well.
About two weeks ago, Project lead Adam Franců was a guest in the 26th episode of the DayZ Podcast. It's a 3-hour conversation about all things DayZ, hosted by Brimstone, Boydy73, BWAF Wiidevil, and ArchieStormcloud. You can listen to it on Spotify, or watch it on YouTube. Enjoy!
DayZ's Top Tweet in September: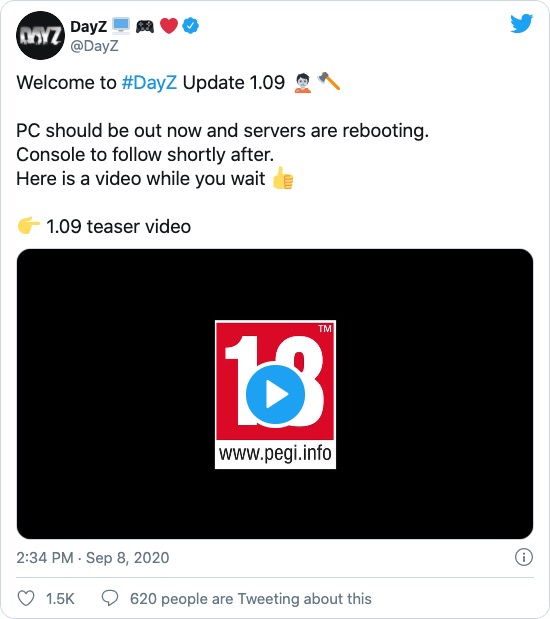 Arma 3
On September 12, we celebrated the 7th anniversary of Arma 3 since version 1.00 was released. Many updates later, we're now close to releasing version 2.00, which will include a bonus firing drill, a black P07 pistol and some arid CTRG gear, and the ability to share Eden Editor compositions on the Steam Workshop. We already published some screenshots of the brand-new firing drill on our social channels, but you can now also go for a test run yourself by switching to Arma 3's RC-branch on Steam. Please do let the development team know your feedback via the Feedback Tracker and/or forums so we can resolve any outstanding issues before the official main branch release.
The biggest Arma 3 news in September, however, was the announcement of the second Arma 3 Creator DLC: CSLA Iron Curtain. Pitched and created by third-party developer CSLA Studio, the CSLA Iron Curtain DLC will take you back to an alternate version of the Cold War in 1980s Czechoslovakia. Right after its announcement, we started a closed beta test for this DLC that will run until the middle of October. The intention is for CLSA Iron Curtain to be officially released later this year. Head over to the Arma 3 website for more details and to see the DLC's first screenshots.
Meanwhile, new activity popped up on our Community Radar. Take a look at #COMRAD number 18 for some of the art, videos, mods, and events that were recently shared or hosted by Arma 3 community members. Additionally, Community Manager Niles "Nillers" George has continued the series of mini-interviews with the diverse set of people that make up Arma 3's community. Check out Community Profile #33 to learn more about PuFu – a Romanian 3D modeler, modder, and member of the RHS total conversion mod team.
Arma 3's Top Tweet in September: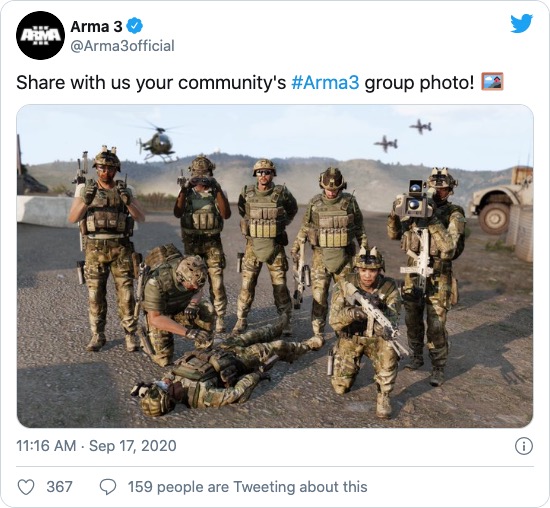 Mini DayZ 2
It's great to see so much support and anticipation for Mini DayZ. The Alpha Gameplay video even reached 100,000 views on YouTube! Since showing the game in motion for the first time, our developers have been making good progress. In their latest "On the Road" developer's blog post, they go over what features are now implemented and what still needs to be done. You can read it on the Mini DayZ website.
Meanwhile, you can also check out teaser screenshots for two new locations coming to Mini DayZ 2: the airport (the largest enterable building in the game) and the shopping mall.
Mini DayZ's Top Tweet in September: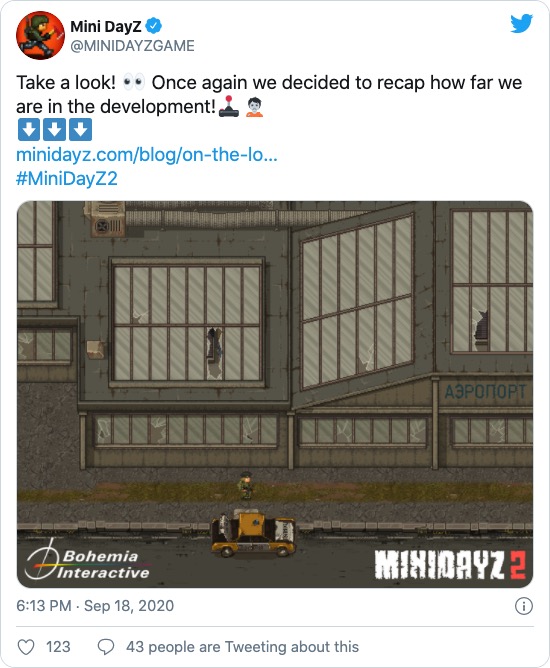 What else?
Searching for a job in the games industry? Look no further! We have openings for 40+ positions covering all types of disciplines. Go to our Careers web page for more information. We look forward to your application.
And that wraps up the Bohemia Recap of September 2020. To stay on top of all the latest Bohemia News, be sure to follow us on Facebook, Twitter, Instagram, and LinkedIn. Wishing you a wonderful day!