Find Fine Friends with Ylands!
Time to get social with new and updated features!
The "Fine Friendships" update concentrates on the social features of the game, making it easier than ever to find friends and play games with them.
Let us walk you through the biggest and best features with our developer diary: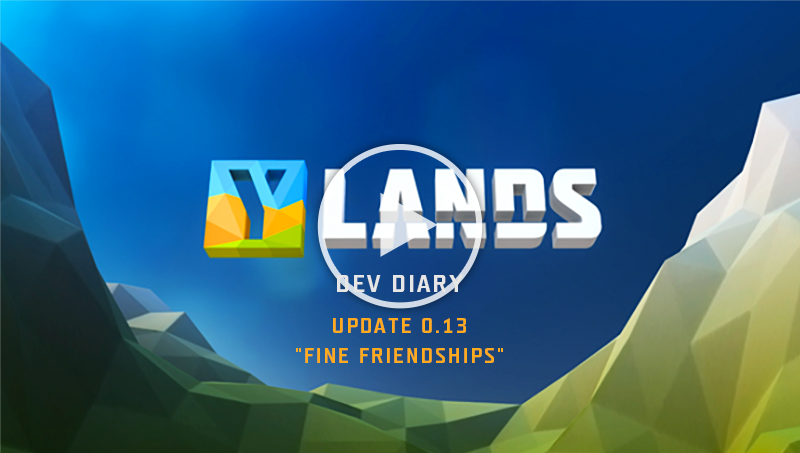 The biggest changes and additions of update 0.13 – Fine Friendships:
Friends list - this new feature will let you maintain a list of friends, see what games they are playing, and join them or invite them to your own
Clans system - the first iteration of this new system will let players form clans for easier communication and organisation
New chat system - with the new and updated chat system (including color-coded channels) players will now be able to chat not just within the game but in the main menu or even in the Editor
New terrain generation - we have significantly improved terrain generation, for more exciting landscapes with more unique terrain variations – for both surface biomes and the underground cave systems
Advanced object grouping - creators will now be able to organize objects into a parent-child hierarchy, enabling a new layer of control over objects, ultimately allowing the creation and easy-management of complex creations and contraptions
Dynamic object groups - a new solution making it simple to move and rotate objects over time and with a specific speed – invaluable for creators
And, of course, the update comes with lots of bug fixes, improvements, and optimizations. You can read the full release notes on the Ylands website.
We recommend those who would like to keep track of all the latest news follow Ylands on Steam, Facebook, Twitter, and YouTube. The development team also posts behind-the-scenes dev diaries and sneak peek dev blogs on the Ylands forum to talk about new game features in greater detail.
Until next time, stay classy!
The Ylands team