Hey Miro! Can you introduce yourself...
Hi I'm Miro, I've been working at Bohemia since 2007, where I worked on creating virtual landscapes for Arma 2 and Take on Helicopters. After that I went to Bohemia Interactive Simulations for 4 years, where I continued to develop/create virtual landscapes. And then after returning, I worked as a Senior Technical Artist for 6 years and I'm at the River branch.
What do you do as a Senior Technical Artist?
For the last 2 years I've been writing addons for Blender, which will be part of the community tools for the Enfusion Engine.
Before that I was doing R&D in Houdini and helping the Enfusion team with developing tools for the World Editor.
What is the most exciting part of your job?
For me as a Tools developer the most motivating moment is when an end user says that the tool helps to increase their productivity. As I'm learning new stuff almost every day I also enjoy those 'aha moments'.

What does your usual day look like?
Currently, it's mostly about scripting in Python, making cool prototypes, doing R&D a.k.a breaking Blender, mixed with sipping a Latte or Tea and listening to suitable music.
How does one becomes a Technical Artist?
It's definitely some curiosity in the beginning, trying to understand how things work under the hood. Having the basics of computer graphics, then from the higher skills, it's knowledge of a scripting language like Python so that you can automate tasks. And if your responsibility is tools scripting then definitely listening to artists and their needs to make their job easier or faster. And nowadays the trend is to have knowledge of procedural non-destructive modeling as well.
What's your best experience at Bohemia?
I'd say releasing the first game I ever worked on, Arma2. I remember people fixing stuff right down to the last minute possible until someone said "... ok we have to burn it to DVD...". A few days later, the first reactions from the players started coming in and it was a great feeling that all the hard work was worth it.
Can you tell us a random fact about yourself?
If I didn't end up in the gaming industry then second on my list is the music industry. Listening to or making music is part of my life.
What's your favorite movie, TV show, and/or book?
I don't really have a fav movie, I like to return to the Black Books/Flight of the Conchords series though. Recently I enjoyed listening to the audiobook Why we sleep by Matthew Walker.
And your go-to music playlist is...?
From jazz, classical music, art-rock, synth to pop, rock, metal, grunge... Looking at my recent playlist this is what's massaging my ear drums...
Cats or dogs?
Both
Let's move back to the video games topic. What was your first positive interaction with video games that you can remember?
Playing all of those great DOS games with friends in the early 90's.

Who's your all-time favorite video game character, and why?
Garrett the Master Thief. Great voice and good sense of humor. - "A secret room... always my favorite room in a house"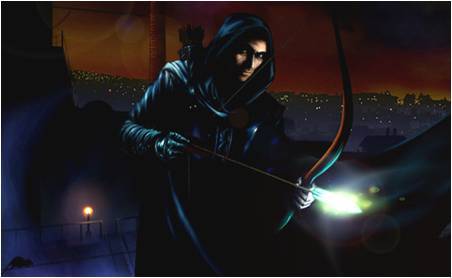 What's your all-time favorite video game? And what sort of game do you like to play generally?
I'd say the Thief/Hitman/Dishonored series are the best. Great stealth actions, I like that in the majority of cases I don't have to kill anyone. I'd really love to have a chance to play them in VR one time.
I also like to play open world games with believable environments, sometimes I just enjoy roaming around environments like in Arma or the FarCry series, I guess I spent half the time "in the air" while enjoying the beautiful tropical island of Medici in Just Cause 3 using the combination of grappling hook + wingsuit.
I enjoy puzzle games like Portal (some community made levels are pretty challenging) or The Witness too, and last but not least adventure games, from the recently released to good old ones, especially the Czech ones.
Which game has had the biggest influence on you during your life?
I think I can answer this question from a bit of a different perspective. I don't remember that there was a particular game which would have influenced my life at a younger age, but for the last, almost 15 years, it's definitely the Arma series or in other words the fact that I got the chance to work at Bohemia Interactive/Bohemia Interactive Simulations.
In all of those years I've worked with lots of great people who've had an influence either on my professional career or even personal life. There's been ups and downs, lessons learned, moments of joy and I'm grateful for it.
Also the fact that the Arma series (and other BI games) are based around a strong community of modders had its impact on me through the years, not only because I built up nice friendships with some of the community members, but it also helped me find myself as a person who can help the community. It all started with scripting a Blender addon in my free time to help make virtual landscapes called bLandscapeTools (also used during Arma/DayZ development) and ended up scripting yet another Blender addon, a tools suite for Enfusion engine, as a full time job.
In what game have you logged the most hours?

Probably Thief, Portal and Just Cause 2/3.
What advice would you give to people seeking a job in the gaming industry?

Apart from such skills as programming or knowledge of 3D modeling software, it's definitely the curiosity, not to give up at the first sign of failure. Being proactive and always improving and learning new things.
Is there anything else you're currently working on in your spare time?
I've recently started to be more active on social media, sharing some R&D stuff and making tutorials for Blender, you're more than welcome to follow me at Youtube or Twitter.
Our next featured Bohemian is right around the corner, so keep an eye on our social media pages for the latest updates. Until then, feel free to learn more about working at Bohemia Interactive by checking out our Careers Page. We may just have the perfect job for you. Until next time...