Vigor - Build It, Spend It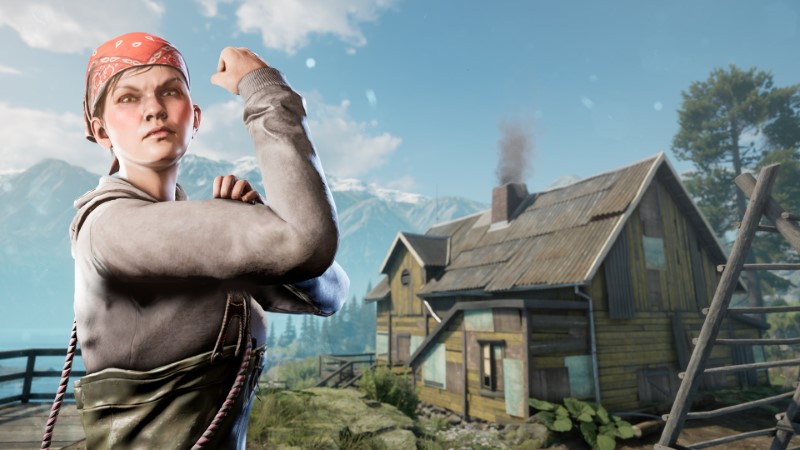 Hei, Outlanders!
It's a new day in post-war Norway, and we have some more updates for you. Releasing Vigor into Game Preview was always something we wanted to do, as we are fully aware of the many benefits that come with involving the community in a game's development. Early access allows players to test the game and provide consistent and constructive feedback (we touched on this in our last article), which helps us shape the experience and create a better final product that will be released in Summer 2019. But both playing a game and providing feedback – even when enjoyable – takes time and effort, and losing the progress you've worked hard for is never a pleasant feeling, and one we desperately wanted to avoid provoking at any cost. However, the possibility of core structural change was always looming and has now become an inevitable part of Vigor's future.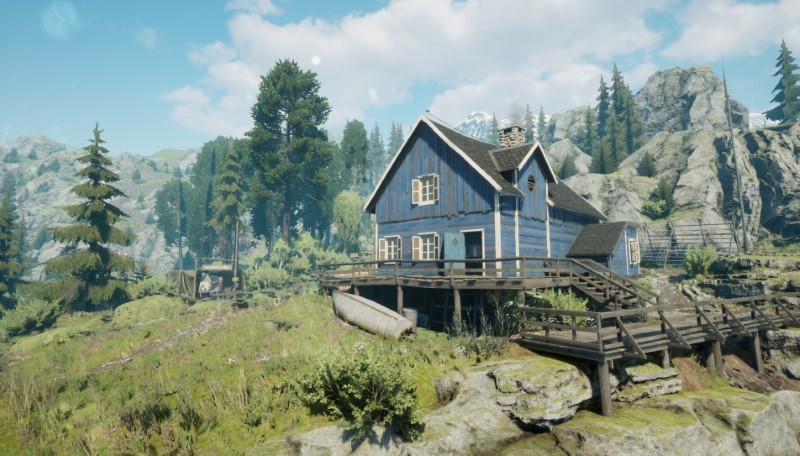 Progress Wipe
One of the most common questions we receive is about the persistent progress of the Shelter, and what will happen once the game releases as a Free-to-Play. Many of you will remember Update 0.6, where we had to wipe progress and start anew – this was unfortunate, but necessary. Wanting to avoid wiping progress wherever we can, we carefully considered our available options. In the end, we decided that we would try to keep as much progress as possible – or, at least the sense of progress – while we clean our databases. As there are many changes planned that affect how the core structure of the Shelter works, we won't be able to keep the improvements nor the crafting capabilities. Therefore, we have chosen a solution that suitably rewards all the Game Preview players for their dedication to the game.
In response to wiping progress, we will give Game Preview players a selection of the best rewards Vigor has to offer: the airdrop crates. Players will receive a number of crates reflecting their Shelter level and the amount of improvements they've made at the time of the restart. The resources, blueprints, and customizations should make rebuilding the Shelter much easier, while the weapons awarded should provide dedicated players with a head-start. We are also considering "wiping" the progression slightly before the actual Free-to-Play release. This depends mainly on your feedback, so please let us know what you think about the rewards. We hope this makes up for the loss of progress many of you will face and, on the contrary, we believe this will actually make the beginning of your playthrough a much more enjoyable experience. However, if you do have any questions or concerns regarding any of the above, please, as we said, let us know – we're listening.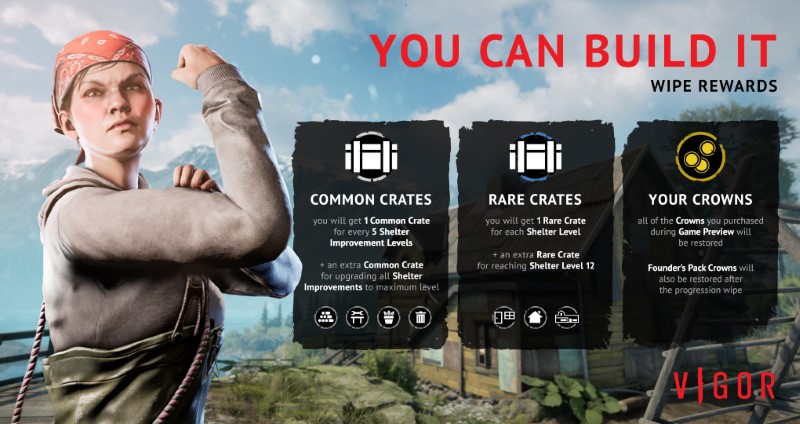 We'd also like to shine a light on the current and future state of Crowns. Vigor will be released as a Free-to-Play title and, therefore, the in-game currency of Crowns will be an important part of how we monetize the game. Purchasing and spending this currency will be completely optional, and won't alter the core experience. There will be no pay-to-win and we will ensure that no one will gain a tactical advantage over other players by spending money.
Game Preview Crowns
As the Free-to-Play release is approaching, we will soon add more ways for you to spend your Crowns. As many of you already know, the first available option, called "Boosters", was introduced in Update 0.8. These allow players to alter the Encounter for everyone involved by increasing both the amount of loot and the quality of airdrop crates. We are, of course, well-aware that this is highly experimental and we are happy to hear any feedback.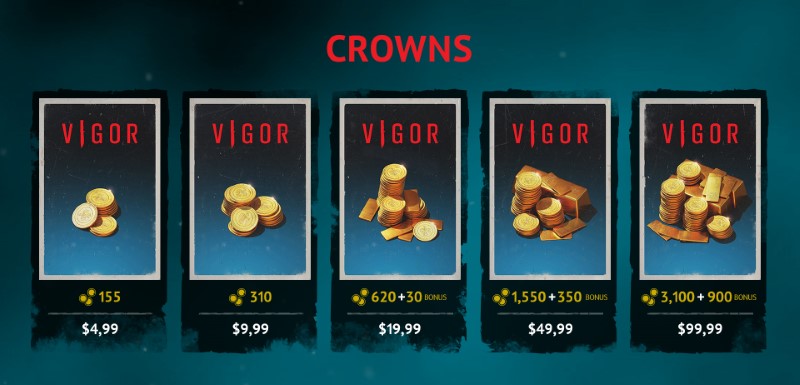 As mentioned above, more ways to spend your hard-earned Crowns will come soon – for example, we would like to diversify how players can distinguish and express themselves in-game. But even though we plan to add more ways to spend Crowns, we will always ensure that we steer well clear of any paid-for content that affects an individual's performance within the game. Paying to gain an advantage over others is not our thing, and we plan to keep it that way. Additionally, even though Crowns are now only available in airdrops and the in-game store, we will add more ways for players to obtain them.
Currently, players can purchase Crowns in-game or from the Microsoft Store. To get to the store, switch UI screens while in the Shelter or interact with the stack of magazines (also in the Shelter). At the moment, there are 5 different packs of Crowns available to buy.
Is there anything else I can buy with Crowns?
For now, no. There will, however, be more items to purchase in the future. We decided to implement this particular system before the full release of the game to test it out, see how it works, and gather as much feedback as possible.
What about my Founder's Pack Crowns?
Each player has already received their 1400 Crowns (from their Founder's Pack purchase) – along with 100 Crowns for completing the tutorial – as soon as they downloaded our new Update 0.8.
With the full release of the game there is supposed to be a wipe of progression. What will happen with the crowns I have spent? Why should I spend them now, when my progression is about to get wiped?
Do not worry, Outlanders! All of the Crowns you have spent and/or purchased will be returned to you after the full release of the game! Thanks to that, we highly encourage you to try them out now. This way you will be able to test which Boosters are the most helpful for you, and also provide us with the valuable feedback we need to improve and polish the system.
In my last Encounter with paid Boosters I, unfortunately, experienced a server crash. What about my Crowns?
We try to prevent these issues as much as possible. However, if a server crash does occur, your Crowns will be automatically returned to you a few minutes after this unfortunate event.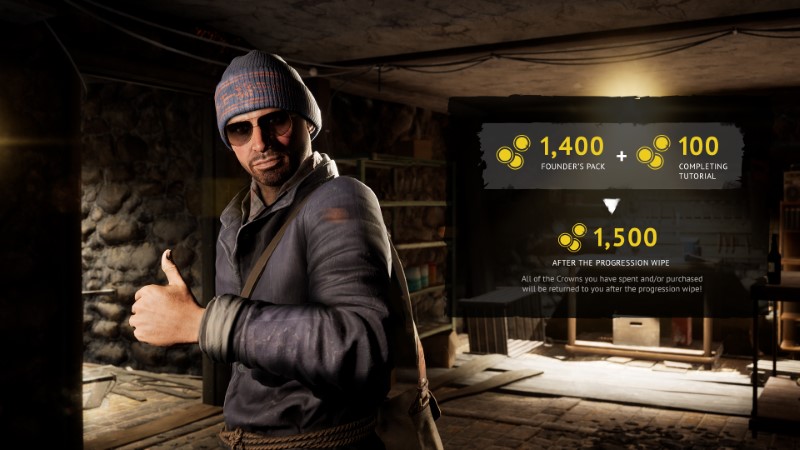 We'll let you know when we have more information about Crowns and the additional ways to spend them. In the meantime, please experiment with the currency and provide any feedback you can. If you have an idea of what you'd like to see added to the game, feel free to voice your thoughts – as always, we're listening. And remember to stay up-to-date with the latest news, info, and community content by following us on Facebook and Twitter.
Vi sees, Outlanders!