Bohemia Interactive gears up for E3 2015
Bohemia Interactive is excited to announce its participation as official sponsor in the PC Gaming Show (Powered by PC Gamer), the first event dedicated to the PC platform in the history of E3. In celebration of the golden age of PC gaming, the show will include exclusive reveals, as well as fresh industry perspectives from key PC developers.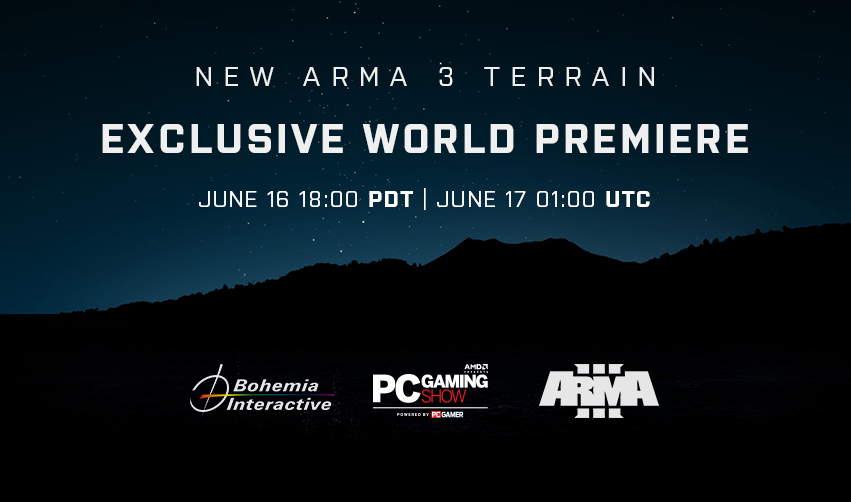 Starting the countdown today, one of the things people can look forward to is the much-anticipated exclusive world premiere of Arma 3's new terrain, which will debut as part of a major expansion coming in 2016. With this expansion, the Arma 3 development team aims to deliver a completely fresh experience, featuring a new large-scale terrain, military vehicles, weapons, gear, characters, scenarios, and more. In addition, Bohemia Interactive's Early Access titles, DayZ - the open-world survival horror hybrid-MMO game created by Dean Hall - and the studio's space exploration game, Take On Mars, are also scheduled to appear on the show.
"Following in the footsteps of Chernarus and Altis, the new Arma 3 terrain is already shaping up to become one of the most compelling destinations in the series, and we can't wait to show it for the very first time at E3", said Bohemia Interactive's CEO Marek Spanel. "Meanwhile, we also have exciting news to share about DayZ and Take On Mars, which - with the great support and patience from our players - are both working towards their next milestone in Early Access development."
The PC Gaming Show will take place on June 16, from 6PM – 8PM PDT (Wednesday, June 17, 01:00 – 03:00 UTC), at the Belasco Theater in Los Angeles, and will be livestreamed on Twitch. Find out more at www.pcgamingshow.com.