Bohemia Interactive sales reaching 68 million USD in 2019
2019 was the busiest year in our 20-year history regarding the sheer number of games and DLC released, so it's no surprise to see it was one of our most successful. Last year saw overall sales reach 68 million USD, with a total of 4.5 million copies of Bohemia Interactive games and DLCs sold worldwide.
"2019 was successful due to years of demanding development of our games and DLCs for PC and console. Thanks to the dedication and commitment of our colleagues we were able to release more game titles in one year than ever before. This reflects in the excellent results which will help us in upcoming years to develop new game experiences." says Marek Španěl, CEO of Bohemia Interactive, about the results of 2019.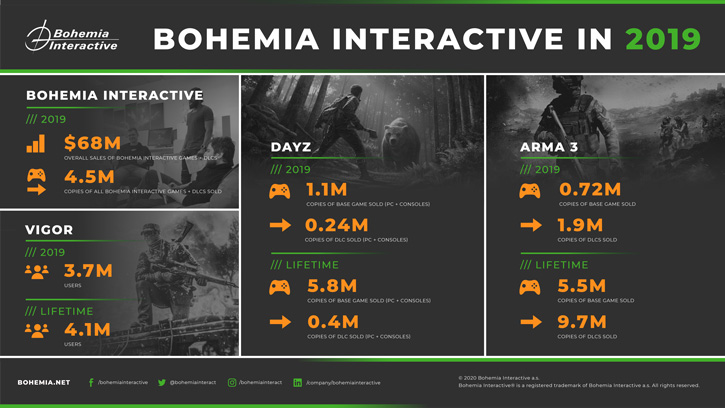 DayZ – a big success bolstered by console releases
The sales highlight of 2019 was online survival game DayZ
(dayz.com)
, which built upon the PC version's success by releasing on PlayStation 4 and Xbox One. During the year, copies of the base game alone sold over
1.1 million
and have boosted lifetime units of DayZ (and its DLC) to more than
5.8 million sales
. The Livonia DLC received a positive response from the community and currently stands at around
400 thousand
copies sold.
Arma 3 – still going strong after 6 years
The continued popularity of long-standing military franchise Arma
(arma3.com)
also reinforced the year's success. During 2019, copies of Arma 3 – among with its various DLCs – topped
2.6 million units sold
. Showcasing the series' enduring relevance, and bringing the number of lifetime base game sales to over
5.5 million
and DLC sales up to 9.7 million.
Vigor – experienced by 4 million+ players
After a year of being in the Game Preview program, the Xbox One exclusive free-to-play loot 'n' shooter, Vigor
(vigorgame.com)
, was released. The nontraditional game based in post-war Norway caught the eye of many international players with its distinctive genre and style. Before releasing as a free-to-play, the game was played by 700 thousand players. Now, more than
4 million
have jumped in to play, with numbers continuing to rise – mainly thanks to the steady stream of feedback from the community, which helps shape upcoming content for the game.
Ylands – is now free for PC and mobile
Another game which left its Early Access version is Ylands
(ylands.com)
, a creative platform for PC and mobile phones. This year, the game will have a few main updates. General polishing and feature progression remain an ongoing development, and a lot of exciting additions – which will unleash Ylands' full potential – are on the horizon.
Bohemia Interactive and its new technology
By the end of 2019, Bohemia Interactive celebrated its 20th birthday in the best possible way: successfully finishing all titles that were in development (along with excellent sales). The year 2020 will be a revolutionary year for Bohemia Interactive and its games – Bohemia will introduce their new technology called Enfusion, which will be the core for Bohemia's future games.
About Bohemia Interactive
Bohemia Interactive, founded in 1999, is the biggest game development studio in the Czech Republic and has built up a diverse portfolio of products over the years, such as the popular Arma series for PC, groundbreaking online survival DayZ for PC and consoles, creative platform Ylands on PC and mobile phones, and free-to-play title Vigor for Xbox One. Bohemia Interactive's games are based on close- and long-term collaboration with the community. Bohemia comes with long-lasting game developer support and innovative solutions in the development and release of new titles. Bohemia Interactive is a member of the Czech Game Developers Association and actively participates in the development and improvement of conditions for game development in the Czech Republic.