Bohemia Recap – April 2023
Spring is the season of rebirth and new beginnings. How fitting then that April saw us announce a new game and return to the field of publishing. We also held live streams and celebrated anniversaries, showcased a bunch of community content and introduced some cool new merch. And if that wasn't enough, one of our core games received its biggest update since the day it was released. There's plenty to get to this time around, so enough with the preamble - let's dive right in!
Vigor
Vigor was pretty chill in April. Outlanders enjoyed another Double XP Weekend, a bunch of dev streams, and a regular dose of Community Corners. All of the submissions we received were really fun and we want to thank everyone who participates regularly.
We released a hotfix for our Vote to Kick system, which smoothed out the process and made it fairer. The system focuses solely now on players who are AFK, so other players shouldn't be able to exploit it.
In other news, we celebrated Easter and National Beer Day with our Outlanders who were able to pick up some cool cosmetics and celebrate in style. We also provided the community with an insight into our statistics and encouraged players to share their valuable feedback related to the latest lore cassettes.
See you in the Outlands!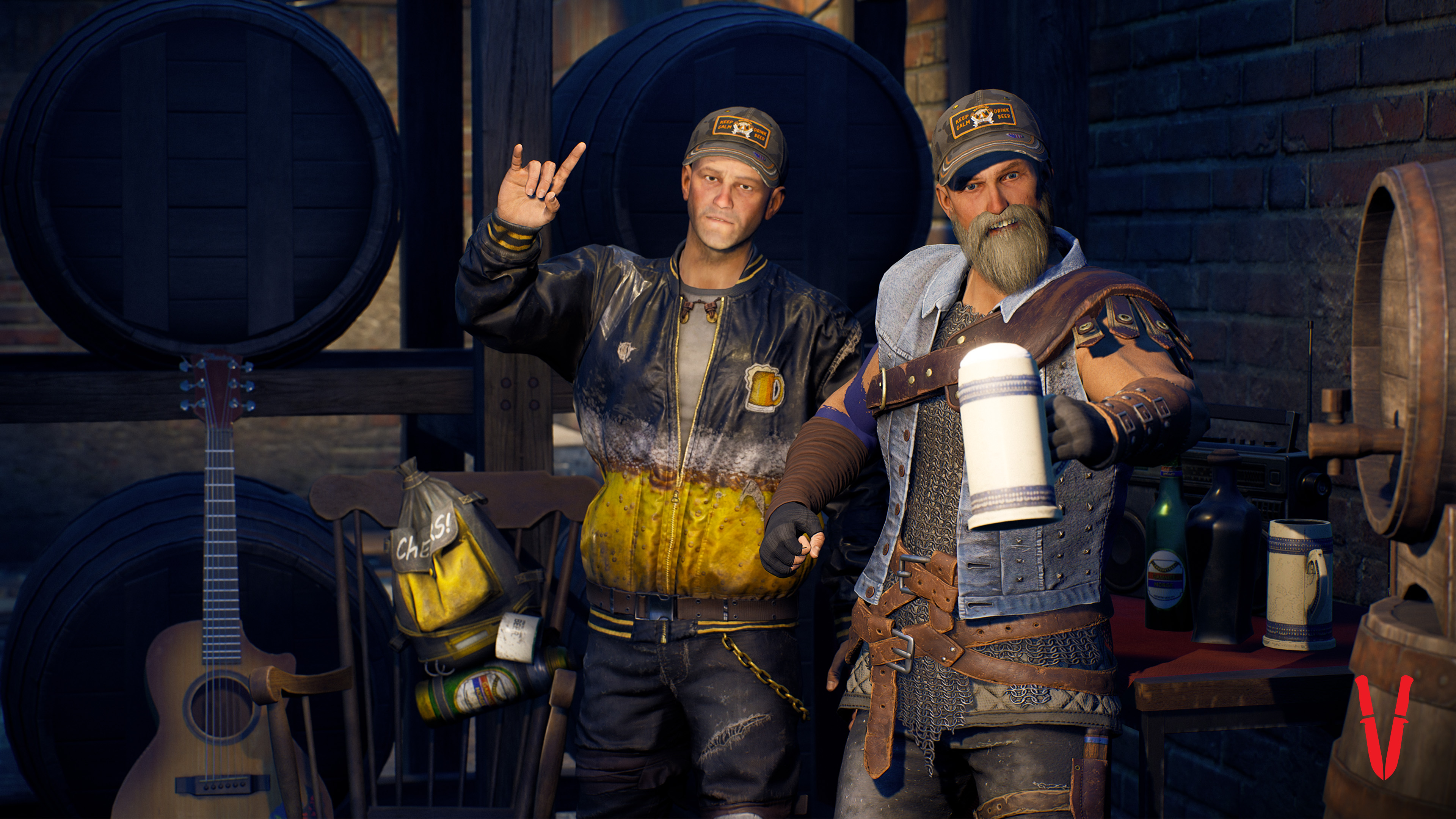 Ylands
A new era of Ylands has arrived with Update 2.0: Adventure Awaits. It's the game's biggest update since its original release and the culmination of two and a half years of hard work and determination. The update includes lore and story aspects like the Adventurer's Handbook, as well as a ton of new features. Read all about it in our Dev Diaries!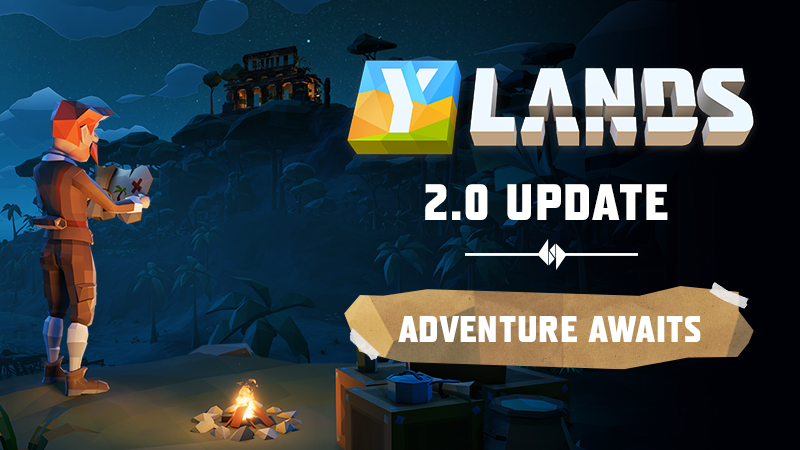 The game isn't the only thing we updated. Ylands' visual identity has been refreshed as well, which you can see throughout our social media channels and on our brand new Steam page. There's also a new trailer that's making the rounds, so make sure to have a look when you get the chance.
The update has naturally caught the attention of several PR portals like IGN and Vortex, the latter of which conducted an interview with Ylands' Project Lead Aleš. The update has also inspired a number of great gameplay videos like this one. We're busy putting out our own streams and gameplay vids as well, along with tutorials which we'll be releasing on our YouTube channel.
DayZ
Our contribution to April Fool's Day came in the form of JetZ. This was a great opportunity to have some fun with the community, as well as collaborate with a small group of influencers, who helped build hype as we approached April 1st by releasing staged snippets of information to unsuspecting fans of the game. Needless to say, we all had a laugh.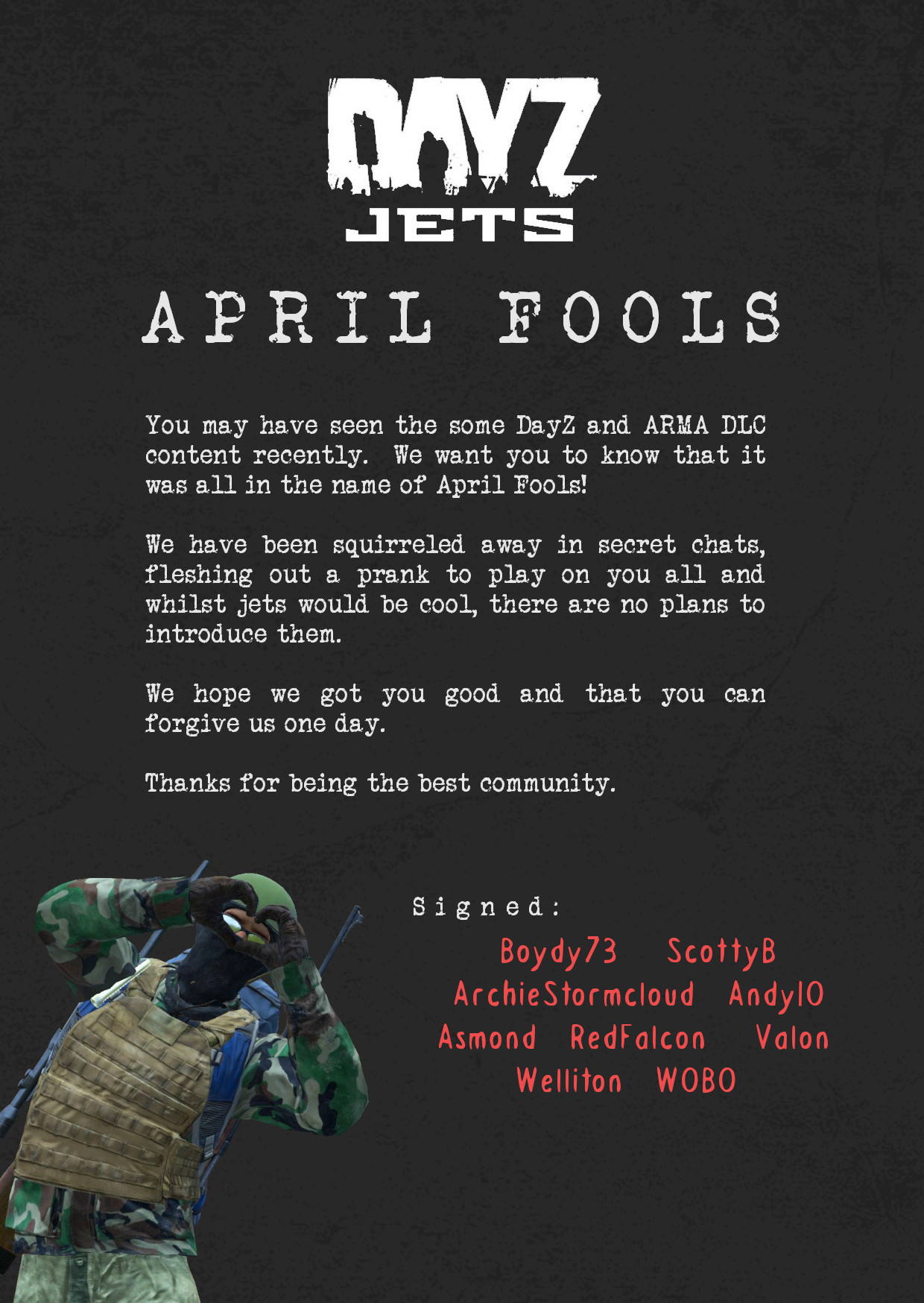 There's new and returning DayZ merch to be found in the Bohemia Store! Back again is our DayZ zip-up hoodie, while the DayZ Survival Mug is our latest addition (and a cool looking one at that).
We wanted to generate some hype for upcoming update 1.21, so we teased our community with a scene that represents a famous YouTube video created by TopeRec wherein Tope showcases his crossbow skills from a dumpster. Our efforts were successful to say the least and inspired DayZ veterans to come together and try to unravel what update 1.21 will offer. Here's the video we made for TikTok. The response so far has been incredible.
Wrapping things up, we offered a behind the scenes look into update 1.21, wound up our celebration of Walpurgis Night, and released the experimental version of update 1.21, along with an article that outlined what survivors can expect to enjoy.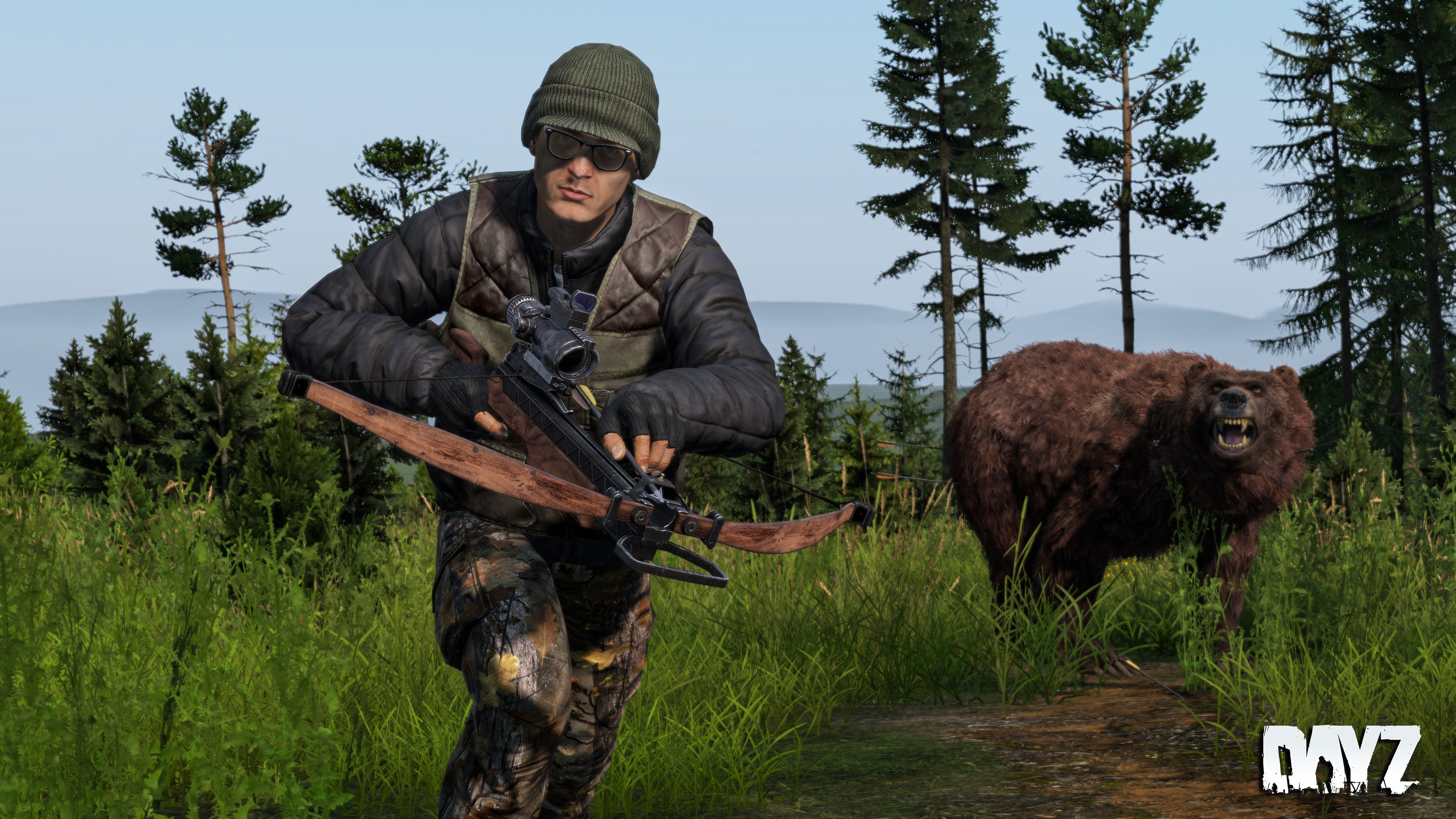 Arma Reforger
We began the month of April with fun and laughter by announcing our "new expansion" Arma Wildlife. While the expansion was just a joke to celebrate April Fool's Day, it did offer a glimpse into the life of vehicles and their never-ending fight for survival in Arma's unforgiving landscape.
Jokes aside, April was also the month of experimental updates. The first one we released was Experimental Update 0.9.7.108. That was followed a few weeks later by the rather sizeable Experimental Update 0.9.8.50.
Modding is the lifeblood of Arma, which is why we began a new and helpful series called Mod Report. The aim of the report is to share valuable information relevant to our amazing modding community. You can check out our very first Mod Report here.
We've also been sharing tons of cool #ReforgerTips on our Twitter like this useful tip on how to become an effective sniper.
Arma 3
We celebrated the anniversaries of three official Arma 3 DLCs: the Marksman DLC, the Zeus DLC, and the Tanks DLC. Keep an eye on our socials for further anniversaries and content regarding Arma 3's 10th Anniversary.
We featured content creator / streamer UselessFodder in issue #37 of the Community Profile series. Read about UselessFodder and the FoddSquad right here.
Senior Community Manager Nillers interviewed former Arma 3 Audio Lead Jan Dušek for our second Arma 3 10th Anniversary Live Stream. The interview covered the game's audio design, sound engine, and soundtrack. Check out the recorded VOD and community Q&A on Twitch and YouTube.
Our first 10th anniversary live stream Background, History, and Setting has racked up an impressive amount of views. You can enjoy a blog post / companion piece to the stream here.
Arma 3 Creator DLC: Global Mobilization - Cold War Germany received a major content update. Update 1.5 includes numerous new and reworked weapons, pieces of equipment, and vehicles. Read about the new release here, and check out this OPREP prepared by Vertexmacht.
We released Issue #37 of Arma 3 Community Radar (COMRAD) featuring the past month's best community content, which you can find here.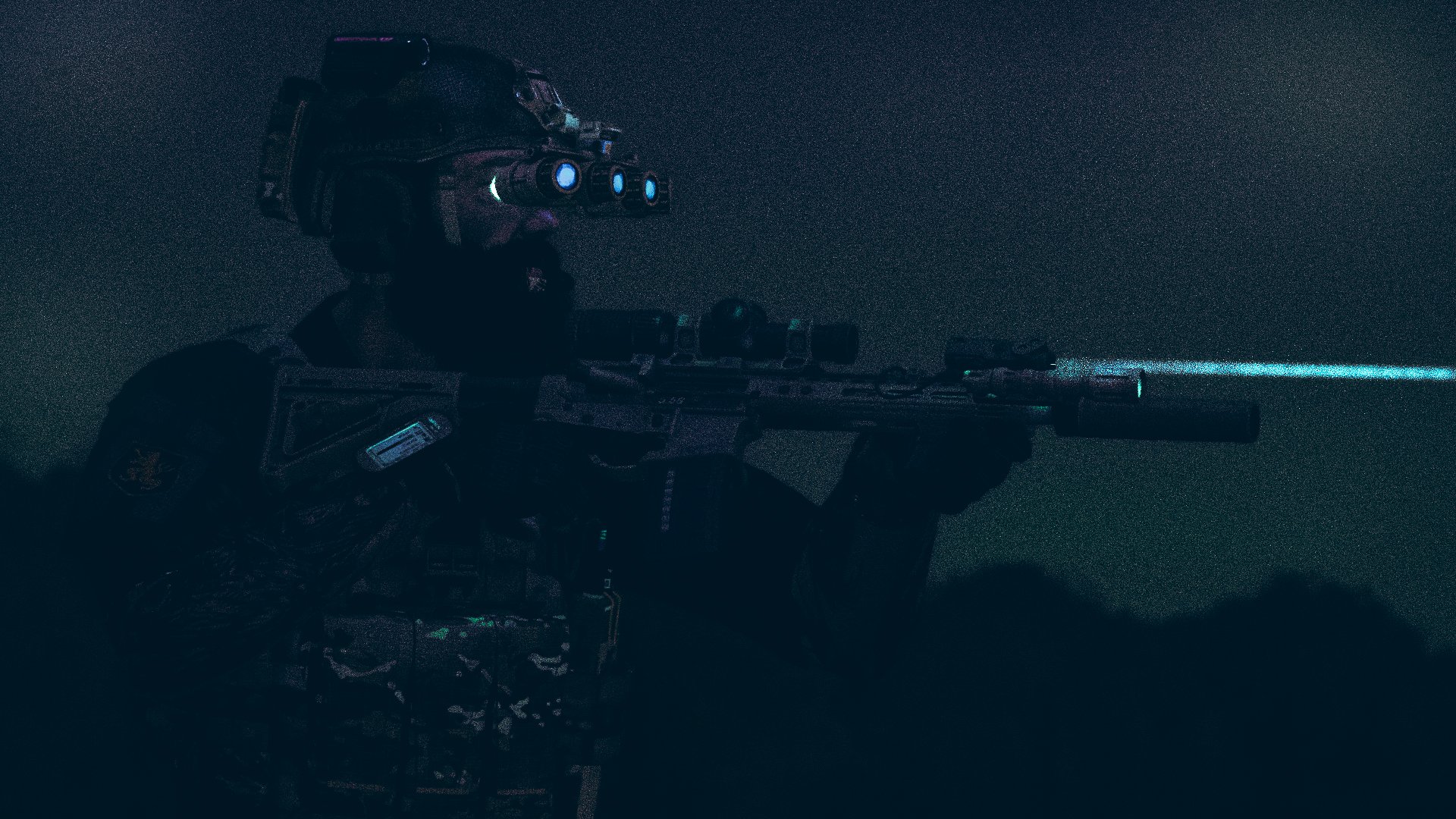 A member of Gold Squadron Realism Unit stalks through the night in this screenshot by Simple Shifty. (As featured in COMRAD #37).
Finally, Arma 3 Community Manager LeClair joined Viper1Zero for a combat air patrol in our latest Community Play Session Live Stream. Enjoy the recorded VOD on Twitch or YouTube.
Silica
Welcome to Baltarus!
April was huge for Silica. We were nervous yet excited to announce Silica, as well as our revamped Bohemia Incubator program on April 6th. Both announcements marked a significant milestone in Bohemia Interactive's history. Silica aims to revive the genre of FPS and RTS crossovers, while Bohemia Incubator places our company back in the publishing space. You can read more about the Incubator here.
As for Silica, we announced the game with a galactic trailer which you can enjoy below. We unveiled a new portion of the game every week with informative gameplay videos. Martin "Dram" Melichárek, who currently develops the game on his own, walked the community through the main Strategy mode from both a Human and Alien perspective, and showcased the game's Arena mode as well. More details were shared in Silica-focused blogs which you can read on our website.
We're happy to see that an amazing community is forming on Discord. If you're interested in the game, make sure to join in the discussions there. And in case you'd like to check out some cool community content, head on over to our website where we've prepared a handy Silica Synopsis.
You can buy Silica now on Steam and the Bohemia Store.
See you on Baltarus!
Behind the Scenes
Here are a few behind the scenes photos from Gamer Pie 2023 which took place during the end of March and beginning of April. Bohemia Interactive was the event's main partner.
The festival included competitions, workshops, current and retro projects from the Czech and Slovak gaming scene, and plenty of lectures. Among the event's speakers were our ambassador Rudolf Klenovský who presented the Ylands EDU project, as well as Jan Kavan from CBE software, who spoke about the development of Someday You'll Return: Director's Cut.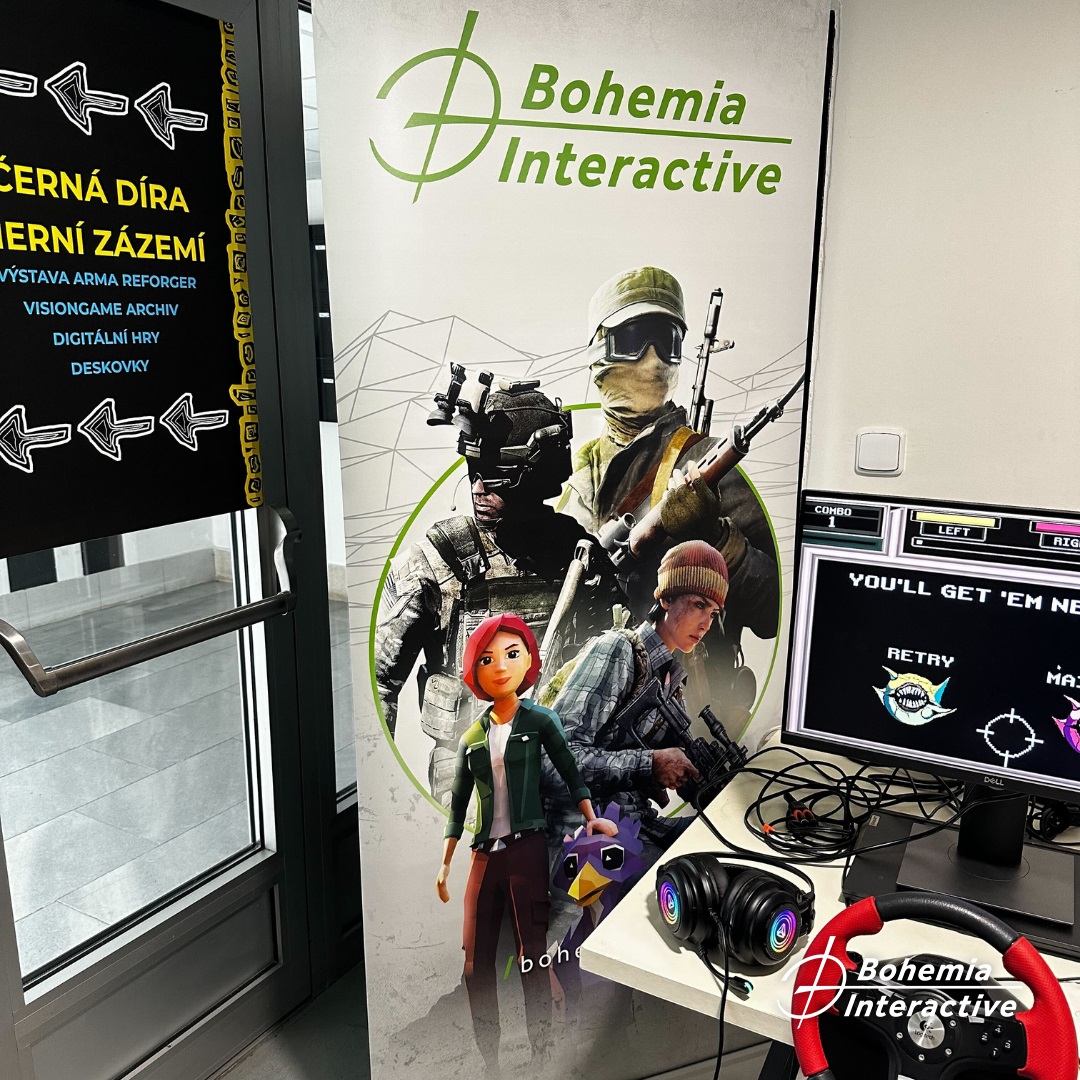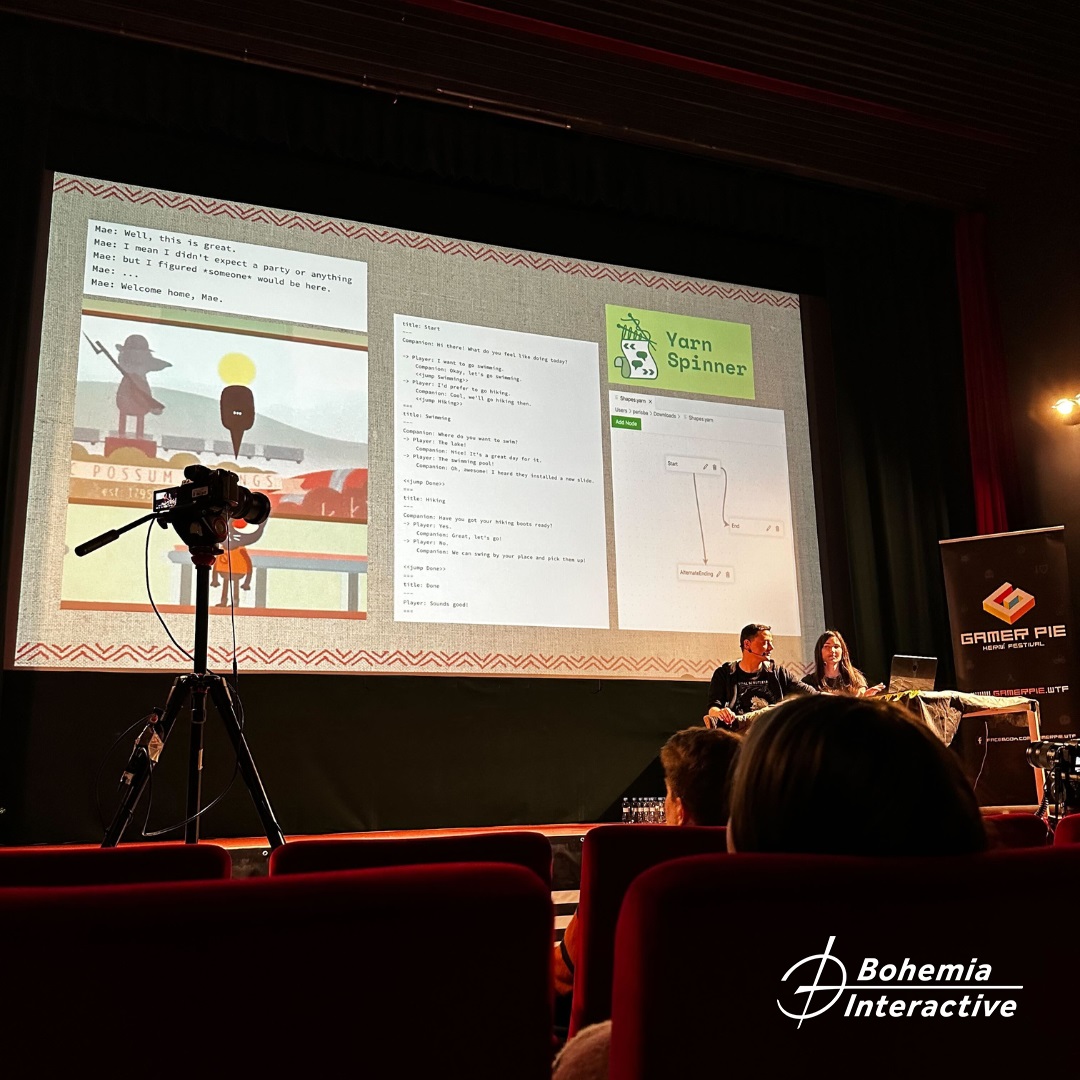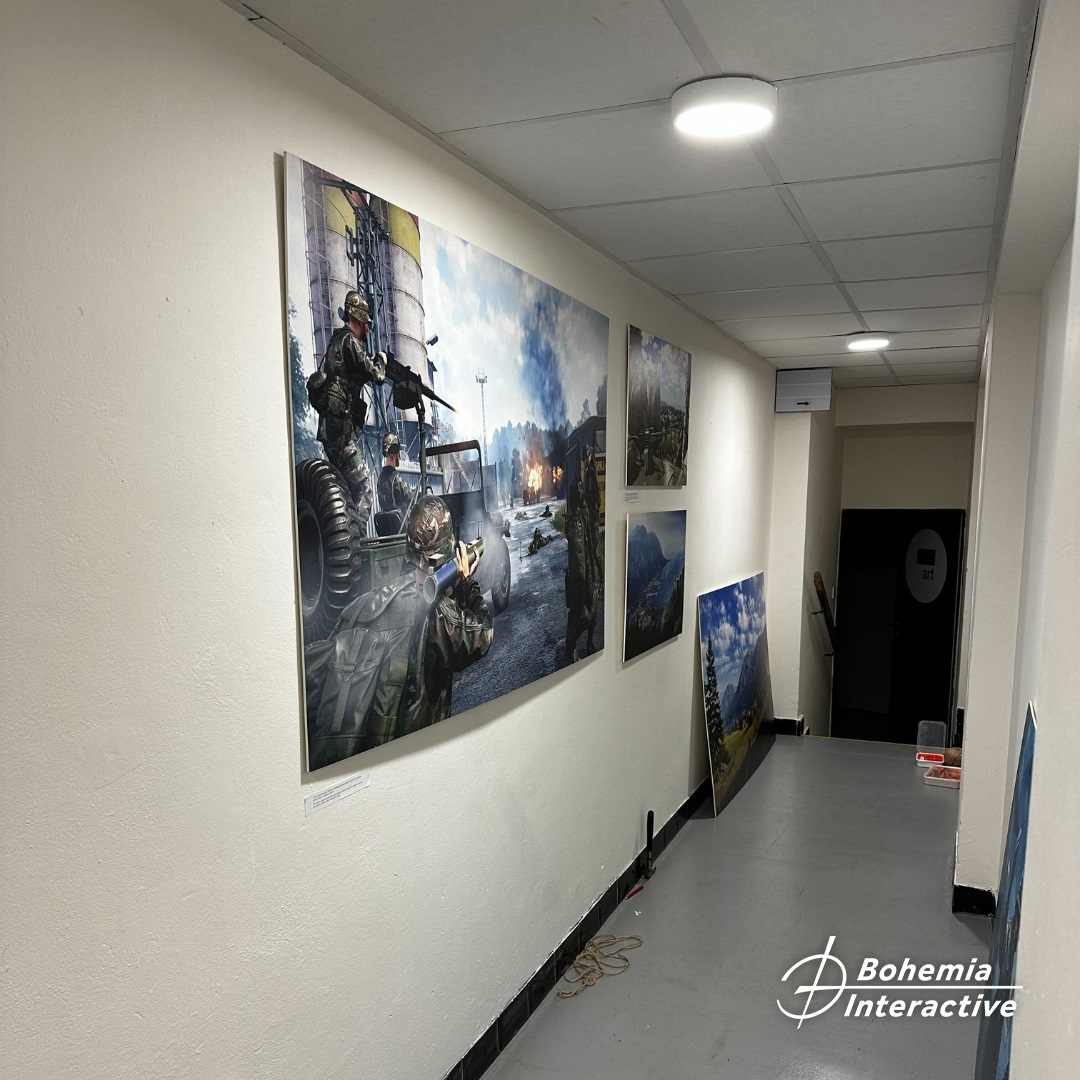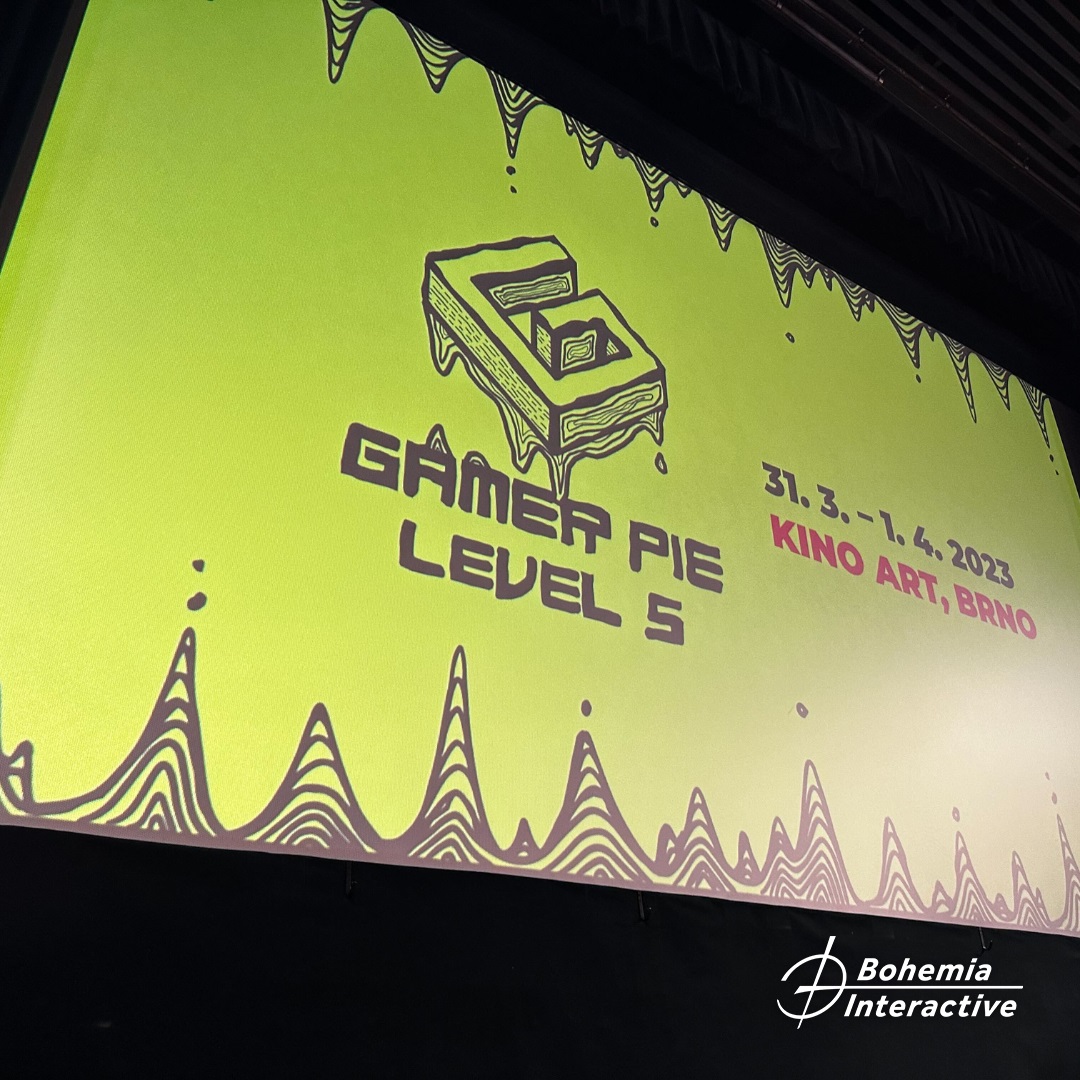 Bohemia Store
Ready to experience the ultimate FPS/RTS crossover?
Then purchase Silica from the Bohemia Interactive Store and save 30% on your next order!
Get your digital Steam key and start playing Silica today.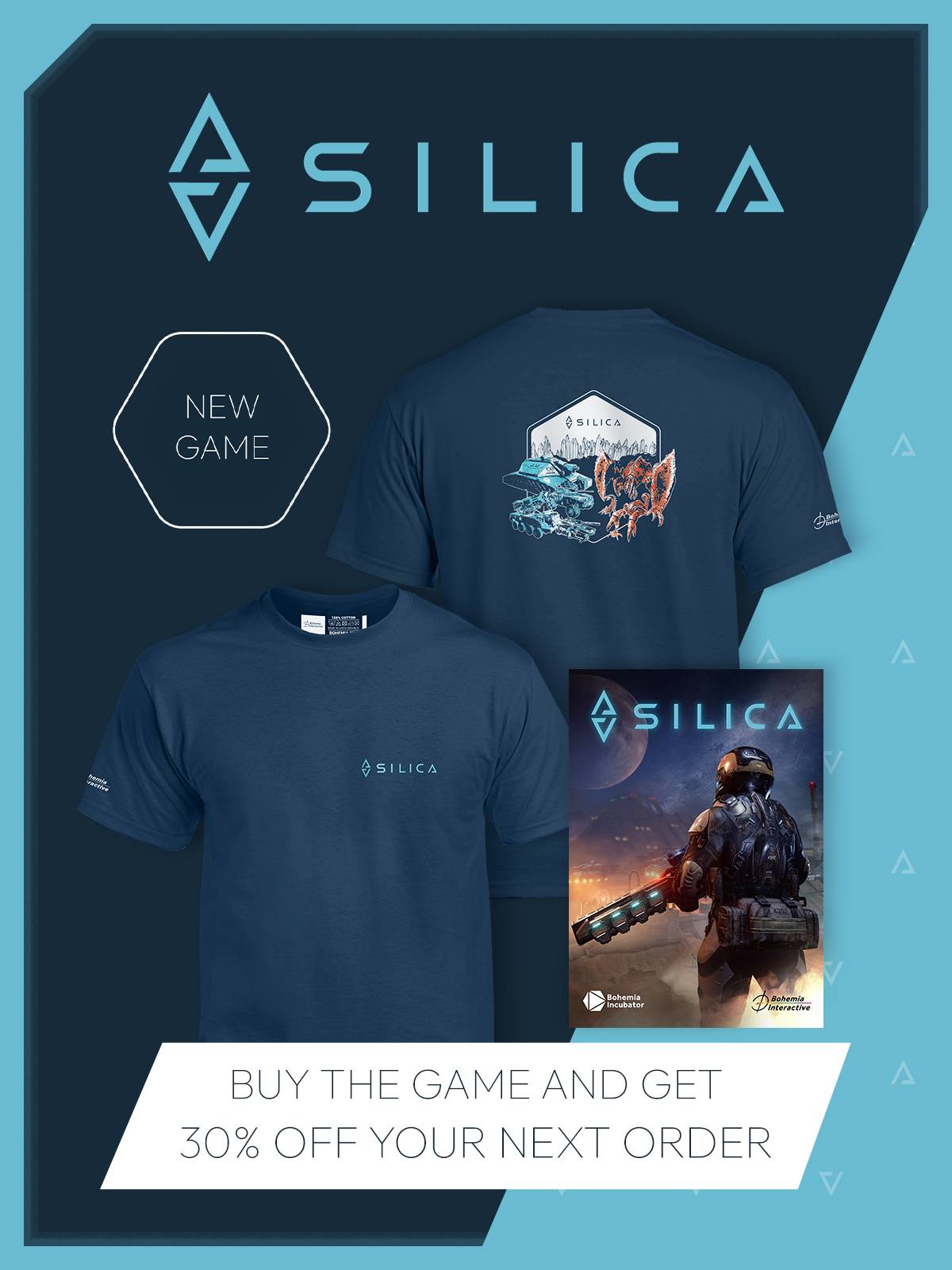 Become a Bohemian
We're always looking for more fun and creative people who are passionate about games. Check out the career board below and get in touch if you think you're the right fit.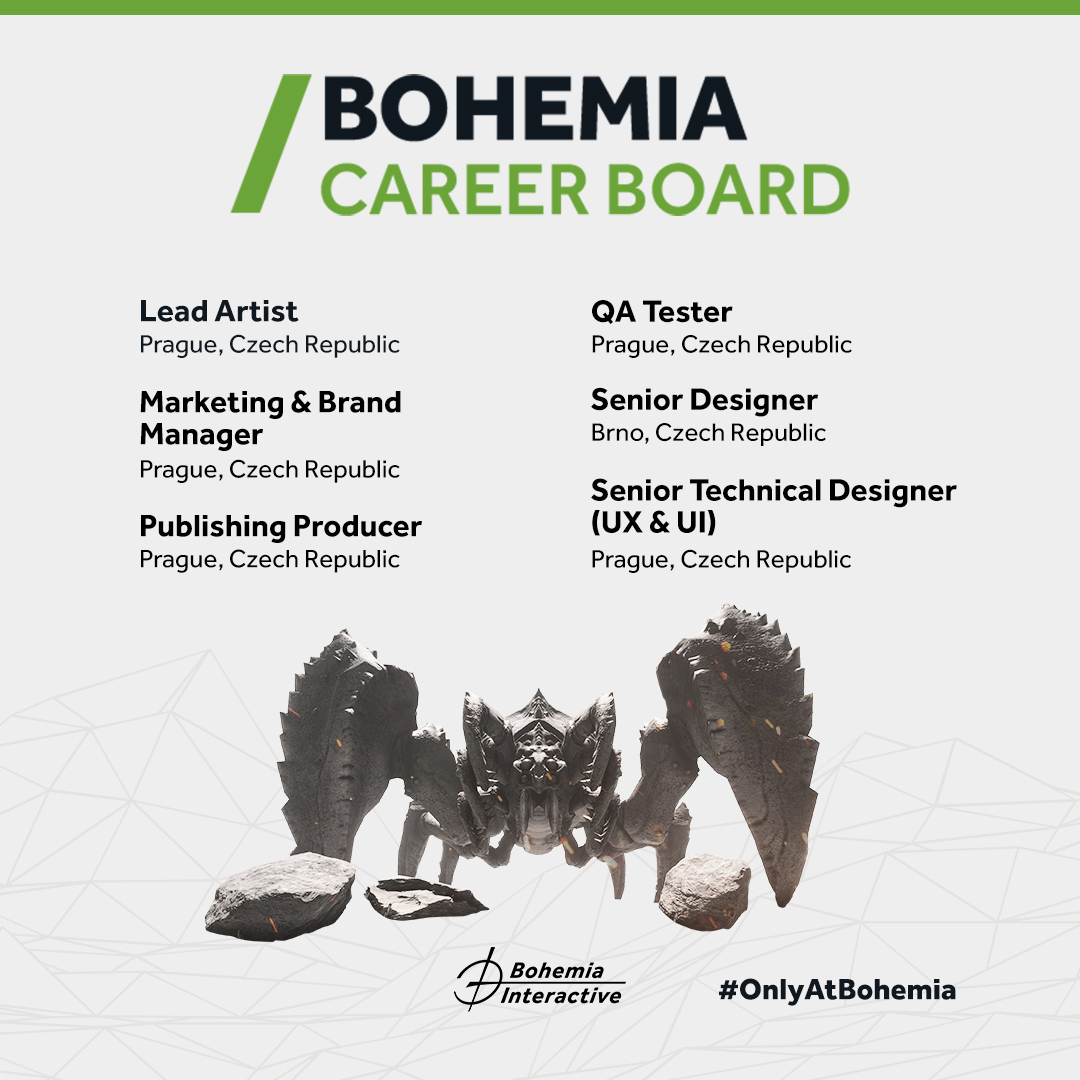 Don't see anything that speaks to you? Then head on over to our careers page to see all the positions that are currently open at Bohemia.
What Else?
If you'd like to learn more about Bohemia Interactive, or want to stay updated on all the latest happenings, make sure to subscribe to our Newsletter, and follow us on Facebook, Twitter, Instagram, YouTube and LinkedIn.
Until next time, stay safe and game on!