Bohemia Recap – August 2023
August marked the final month of summer, and while we soaked up as many of the sun's rays as possible, we also remained as active as ever. Vigor marked its 4th anniversary, while Arma prepared celebrations for its 10th. Not to be outdone, DayZ and Silica released new updates, Arma Reforger launched its Reforger RFI series, and the entire Ylands team moved to a brand new office.
There's never a dull moment here at Bohemia, so let's dive right into the latest highlights and headlines!
Vigor
August was an important month for Vigor as it marked our 4 year anniversary! We celebrated the occasion by creating various community competitions based on different departments in our dev team like the Art Edition, QA Edition, and Audio Edition. Outlanders also had the chance to meet a couple of our developers in a two-part series called "4 Questions With The Vigor Team". You can catch the first part here and the second one here.
Our anniversary celebrations continued with a massive 40% discount on all Vigor merch, as well as a Mega XP Booster Apocalypse event that combined all of our events into one special one. And what kind of celebration would be complete without a cool anniversary party? By the way, if you haven't seen our Anniversary Dev Stream yet, make sure you do. It even includes a teaser for Season 17.
Speaking of seasons, August 9th saw the release of our 16th season, entitled Vigor Chronicles: Damnation. The update included the FG 42 machine gun, boosted rewards for the airdrop, improved matchmaking, higher drop rates for weapon and consumable plans in all crates, a buried cache rework, an elite charger pack, and a PS+ bundle. Read all about it on our blog and check out the dev diary in a brand new format.
You can also watch the trailer:
In closing, we hope you'll enjoy the latest Community Spotlight, follow us on TikTok, and stay hydrated with the Vigor Tomato Rain Glass Bottle.
See you in the Outlands!
Ylands
We had a truly adventurous August in the world of Ylands! That's because the whole team moved to a brand new office on the first of the month. Another first occurred as well, when two Ylands players paid us a visit here in Prague. Naturally, we gave them a tour of the office and spent an exquisite time together, which you can learn more about here.
August also saw the release of patch 2.1.2, which offered tutorial fixes, data protection tweaks, and important improvements to waking up from a bad dream (that's what we call death in the world of Ylands).
We're always thankful for suggestions and feedback and showed our appreciation in a Dev Diary. We also held a fun Barbie build competition on our Discord. Join us there if you haven't already. You'll find a great community, as well as more contests and prizes!
Still not sure about something in Ylands? Then you definitely need to check out our YouTube channel, which is filling up fast with tutorials like this one.
Sea ya next time!
DayZ
DayZ spent August gearing up for the release of Update 1.22, as well as its supporting Experimental updates. Update 1.22 is now available, and while it may be light on content, it does offer numerous fixes, changes, and additions. Highlights include new low tier bags and a rebalancing of existing backpacks to enhance the variety early in the game. Bigger backpacks are rarer now too. Adjustments have also been made to melee combat, including a rework of bleeding mechanics and a clearer differentiation between tools and weapons. Server browser features have been improved as well, like offering a helpful display of player counts. Furthermore, the login procedure now checks a mod file's integrity up front, thereby reducing issues with outdated or corrupted mods. You'll also find a sneak peek at our upcoming Halloween event. Read more about Update 1.22 here, or check out our teaser below.
In other news: game designer Arthur showcased the update's melee combat here and on TikTok, former DayZ Brand Manager Martin Baar took us on a nostalgic journey, our #DayZBookZ contest garnered plenty of cool entries, and we wrapped up our DayZ-themed summer contest, which invited survivors to share vacation moments inspired by DayZ.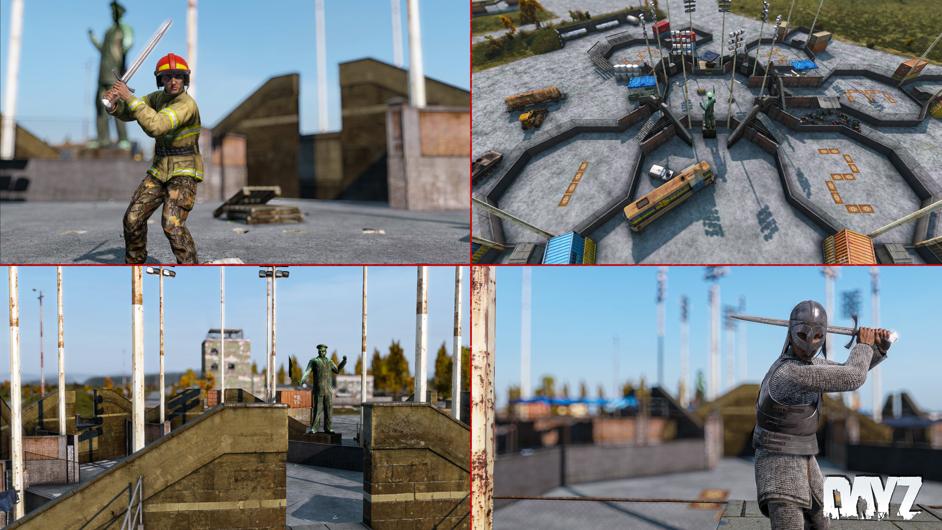 Finally, we recapped our community's amazing creations in our Community Spotlight, and reached 100K followers on TikTok! Make sure to follow us if you haven't already, and check out our latest video called DayZ Rolling.
Arma Reforger
Arma Reforger received a minor update to its stable branch and released an experimental update, which added immersive environmental enhancements to the experimental game. Our vibrant community was quick to discover all of the experimental update's new additions and created a slew of videos and content exploring the improvements.
We also took the first step in launching the Reforger RFI series. The plan is to source questions from the community and release video responses from Arma Reforger's devs. The first batch of questions is already in and the devs are busy answering them. Stay tuned for more!
Arma 3
August was a busy month as we prepared for Arma 3's 10th anniversary!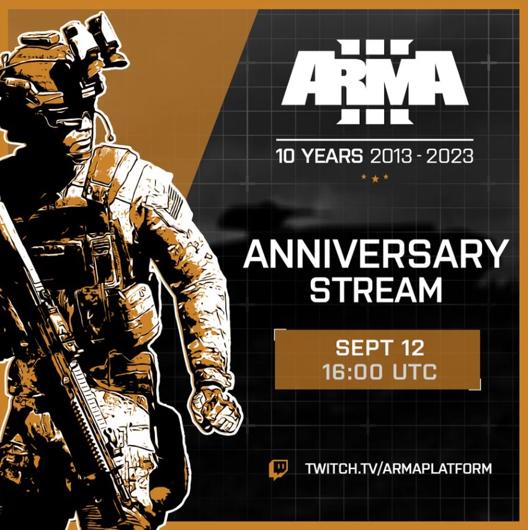 The release candidate for the 2.14 platform update went live, and Community Manager Niles George had an in-depth discussion with Karel Moricky about the Eden editor and his role in Arma 3.
Meanwhile, Community Manager Justin LeClair and community member Digby engaged in a thrilling Community Play live stream that featured the Spearhead 1944 CDLC.
We also shared another jam-packed showcase of community content in COMRAD #40, as well as several Community Spotlights.
Last but not least, brand new Arma mouse mats are now available in the Bohemia Interactive Store!
Silica
We started the month off with Update 0.7.28, which brought human air units to Arena for the community to try and provide feedback on. Read all about it on Steam and our website.
Speaking of feedback, we asked the community for theirs on Facebook and Twitter / X. In exchange for their insights, we chose four players (two from each social media site) who received a Silica code to share with a friend.
August 24th saw the release of Update 0.7.31, with three brand new alien air units arriving on Baltarus, specifically to Arena. Further details can be found here and here.
Silica also took part in Steam Strategy Fest from Aug. 28th to Sept. 4th. As a result, everyone had the exclusive chance to grab the game at 20% off!
We can't believe that four months have already passed since we released Silica! Read all about the most recent events in our latest installment of the Silica Synopsis. And if you haven't subscribed to our newsletter yet, make sure you do so for all the latest info on Silica.
See you on Baltarus!
Bohemia Store
Arma 3's 10th Anniversary Sale is on right now!
Bringing you brand new merchandise and last chance to pick up a copy of Arma 3 and enjoy up to 80% off on various DLCs!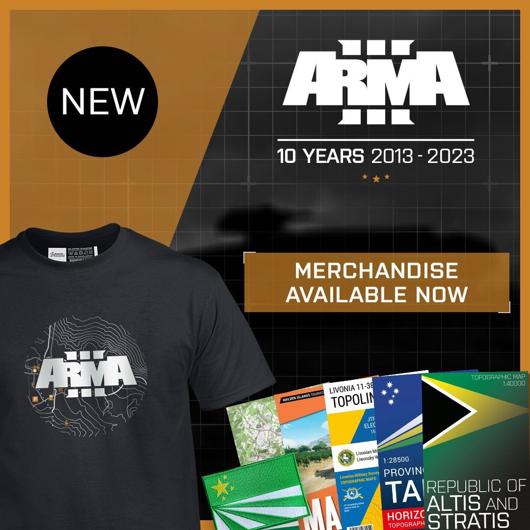 Sale ends on September 25th at 10:00 PDT.
Behind the Scenes
We set up camp at the IFA Fair in Berlin and had lots of attendees join us for a life or two on Chernarus. Huge congratulations to all involved!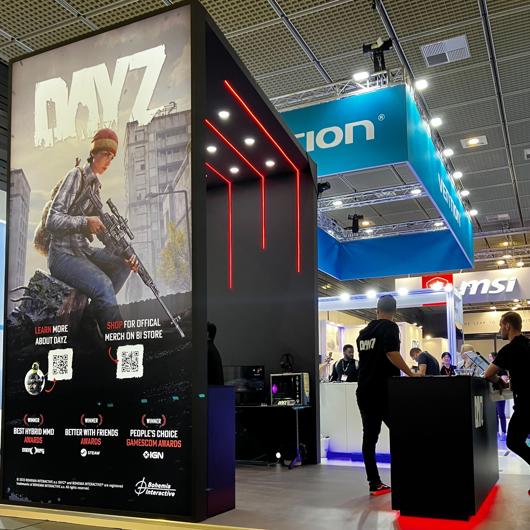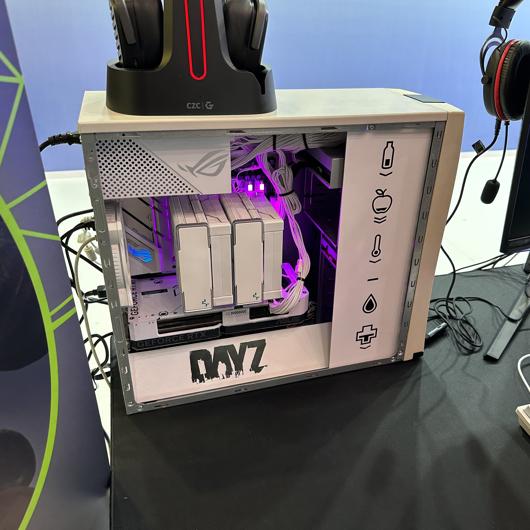 Get your own DayZ apparel here!
Become a Bohemian
We're always looking for more fun and creative people who are passionate about games. Check out the career board below and get in touch if you think you're the right fit.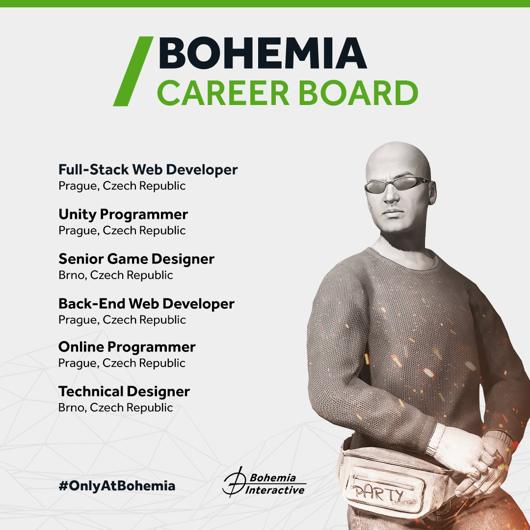 Don't see anything that speaks to you? Then head on over to our careers page to see all the positions that are currently open at Bohemia.
What Else?
If you'd like to learn more about Bohemia Interactive, or want to stay updated on all the latest happenings, make sure to subscribe to our Newsletter, and follow us on Facebook, Twitter, Instagram, YouTube and LinkedIn.
Until next time, stay safe and game on!