Welcome once again to the latest edition of the Bohemia Recap!
There were a number of highlights in May, including giveaways, hotfixes, and all kinds of Dev Diaries. We also enjoyed the successful release of the Arma 3 Creator DLC: S.O.G. Prairie Fire and decided to broaden our domestic reach by creating new Czech social media accounts on both Facebook and Instagram. Češi do toho!
Bohemia Interactive
Everybody knows how important it is to stay active on social media, which is why we decided to set up accounts aimed directly at Czech audiences. If you speak Czech (or don't mind using Google translate), then make sure to check out our Czech Facebook and Instagram accounts.
In other news, there's still time to ask Joris and Rakpon questions for our ongoing Meet the Bohemians series, and our very own Lead Designer Karel Mořický will be delivering a presentation on the state and future of modding at this year's Game Developer's Conference.
May 28th marked National Road Trip Day in America. Maybe that's why Edita made an unprecedented appearance? Or maybe it's just another example of why working at Bohemia is so unique. Either way, make sure to fasten your seatbelt before checking out this great vid from Niles!
And finally, there's a pretty important 20th anniversary coming up. Any idea what that might be?
Bohemia's Top Tweet in May: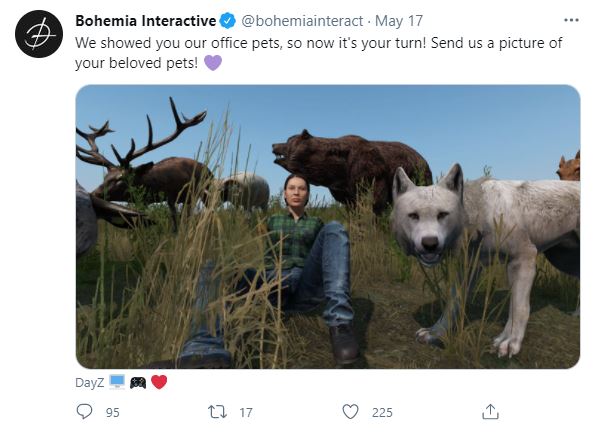 Vigor
We wanted to show a bit of love to all the grinders out there, so we kicked off last month with a Double XP Weekend. Our Partners were feeling rather generous as well, which is why they offered a few Premium Battle Pass giveaways. And if that wasn't enough to keep our Outlanders happy, we also arranged a Nintendo Exclusive Sale for fans who like to play on the Switch.
They say knowledge is power and we spent a good portion of May trying to educate our awesome players as much as we could. We released our new Dev Diary so folks can learn what's new in Season 8 and hear about some of our plans for the future. For those new to Vigor, we put together a Beginners Guide to help them navigate the Outlands. And we also continued our Vigor team interview series with in-depth conversations care of Filip and Antonis.
Rounding out the month, we received a ton of memes, videos, and community creations from our awesome fans, and we were also included in the new All Patched Up video from popular gaming channel SwitchUp.
Vigor's Top Tweet in May: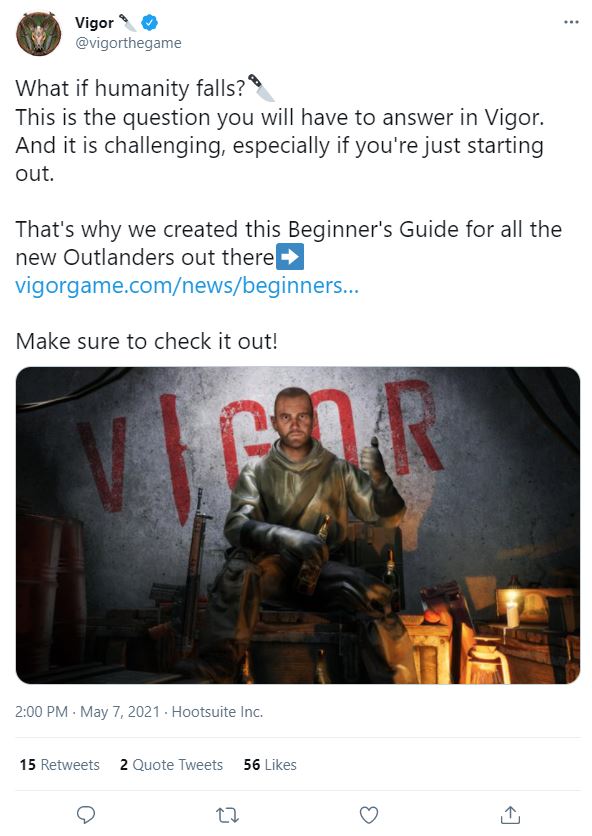 Ylands
Our Dev Diary was on fire last month, with plenty of informative posts about the present and future. One of those posts offered details on the progression system in Ylands. Meanwhile, Ales wrote about what comes after update 1.7 (spoiler alert – it's update 1.8), and we also shared some helpful info on the future of "asset updates" moving forward.
While the pen might be mightier than the sword, it doesn't compare to video when we're talking about the world of Twitch. Check out our live Q&A's with Ales and Naru and some amazing new videos by Naru. Nikki got into the video action too by streaming every week, playing minigames, and generally having a bit of fun.
Ylands' Top Tweet in May: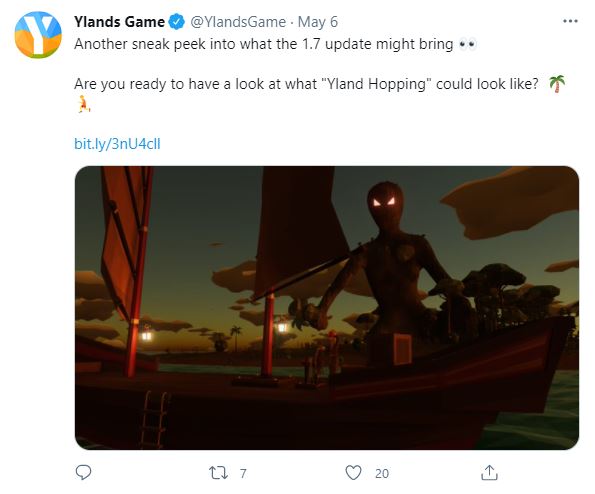 DayZ
We began the month of May with a series of hotfixes involving balance changes in support of Update 1.12. That was quickly followed with us releasing DayZ's wallpaper of the month and wishing all our fans a happy National Paranormal Day on May 4th.
There was a bit of a scare regarding DayZ leaving Xbox Game Pass, but we resolved that quickly and are happy to report that it is still available. Moving on, our well-received Witch Hunt event came to a triumphant end. It was so much fun that we're already looking forward to running similar events in the future.
Rounding out a busy May, we continued our focus on DayZ to GenZ by posting more videos on TikTok, our merch store is looking into getting some new additions, and our awesome community dazzled once again in April's DayZ Community Spotlight.
DayZ's Top Tweet in May: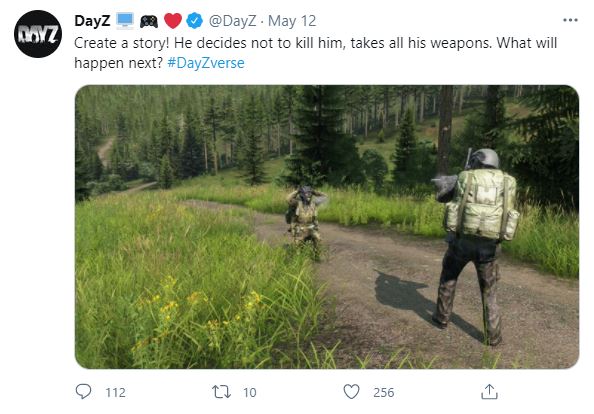 Arma 3
Last month the Armaverse was all about the exciting release of the much-anticipated Creator DLC: S.O.G. Prairie Fire. Make sure to check out the trailer, along with the store page and soundtrack on Steam. We also recommend reading a fantastic Report In interview with the DLC's third-party developers Savage Game Design.
There's one more piece of news to relay – the Arma 3 Creator DLC: CSLA Iron Curtain is scheduled for release soon!
Arma 3's Top Post in May: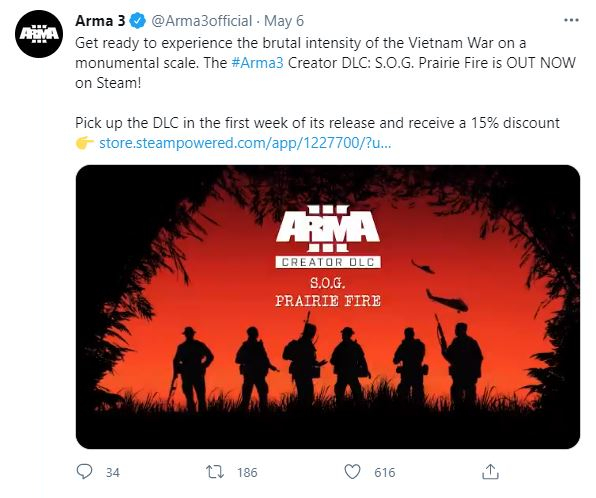 Mini DayZ 2
Our main focus last month was preparing for the next big update. Anticipated additions should include a new special backstab attack to improve stealth combat, as well as the already announced new VSD sniper rifle, and a special new zombie screamer which can alert other infected to come after you.
Mini DayZ 2's Top Tweet in May: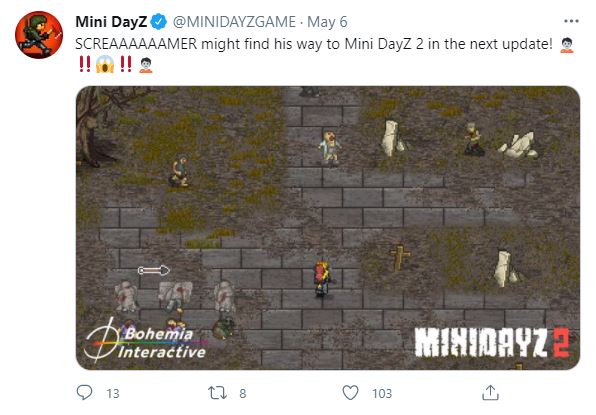 Questions from Fans
We wanted to spice the recap up a bit, so we decided to include a few questions from our awesome community, along with answers from our equally awesome colleagues.
Arma 3 is a great platform. However it's not seen any graphical or engine updates. With the next platform, any plans on upgrading the engine after release? Adding new improvements after release, such as DLSS/RTX/DX13 (and future ones)? @HamsterCute12

Thank you! There have been many upgrades and additions over the past 7+ years, but perhaps not on the order you're describing. Doing such big changes now would be very risky (i.e. backward compatibility) and would require more developers than we have available. We are currently doing our best to support Arma 3 with smaller platform updates, but no big overhauls or (engine) upgrades are planned. The type of work done now is mainly to provide new script commands, do modest optimizations, apply fixes, or offer other limited technical support for mods and Creator DLC's. Application of new industry technologies and solutions is something we might explore in the new Enfusion engine, but any results would no longer be applied to Arma 3.
Anything special planned for next month's OFP 20th anniversary we should look forward to? @ChairboneIT
We are indeed preparing some special treats for our fans and communities, but we don't want to spoil any surprises just yet. Stay tuned.
Understandably, we received several questions about Enfusion and our future, such as:
Any update about Enfusion? @Astronotic_s
In early 2020, in a blog post, you stated that the Enfusion engine would be showcased in the year 2020. Was this originally going to be a game release or a trailer? @OperatorDrewski
Will Enfusion Engine support simple tools for content creators akin to what we have in official/modded Arma 3, e.g. Splendid Camera, GCAM, etc? 2. Is the terrain featured in the Enfusion Engine puzzle pieces based on somewhere in CZ? Thanks guys, o7! @CallMehTOMMEH
When can we expect details on your next game? @rezlind
We're very pleased to hear of everyone's interest in what's next for Bohemia! The short answer is that we'll provide more information about Enfusion and the future of Bohemia Interactive as soon as we're ready.
Last year, we were a bit too optimistic and expected to share more details regarding the state of our new Enfusion engine by the end of 2020. As you know, that didn't happen. The reason is that it's extremely difficult to estimate the amount of work required on an ambitious undertaking such as this. There were also various internal and external factors that made everything even more challenging. That being said, we're pleased to share with you that the engine's development is going well and that we're making great progress.
In line with Bohemia's company philosophy, we still intend to involve our community in Enfusion's development as soon as possible. In order to get there, however, we need to reach a certain internal milestone so that we can give you a good first impression of our vision for the upcoming decade(s). Once we've reached that point, we'll be able to talk far more openly about what's happening behind the scenes and share specific details regarding our future plans, as well as Enfusion's (modding) tools.
If you want to know more about Enfusion and the future of Arma, we recommend reading the Meet the Bohemians interview with our CEO Marek Španěl (especially his answer to the last question). Let us also seize this opportunity to re-emphasize the scope of our ambitions by pointing out the 50+ open positions for our already significantly expanded team: https://careers.bohemia.net/positions.
Thanks everyone for your patience and understanding!
What Else?
That's a wrap for May. If you'd like to learn more, or want to stay updated on all the latest happenings, make sure to follow us on Facebook, Twitter, Instagram, and LinkedIn.
Until next time, stay safe and game on!