2020 is finally in the books and we're pretty sure we heard the entire world breathe a tremendous sigh of relief. While we're typically a company that likes to look forward, we thought we'd provide a brief overview of what we managed to accomplish during such a challenging year, as well as a few hints about what to expect in 2021.
Bohemia by Numbers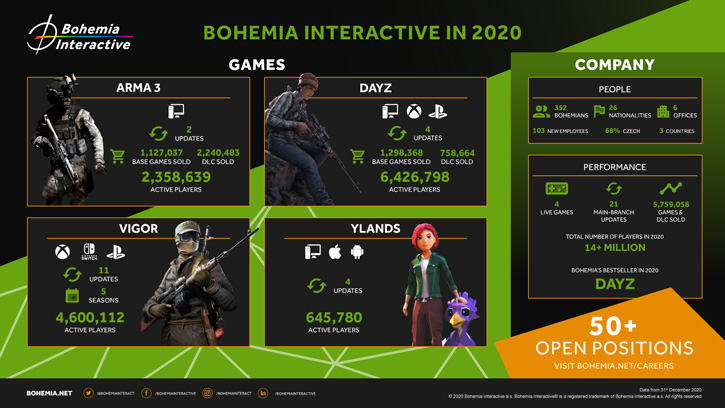 The Company
The year began with the usual hustle and bustle around our offices. Then COVID-19 hit Europe in March and those of us who could retreated to our work desks at home. We made a video greeting each other and the world, and work continued to progress despite the unexpected shakeup. A few familiar faces left us this year, while a few more new ones joined the team. We continued our popular Meet the Bohemians series, and those who returned to work later in the year were greeted with a work environment that's currently in the middle of a full revamp.

Our ability to attend events was naturally limited, though we did manage to participate in some key affairs online like Gamescom 2020, GDS 2020, and Megamigs. Here's hoping for a return to normal in 2021 and more face-to-face interactions.

There were also a few updates of note. First off, there was an update to our cult-classic RTS, Original War – a game that was originally developed by Altar Games and added to our catalogue back in 2010. Continuing on with the theme of our older titles, four of them were added to GOG in July. There was also the addition of DayZ and Vigor to next-gen consoles in November, allowing both games to be enjoyed on PlayStation 5 and Xbox Series X|S via backward compatibility.
And finally, we'd be remiss if we didn't mention how thrilled we were to sell 52,097 bundles for charity when our Bohemia Interactive Humble Bundle went on sale in August.
Those are just a few of the highlights surrounding the company as a whole. Let's move on to more specific news regarding our games.
Vigor
It was a busy year in the Outlands, with no less than 5 new seasons and a dazzling array of fresh weapons, skins, and cosmetics. We also started our closed beta for the Nintendo Switch in April, which led to a release with the Founder's Pack in July and a full, free-to-play release in September. And let's not forget our release on PlayStation 4 and 5 in December!

We're big believers in helping those less fortunate than us, which is why we made our Stay Safe Charity Pack available in April. More importantly, the pack helped us raise 250,000 CZK ($11,000 USD), which we promptly donated to Brno University Hospital in July. The hospital had their hands full with COVID-19, as well as suffering multiple attacks from hackers, and we couldn't have been happier to lend a helping hand. A big thank you to everyone who purchased the pack!
Looking forward to 2021, fans can expect more new seasons coming their way, along with a concerted effort on growing our community and improving the overall quality of the game.
Ylands
It was a fun and exciting year at Ylands, one that saw the release of five updates and two goodie packs. We also bagged two awards at the Czech Game Awards in September, then turned around and started our very first Creators Competition in October.
While it was a busy year, we certainly don't plan on slowing down in 2021. Some of the things you can expect include continued updates focusing on exploration, the editor, and the Ylands platform in general. We also have some smaller asset updates in the works, as well as Ylands making its debut in schools, Ylands 1.0 being released in China, and bigger and better Creator Competitions held throughout the year.

Arma 3
We hit our seventh anniversary this year and kept things rolling to celebrate the occasion. Now in Live Ops mode, Arma 3 enjoyed two primary platform updates in the form of 1.98 (Arma 3 Apex: Old Man) and 2.00. And let's not forget update 1.2 for Global Mobilization, which went live in June and introduced a wide range of new content to the Creator DLC for free.
Rounding out the year, we had our free week on Steam back in January, the release of the Arma 3 soundtrack (also on Steam), the Arma 3 Art of War contest announcement and winners, and September's announcement of the Arma 3 Creator DLC: CSLA Iron Curtain.
So far as 2021 is concerned, fans can expect continued Live Ops development, as well as the Art of War charity DLC, and even more Creator DLC projects to be released.
DayZ
We released a total of four updates in 2020, featuring new weapons and mechanics and all-around fun. We also remember back fondly to our participation at PAX East 2020 in March, which marked our final games event before the lockdowns began and the world turned upside-down. A few months later, DayZ joined Xbox Game Pass on console in May, and we tried to keep our parties and spirits alive during the pandemic with our Halloween and Christmas events. Finally, and perhaps most importantly, our team grew with the hiring of several new talents who will help us continue to improve DayZ and take it to the next level.
We plan on keeping our streak alive with several major updates being slated for release in 2021, as well as focusing on delivering new assets and fixes, and improving the game's balance and stability. As if that wasn't enough, preparation on next-gen compatibility is also slated to begin.
Want to learn more about DayZ in the past year? Make sure to check out its 2020 Year in Review.
Mini DayZ 2
We kept the social media teasers and devblogs running all year long in 2020 and released our first gameplay footage in July. Perhaps our biggest news of the year, however, was our iOS geo-beta which enjoyed a limited release in Canada, Scandinavia, Turkey, the Philippines, and the Czech Republic in November.
2021 promises to be even busier and more exciting thanks to our planned open beta for Android and iOS in all regions during the first half of the year, which will include single-player gameplay. That, of course, will be followed by a global release in the summer that will feature multiplayer gameplay.
Enfusion
In the past year, many Bohemians have been quietly working behind the scenes on our company's future, which will be powered by our new Enfusion engine. This investment in custom-built next-gen technology is a top priority at Bohemia and 2020 saw a ton of improvements come into being.
We upgraded the rendering and the physical engine, improved performance by a mile, and employed a ton of optimization techniques. We also implemented many features that were specifically requested by our game teams and significantly improved support for creating mods. Finally, we spent a massive amount of time implementing an infrastructure that will support cross play and user-generated content across various gaming platforms. And these are just a few examples of last year's accomplishments.
We expect to continue working hard throughout 2021 to make Enfusion our most powerful and versatile engine to date, supported by a user-friendly set of development and modding tools.
Careers at Bohemia

We're always on the hunt for the best and brightest talents to join our diverse team. We have over 50 openings at the moment, so head on over to our careers page and see if there's a perfect fit for you in 2021.
Happy New Year!
We know 2020 was a rough one for everybody, but we sincerely wish you all the best for a happy, healthy, and productive new year!