DayZ 1.0 is out now on Steam
Get ready for survival! We're excited to announce that DayZ 1.0 has finally launched on Steam after 5 years of Early Access development. The update released on Steam today, along with a Free Weekend, allowing everyone to download and try the game for free until December 17 (19:00 CET).
"Letting everyone try the 1.0 update first hand without any barriers is really the best way to show the progress we've made over the Early Access development. DayZ is by no means a perfect game yet, but I'm confident that the effort we put into making it as smooth and enjoyable as possible paid off. At its core, DayZ still has all the gameplay mechanics that excited people when it first launched, but today it's bigger, much more responsive, less clunky, and fun to play when you give it the time. And that's probably my advice to anyone who wants to try the game – don't give up the survival too early and use the Free Weekend as much as possible. DayZ can be hard, but since it's built around emergent gameplay in an open world, it's as fun to play as you (or other players around you) make it for yourself," adds Eugen Harton, DayZ's Lead Producer.
On top of the Free Weekend, we have decided to offer one last deal to get the game for an advantageous price – until December 17, the game is available for 15% OFF its Early Access price before landing on a final price tag of $44.99 / £31.99 / €37.99 on Monday.
DayZ's Early Access has seen a lot of ups and downs over the past 5 years, and it has been an important lesson for the entire company. So far, the DayZ development team has produced a whopping 1300 Experimental updates on Steam, and pushed over 19 000 bug fixes and improvements to the game. At the same time, DayZ's development has laid the foundation for our new technology – the Enfusion Engine – that will continue to be developed in order to support our future titles.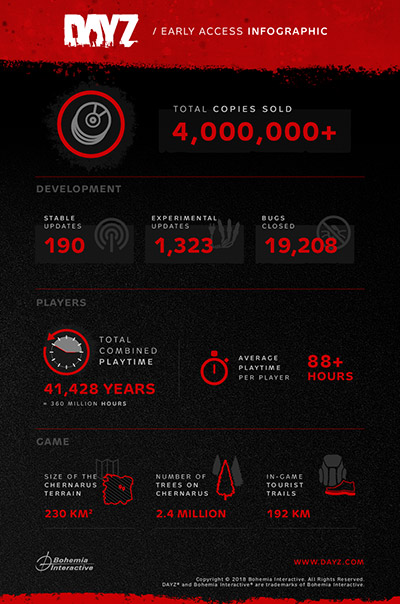 DayZ will continue receiving new content and features during post-launch development and support, and the development road-map for post 1.0 content will be established and presented at the beginning of next year.
DayZ is also out now in Xbox Game Preview, with the full launch scheduled for early 2019, and is also coming to PlayStation 4 later in 2019. Visit www.dayz.com for more news and content about DayZ, or follow the game on Twitter and Facebook .
For media inquiries, please reach out to us at marketing@bohemia.net. Please also follow DayZ on Twitter, Facebook and YouTube to get regular updates about the progress of DayZ, or sign up to our newsletter to receive the most important news straight into your mailbox!