Introducing Bohemia Incubator & Upcoming New Game Silica
A New Opportunity for Indie Game Devs
Historically, Bohemia Interactive has not only been associated with game development but with publishing activities as well. Bohemia has successfully helped launch titles by smaller studios and indie developers which have gone on to gain success on the global market.

New Bohemia Incubator empowers indie game makers to develop their playable prototypes and receive the help they need to prepare their products for full release. Bohemia Incubator offers financial support and publishing services to original projects with a unique vision. All you need is a playable prototype and an undying desire to flourish.
"In this respect, we are returning to our roots. We are transforming the existing Bohemia Incubator, which has so far served as a platform for our internal projects to investigate interesting concepts, implement new technologies, and develop games outside our main game series. But now, in its new form, we are also opening Bohemia Incubator to third-party developers who are working on interesting game projects but lack the necessary publishing and financial resources. To indie devs who want to join forces and enter the Bohemia Incubator, we can offer over 20 years of experience in game development and top-level know-how, as well as assistance with QA, marketing, and publishing. Eligible projects need to have reached the playable prototype stage at minimum," says Marek Španěl, founder and CEO of Bohemia Interactive.

Bohemia Incubator aims to help cultivate the indie game dev scene primarily in the Czech Republic and help talented developers realize their dreams of proudly presenting their games to the world. Silica is the first title to be fully "born" in this new era of the Bohemia Incubator.
For more information, please visit incubator.bohemia.net.
Silica - Brand New Futuristic RTS/FPS Crossover
Strategize, Strike & Harvest
We are pleased to announce a brand new IP title called Silica - an RTS/FPS crossover game set on the fictional planet of Baltarus, located thousands of light-years from Earth. In Silica, players can choose to play either as a Commander in RTS mode or as an Infantry soldier who gets to control all units and vehicles along with their arsenal in FPS. Their mission on this seemingly barren planet is simple: locate and harvest Balterium, an element with a tremendous amount of untapped potential that can power up human civilization for generations to come! Silica is the first title born in Bohemia Incubator – a new label of Bohemia Interactive aimed to help indie game makers develop and introduce their dream games to a global audience.
Silica was mostly developed by a single dev - Martin "Dram" Melichárek. His name might sound familiar to fans of Bohemia Interactive games as he was the lead developer behind Take On Mars. His idea of creating Silica dates back to 2008. Now, thanks to Bohemia Incubator, his dream of releasing the game has finally come true.
The game will be available in Steam Early Access soon!
Command From Up High or Put Your Boots on the Ground
Silica is an immersive crossover of first person shooter and real time strategy, each true to its respective genre. The game allows players the freedom of choice, without forcing them to play as both.
If you prefer sand-filled boots, bullets whizzing overhead, and menacing alien jaws closing in, the infantry role is for you. Not limited to merely foot-based soldiers, you can also take control of any available vehicles, including the colossal Harvester, the speedy Light Quad, or the insidious Siege Tank, just to name a few. Or, if chewing metal is your niche, then the hive-mind, insect-like aliens are your faction of choice. Shift your consciousness between creatures such as the stealthy Crab, the nimble Hunter, or the armoured Goliath.
For those who'd rather command their forces from a distance, the esteemed role of Commander awaits you in the relative safety of orbit. Deploy Harvesters to silica crystal fields, hiding the valuable resources you're after. Construct and place immense structures to produce and dispatch units that will dominate the battlefield.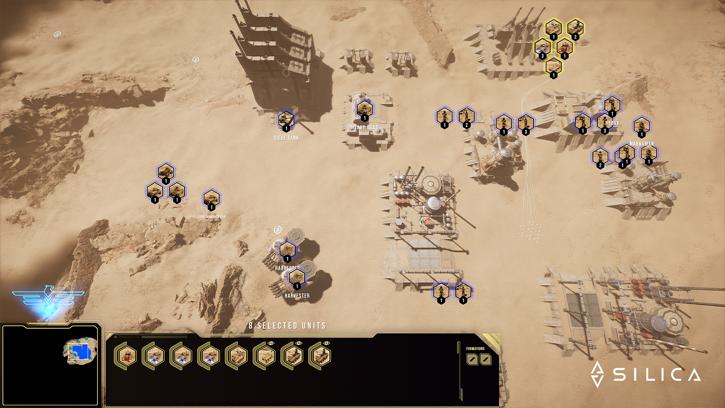 Three Game Modes to Choose From
The game offers variety in terms of game modes. Strategy is the flagship game mode of Silica. In this mode, players battle for dominance by building, harvesting, and striking the enemy. Strategy mode seamlessly combines both RTS and FPS elements and is playable in any combination, up to a 3-way conflict between factions. Prospector mode acts as a tutorial for Silica. It is offered as an FPS, which can be played in single or multiplayer mode. Players start off near a landing pod and are tasked with exploring the area in search of a Balterium field. They will encounter enemy forces along the way and must complete all the objectives in order to make it out alive. The third mode - Arena - introduces a fun and crazy environment where players select their favorite unit and face off in an unbalanced FPS free-for-all.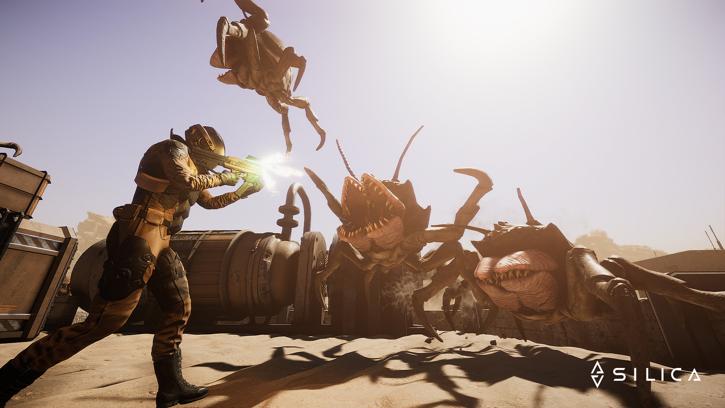 Features
First/third-person shooter with vehicles
6 unique locations
3 engaging game modes
Singleplayer and multiplayer options
5 infantry classes
11 distinct vehicles
8 alien creatures
AI control for both commander and units
For more information, please visit www.silicagame.com

Make sure to also wishlist Silica on Steam and follow the project on Facebook, Twitter, Discord, Twitch, and YouTube.