Hey, Dana. Please, tell us a bit about yourself...
Before I joined Bohemia I was studying Law for a while, and I also made quite a lot of YouTube videos while I was at it – mostly gaming stuff combined with ASMR. Even though my birth name is Dana, everyone calls me "Pyrit", which has been my nickname for about a decade now. I am also a big lover of memes and anything spooky.
Can you tell us a random fact about yourself...
I always wanted to be a pirate – a Captain, to be precise. I loved the stories, their courage, the strength, and especially the legends and songs about the greatest of pirates. This little passion of mine never really left, especially when I discovered One Piece (yep, yep, big anime fan right here). Marketing might be the best career choice for me in the end, but my pirate side is still there – a stubborn, merciless, and strong woman with even stronger language. And you have to agree that Pyrit would be a badass name for a pirate.

What was your first positive interaction with video games, that you can remember?
It was when I was around 6 years old. My parents gave me one of those plug-and-play consoles, packed with (probably unlicensed) timeless Atari 2600 classics. My favorite at that time was Pitfall!
And your most memorable video game moment?
Definitely discovering the Gears of War franchise. It was so out of place compared to the stuff I usually played – Japanese RPGs, Retro Games, Visual Novels, Hack and Slash games... I never really was all that into shooters up until then. But right when I started playing the first game I was HOOKED. Marcus Fenix was my biggest crush for a really long time.
What's your all-time favourite video game? And what sort of game do you like to play generally?
Now that's a tough one.
I love retro games so much – but, as I said, I also love Gears of War deeply. I always was a big Nintendo fan so Super Mario World (and Super Mario 3D World) is also one of my faves.
When it comes to my favorite type of genre, well, it's the same as my taste in music – I love to play everything and anything. I love horror games because I am a huuuge lover of horror movies. Retro platformers are fun too. Action role-playing games would be my top pick. But my life wouldn't be complete without Diablo and a few point-and-click games. So who knows what my fave is... I don't.
What's the worst — or most memorable — bug you've come across in a video game?
Now that is the question I was waiting for! It was in Final Fantasy XV.
As I was fighting one of the bosses – Bandersnatch, to be precise – I was running really low on health so I started rolling around like a crazy person while trying to avoid the attacks. Suddenly, somewhere between mashing buttons like an imbecile, I managed to teleport myself to the other side of the map into the mountains. But it was a place that probably shouldn't have been accessible so I ended up being stuck on a pile of rocks. You cannot imagine the pain of not having this on record. It was wonderful!
What's your favourite movie, TV show, and/or book?
My favorite movies are definitely good old action movies – you know, with Arnold Schwarzenegger and Sylvester Stallone . Are they the best cinematographic pieces in history? Hell nah, but I love these films and heroes deeply. Just fire up Commando, Predator, or Rocky, cover me in potato chips and I am good for the night.
I like my TV shows sarcastic and funny, so, Sex and The City, Parks and Recreation, Friends, and The Nanny are my top pics.
When it comes to books, I love novels by Oscar Wilde. Franz Kafka is my other favorite. But anything from Haruki Murakami never fails to surprise and entertain me.
And your go-to music playlist is...?
My go-to playlist would consist of old Queen hits, AC/DC, Guns N' Roses, and a tiny bit of Metallica. But I can listen to pretty much anything from Lo-fi to Country.
So, as a Community Manager, what do you do?
I make sure to answer your questions and comments. I am also responsible for connecting the community with the Dev Team – gathering feedback and getting news and important info out while keeping everyone happy and informed. It can be tough sometimes, as the internet is generally not really a positive place, but I wouldn't change it. It's always about the people and I love our Team and our Community to bits.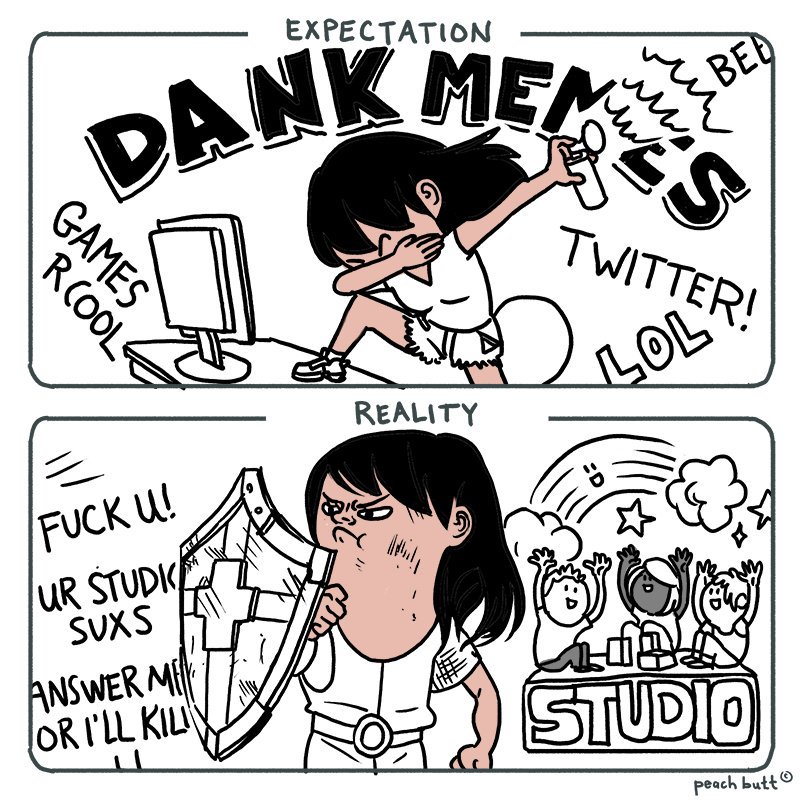 What do you think are the most important skills / traits to have for someone in your position?
I would say that you've simply gotta be good with people. I myself am an introvert in my personal life, but in my professional life that's a whole different story. Empathy, social intelligence, good communications skills, and a great sense of humor are a must.
What do you enjoy about your job, and game development in general?
My favorite part about my job... hmm... it must be the ability to get to know so many people. Inside and outside. I already know many members of our community by their twitter nicks. I was able to meet incredible developers and wonderful colleagues. Also, I get to see the whole process. As a player, you really cannot imagine how complicated and complex the process of development actually is until you see it for yourself. It changed my perspective completely.
Thanks for the coins in the Founder's Edition. When can we have something to spend them on? Oh, and where are our lumberjack shirts? (@mustapharespawn)
First, glad to hear that you are a proud Founder's Pack owner – and now to the interesting stuff... So far, there are Boosters you can purchase with the in-game Crowns. We decided to introduce the Boosters first to get clean and raw data and feedback on them alone, as it is an experimental system we came up with. But, obviously, there are going to be more things purchasable with the Crowns, so get ready for new customizations that are just around the corner. And the lumberjack shirt is waiting for you in the upcoming 0.9 Update. ;)
As players get into the building aspects of the game, will there be more added to what we can do? Like placing items yourself like pre-war posters, chairs, tables, wall gun rack? I think giving us players control of our environment is important and having a sense that we built it our way, not just following the upgrade trail rinse and repeat... (Tyrone Mack)
Great question indeed!
As Vigor is still in the game preview we really want to focus on finishing the core game loop and delivering the completed game. Then we will start adding more when it comes to gameplay and your goals as a player. There are already some shelter customizations being worked on, but I definitely do not want to bereave you of the surprise. Just be sure that we listen to your feedback – we know many people are craving something more and we are more than happy to deliver.
Is there anything else you're currently working on in your spare time?
Oh, there's always something. I am generally not a person that can be doing nothing for too long, because that would make me feel depressed and anxious. I am currently preparing a complete re-branding of my YouTube channel, along with starting a blog. In the meantime, I am just trying to find my place in the world and spend as much time with my loved ones as I can.
To finish, tell us one of Dana's Top Tips...
Never be afraid to get angry. Anger is one of the strongest emotions you can possibly experience. When life gets tough, go and get really, really mad. Get all of the emotions out, put on some gangsta rap, and push through like a massive angry Steamroller.