Hey, Filip. Please, tell us a bit about yourself...
Hi Bohemians, I come from Jihlava, which is roughly in between Prague and Brno, but my heart fell for Brno, the city of gamedev and colorful coffee shops while I was studying interactive media. I always loved creative work, like video, copy, photography, music and such. But I could never see a winner in that endless battle. That's why I fell for marketing. I can participate in everything, and create the whole mix. And what better industry to do marketing in than games - the most interactive medium, in my opinion. I don't have a ton of experience, but I did marketing for example for a fire protection company and an IoT startup. You always need to learn in marketing, and that's what I love about it. But games! Games just feel like home. Besides that, I love music (listening, playing, creating), art, technology, baking, or hiking with our new dog. Coffee is also a big passion of mine.
Can you tell us a random fact about yourself...
I was in a drama club in high school which I enjoyed quite a bit, although I don't like to be in the spotlight. I tried the role of actor and also director. I kinda still feel the second one suits me more.

What was your first positive interaction with video games, that you can remember?
I have a very random one with a game called Grouch, which my brother and I forced our dad to play because we were really young and unable to finish it. But we wanted to know how the rescue mission of a charming Neanderthal ends! Spoiler alert! It was really disappointing since the main guy just hits the "lady" with a club and takes her home. But we spent so many fun moments together, and that's why I will always cherish this memory.
And your most memorable video game moment?
I think it was the ending of Mafia: The City of Lost Heaven. The game is legendary here in the Czech Republic, especially because we barely knew a word in English when we booted it up for the first time, so the native localization made the experience extremely deep. I'm not gonna spoil the ending, but if you didn't play it, there's a remake of it just around the corner. An honorable mention would be Life Is Strange. Not just the ending, but the whole piece. I love the soundtrack featuring my favorite Amanda Palmer and many others. It's a powerful game.
What's your all-time favorite video game? And what sort of game do you like to play generally?
I'm gonna have to repeat myself and give it to Mafia. I also love Skyrim, WoW, L.A Noire, GTA, and generally RPGs, and story-driven games like the Walking Dead series or Fire Watch. If I need to chill out (read: get mad and swear across the room) in the evening I like to play a round in Paladins. I'll also never forget games like Trainz or Age of Mythology.
What's the worst — or most memorable — bug you've come across in a video game?
To be honest, my mind is super bad for this stuff. I kind of push them away, and let the positive side win. I remember the general stuff like falling through the texture in Wow, or disappearing saves in Trainz. I also remember the kung fu guard from Kingdom Come: Deliverance. But probably nothing amazing.
Who's your all-time favourite video game character, and why?
It still changes with the new awesome games coming out all the time but I really love the character of Clementine from the Walking Dead series. She stuck with me because you can see her evolve from an innocent child to a bad-ass assassin who still has her rules despite the cruel world around her. She is caring, cool and relatable. Also, her story is closed at the end but still a bit open for you to speculate a bit.
What's your favorite movie, TV show, and/or book?
I love Edward Scissorhands, Star Wars and a Czech movie called "Lemonade Joe or Horse Opera", which is a very clever parody of typical American western movies. When it comes to TV shows, there's so many I will definitely forget to mention something. HIMYM and The Big Bang Theory along with Friends can always cheer me up. I also enjoy Breaking Bad, American Horror Story, Lucifer, and lately The Mandalorian or Sex Education. I like to read some poetry, so, for example, Bukowski's "Mockingbird wish me luck" or "Poems" from François Villon. I also adore all the Harry Potter books.
And your go-to music playlist is...?
I can go all across the spectrum. I enjoy pop artists like Lady Gaga or Halsey, electronic tracks from Charli XCX or Robyn, alternative folks like Amanda Palmer, rockers like Paramore or The Pretty Reckless, all the way to the heavier stuff, for example, my go-to - Marilyn Manson. All that matters is that it needs to have emotion, and it should be kind of smart (even in its own way).
Cats or dogs?
Both! I even have a tattoo which is half a dog and half a cat - so don't try to convince me! There's a special place in my heart for both of them.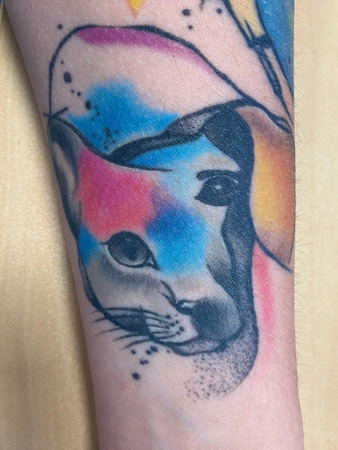 So, as a Marketing & PR Coordinator, what do you do?
Well, it changes a bit, especially with the Nintendo Switch port, which was just released. But you can say I coordinate the marketing and PR work. I'm creating the assignments for images, videos and generally marketing assets for the updates on Xbox. I'm picking the things that we want to highlight in the releases and setting the mood and communication around updates (of course with a major contribution from the rest of the team). I also create the copy and PR texts for our updates (with the manager's supervision). I'm basically making sure that the whole marketing wheel is coming together at the right time, and that everything is consistent. All of that requires a lot of internal communication with development, and also outside communication with the platforms (currently especially with Xbox and agencies).
What do you think are the most important skills / traits to have for someone in your position?
That's a great question. I think you need to know how to plan, and how to handle stuff when the plan falls apart because of some external factors. Creativity and communication skills are the keys to what I do. I myself believe that you need to be kind too and that you should prepare a big chunk of empathy. Because you need to understand your colleagues, but also the customers. Some basic analytical thinking can help you while setting up campaigns or coming up with the description of features and products. I definitely forgot something, but this seems like a great mix for the position I'm in.
What do you enjoy about your job, and game development in general?
I love change! And marketing is something that gives me constant changes. Vigor is an awesome project because it's moving forward constantly. Marketing is an awesome field because one day you wake up, and Mixer is cancelled, or a new and exciting media or creator pops up. You just learn something new every day. Game development is a great field to play in. The majority of people are so amazing, everyone shares their knowledge, and the excitement around making a whole new game out of nothing! You can just feel it in the air. Overall, there are mostly kind and positive people in game dev. At least in the Czech Republic.

I was wondering what the day to day operations of a Marketing & PR Coordinator entails. Also I was part of the Vigor Promotional Partner group which was run very professionally, I wondered what the inception of the Partner Programme was & any tips you have for PR? (@TheYetiBum)
That is a really great question! I already explained a lot in this interview, but my day generally focuses around communication (email, internal, social media), the game itself (to see what's new, how the community likes the new features, if there are any issues - kudos to Pyrit for an awesome job in this regard), planning (assets, campaigns, etc.), research, evaluation and creative work (such as PR and copy). You can't really describe the whole routine since my focus changes a lot. It's different around big updates, major releases and so on. But coffee, emails and a "lot of typing" is always there!
We were happy to have you, the doors are always open if you want to join again. I wasn't really there when the program started, but we want to have a group of excited people who help us promote and shape Vigor! In short, someone who cares about the game and we can rely on their opinion. In return we hope we're supporting these caring individuals. We like to see when some people grow with us and flourish.
That really depends on what kind of tips you would like. For streaming and video content - I would say that the content should always come first. Make it unique! Don't be scared to cut - the majority of people have a really short attention span (and we have a discussion if that's good or bad). The first few seconds are key for your videos or streams - make it nice and clear. Take time to create a great copy for a tweet and especially the headline. It should be catchy, not clickbait. Be consistent - come up with your own brand and stick with it. Right now I would advise you to try TikTok. It will either get banned or it will lure more mature people and will become even bigger. If you follow the 15s styled content it can spread your clips to thousands, maybe millions of people with literally 0 followers. No other platform is able to do so. And it may change in the future, so now is probably the time to jump in.
What is important for Bohemia's social media?(@steam.filsatlari)
Well, that really depends on the game. Generally the biggest emphasis is on community. That's what makes our games so enjoyable, and we owe it a lot.

Tell us about your interview please. How was it? Did you prepare for it? What did they ask? How was your career plan at the age of 22? (@steam.filsatlari)
That is a funny question. It was both expected and a bit unexpected, I already knew a few members of the team from University and a gaming festival Gamer Pie. We had a conversation about my experience in marketing, games, game related campaigns, Vigor itself, and we also had a segment in English. There were some unexpected performance related questions from HR, but I think I managed to answer them honestly. I prepared for it as you would for a regular interview, so I looked a bit more into Vigor and Bohemia itself, etc. But since i knew the company, and followed the gaming industry for some time I had answers for questions like "What well managed and badly managed campaigns comes to mind?" on so on.
My career plan was to work in marketing because I fell in love with this field. I also wanted to finish my degree at the time. It was honestly a dream of mine to join one of the gaming studios one day, so when Dominik Jícha (Marketing & Brand manager for Vigor) reached out there was no way I would say no.

Will there be any Twitch exclusive drops for this game? Like items/skins etc in the future? (@JoyfulAvenger)
;)
Is there anything else you're currently working on in your spare time?

Yes, there's always something. I'm in the middle of making an EP. So hopefully I'll manage to release it one day. I also just started a podcast called "Bloodberries o popkultuře" - sorry, only for Czech speaking guys. The first episode is already out, and we hope we'll manage to release more regularly. So wish me luck!

To finish, tell us one of Filip's Top Tips...
Something for your body: Forget that instant coffee even exists, buy a grinder and plastic V60. Brewing coffee is easy, and the ritual will make you love coffee even more!
Something for your soul: Be kind, and remember, that you're the one creating your own narrative.

Our next Featured Bohemian is right around the corner, so keep an eye on our social media pages for the latest updates. But until then, feel free to learn more about working at Bohemia Interactive by checking out our Careers Page – we may just have the perfect job opening for you. Until next time...