Hey, Jiří. Please, tell us a bit about yourself...
I've worked in the game industry since I finished school 20 years ago. At the beginning, for a brief period I worked for JRC — the biggest Czech game retail chain — and after a few months I moved to Bohemia Interactive. I worked in the purchasing department, before moving to IDEA Games. IG used to be a marketing and sales company for Bohemia Interactive, Black Element Software, and Altar Games, and I was in charge of sales and negotiations with publishers. In the end, all those branches merged into Bohemia Interactive as we know it now. And finally, 5 years ago, I moved to Thailand to start our branch here.
What was your first positive interaction with video games, that you can remember?
I remember playing Snake (or some kind of clone) on the IQ 151 computer in my elementary school. This could be more than 30 years ago.

And your most memorable video game moment?
This is something from my World of Warcraft days. I played the game pretty extensively for a few years in a guild named Motion. We focused on raiding so my most memorable moment is our first kill of Nefarian in a 40-player raid, which was the first kill by our guild and also (I think) the first kill by Alliance on our server.
Another "moment" I still remember after many years is from Operation Flashpoint, where somewhere between finishing a mission objective and the extraction point, I broke my virtual leg (or was shot?). I had no usable save position, so I had to crawl for literal hours through a forest full of enemies to finish the mission.
What's your all-time favourite video game? And what sort of game do you like to play generally?
Recently I don't have as much time to play games as I did before, so I mainly play games when I can play for a short time and don't need to remember story/mechanics, etc., if I come back to the game after a long gap. Good examples are World of Tanks or Hearthstone.
However, there are still some game series which I enjoy when they release a new game or I re-play an older version — Civilization, Diablo, Half-life, Far Cry, World of Warcraft, The Settlers, and so on...
What's your favourite movie, TV show, and/or book?
Now with Netflix, there are just too many :) From recent ones I can recommend Bodyguard or Narcos. I like a lot of stand-up comedians and theirs specials — Bill Burr, Ricky Gervais, Jimmy Carr, and others. I don't read many books anymore (and if so, it is something work related), instead, I moved to podcasts, such as The Joe Rogan Experience.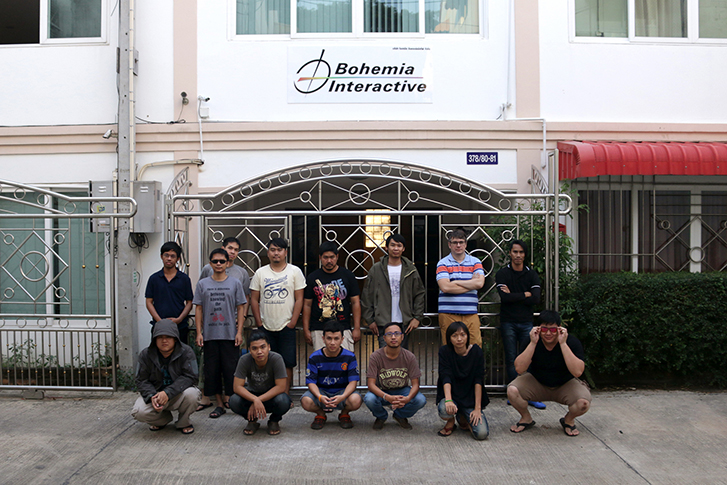 So, as the Managing Director of the Pattaya office, what do you do?
My work is split between the administration of our office, HR, and producer work. A rough split is around 50/30/20.
Under "administration" is everything related to running the office, making sure everything works, the bills are paid, accounting reports are made in time, etc.
As HR, I have to take care of staff in our Thai office, look for new members for the team, etc.
Finally — and most importantly — I need to manage the development tasks we get here and make sure they are finished on time.
Living and working in another country is not easy – how do you cope and manage with the language barrier and lifestyle, what are the best things about working with the Bohemia Interactive team in Pattaya, and what sort of work does the team there do? (@thebuckfastwine)
The language barrier is not such a big deal, although I consider my inability to learn Thai my biggest failure here. Thai is tonal and very different from European languages, and even after a couple of serious attempts my brain just cannot cope with it.
I really like living in Thailand — the weather is perfect for me and the beach is just a few meters from the office :). I love Thai food even when I have to be careful about the level of chili Thais put in the food :). Serious advantages are low taxes and lower living costs, so most people who move to Thailand with the same income will improve his/her economic situation.
Also, Pattaya is the perfect size city for me, not too big like Bangkok (which I don't like so much, mainly because of traffic) but big enough to have everything I need for a comfortable living. Our office is in a quiet part of the town near the beach and a huge park, but still only a few minutes from the city center. Pattaya has a pretty (in)famous reputation, but in reality it is a good place to live as it offers something for everyone.
About the team here: the main difference is it is younger and less experienced than our other teams, so to balance it out we need one or two experienced foreign developers as leaders here. Usually, we have someone here from another team to improve our work.
About the work we do here: we have 2 departments in Thailand. The first one is the Art team, which makes assets for several BI games (Arma, DayZ, Vigor). The second team is under our QA department.
What made you guys in Bohemia open a studio in Pattaya? How is the game development scene overall in Thailand/Pattaya? And what's it like working there on a personal level? (Michal Lenhart)
After the original idea of opening an external studio dedicated to art, we focused on Thailand due to 2 main reasons: a) we had a partner for the distribution of our games here who helped us collect information for the setup and b) Thailand Board of Investment has an incentive for foreign investors, so it was relatively easy to start a new company branch for us.
Why Pattaya? We were deciding between Pattaya and Chiang Mai at the beginning (Bangkok was out of the discussion for various reasons). It was a very close call, but in the end, we chose Pattaya, because it is closer to Bangkok and I wanted to live close to the ocean :).
The development scene in Thailand is growing quickly, however, most of the teams are in Bangkok. There are several teams for mobile games, and outsourcing teams. One of the challenges for us is that most artists here seem to be focusing on manga and fantasy style, so to find someone who likes to work on realistic models for Arma or DayZ is not so easy.
Apart from that — and the different language — working in Thailand is not much different.
What do you enjoy about game development in general?
When the game is finally finished and I see good feedback from players it is a really nice feeling, even when I was a very tiny part of the whole thing.
Is there anything else you're currently working on in your spare time?
I tell my wife how she should run her company, but it is not really appreciated...
Our next Featured Bohemian is right around the corner, so keep an eye on our social media pages for the latest updates. But until then, feel free to learn more about working at Bohemia Interactive by checking out our Careers Page – we may just have the perfect job opening for you. Until next time...