1) Hey, Lynn. Please tell us a bit about yourself...
My full name is Htun Lynn Zaw, but I usually just go by Lynn. I'm originally from a small town called Monywa in the north of Myanmar. I came to Prague three years ago to do my Bachelor's in Creative Media. I'm a proud dad of a cat named Llewyn Ramen (because he's brave like a lion and soft like ramen).
2) Can you tell us a random fact about yourself?
When I was a teenager, I got into a big fight with my parents because I brought a stray kitten home. Afterwards, I left home for a few months, doing my own couch-odyssey with a cat in my backpack.
3) What was your first positive interaction with video games that you can remember?
I grew up during a brutal dictatorship in my country. So there was very little access to the internet to say the least. Gaming communities were usually concentrated in internet cafés, which you can easily find in any street. People would pay 300 Kyats (around 18 cents in USD) per hour to play. The most popular games to play via LAN were Counter Strike 1.6 and DOTA. It was a blast to just go there. You teamed up with kids who are strangers and you end up either becoming friends or raging to the point of actual physical fights!
4) And your most memorable video game moment?
I'm not quite sure about the moment. The entire origin story arc of Ezio Auditore in the Assassin's Creed franchise is just fun and memorable, and is what makes Ezio the most compelling character in the entire franchise (in my opinion).
5) What's your all-time favorite video game? And what sort of games do you like to play generally?
I don't think I have an ultimate "favorite." Aside from FPS games, I play a lot of open world RPGs. I love the Yakuza franchise. It's just a whole lot of fun to play them. I play a lot of CS:GO. Of course, I recently started playing a lot of DayZ (Yes, even outside of work). And maybe a tiny spotlight should go to The Saboteur, just because it was way ahead of its time and is very much so underrated.
6) Who's your all-time favorite video game character, and why?
I love Wei Shen from Sleeping Dogs. I grew up watching a lot of Jackie Chan films (especially the police story franchise). It's just amazing I could play out my childhood fantasies.
7) What's your favorite movie, TV show, and/or book?
Movies: An Elephant Sitting Still, Inside Llewyn Davis, Paterson, Memories of Murder
TV Shows: Community, Fleabag, Atlanta, The Good Place
Books: I grew up reading a lot of literary fictions, especially magical realism ones. So, I would recommend Murakami, Italo Calvino, Raymond Carver, Rushdie, Toni Morrison.
8) And your go-to music playlist is...?
According to my Spotify, I'm supposedly genre-fluid.
Recent favorites: Jacob Banks, Britney Howard, Sufjan Stevens, Moses Sumney, Anderson Paak. BADBADNOTGOOD, Kings of Convenience, Milo
9) Cats or dogs?
Both, but I only have a cat for now.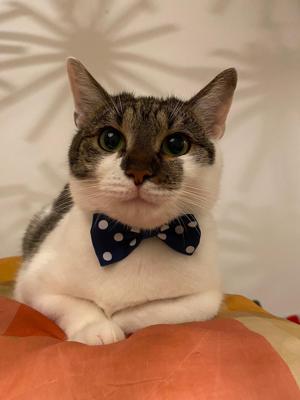 10) Name one game you're a pro at...
I don't think I'm a pro at any game. In fact, I'm aggressively mediocre at most games. Even in CS:GO, I'm kind of like solo-queue-solid-stuck-at-silver kind of player.
11) And one game you're a noob at…
Apex Legends. I'm just really bad at jumping around.
12) So, as a Junior Community Manager, what do you do? What does your usual day look like?
I act as a communication intermediary between the team and the community of the game. This means my regular day would be checking on all the feeds of social media outlet and direct messages for potential issues while generally being mindful about the emotional climate of the community towards the game. I also write/create content and events to engage with the community.
13) What do you think are the most important skills/traits to have for someone in your position?
I would say empathy is very important. At the end of the day, no matter how begrudgingly disgruntled a community member would be, they are just looking to have a good time with the game and want what's best for the game.
14) What do you enjoy about your job, and game development in general?
The people of course. Both the team and the community around are very much reminiscent of the close-knit small town feel that I grew up with.
15) Lynn, how many hours do you have logged in DayZ currently?
I'm only nearing 300 hours in Steam. DayZ will always be a special game for me and I do like to take my time and I rarely binge it.
16) Twitter or Discord or DayZ forum, what's the best?
Forum. It just feels more concentrated. But twitter has a better reach for us, so you will mostly find me there.
17) What I'd like to know; how did you learn to deal with sometimes harsh comments about Dayz and its functionality and gameplay/bugs in the forums and on social media and does it affect you as a person?
I don't think it affects me personally at all. But I do like to indulge myself to intentionally take it personally at times. Because no matter how harsh the comments may be, at the heart of it all, it really does come from a place of love for the game. Being able to be vulnerable on behalf of the game and reaching out to the disgruntled member of the community to understand how and why I can provide support, really makes a big difference in my line of work.

18) Is there anything else you're currently working on in your spare time?
I love producing podcasts!
Aside from that, there's been an ongoing revolution back home against a brutal military coup after a decade of a pseudo-democratic state. I'm very much closely tied to the cause. So I've been trying to help with that any way I can.
19) To finish tell us one of your Top Tips...
Tip 1: Never buy a new acoustic guitar. Older ones always sound better.
Tip 2: MSG is harmless.
Our next featured Bohemian is right around the corner, so keep an eye on our social media pages for the latest updates. Until then, feel free to learn more about working at Bohemia Interactive by checking out our Careers Page. We may just have the perfect job for you. Until next time...