Hey, Cihan. Please tell us a bit about yourself.
Well, I'm Cihan (Džihan if you're using Czech pronunciation or G-han if you're using English) from the mysterious land of Turkey. Like many of us, I decided to become a video game developer at a young age and spent most of my free time playing games before starting to code them. I've spent a big chunk of my life in my hometown of Ankara. I grew up with pets, started coding with Visual Basic in high school, became a member of two metal bands, played some gigs, attended a few coding contests and game jams, and got my bachelor's degree in computer engineering.
After working for a few months as a tool developer, I headed to Montréal for my master's degree in computer science. During my master's, I worked on realistic rendering, character animation, and a bit of machine learning. I learned how to survive in -30 degree weather, spent long nights either with friends or at the lab, tried to join the local raccoon gang (a complete failure; turns out racoons are pretty xenophobic towards other mammals), and so on.
After those fun times, I thought I should return to the corporate world and joined a Miniclip studio as an AI developer. I worked on realistic AI behavior and pathfinding systems there, became the mother of a Eurasian jay that fell from the nest, ended a long-standing war between two local dog gangs, and warmed my bones in a seaside city after spending hectic winters in Montréal. One day, I decided it was time to try entering the AAA. And here I am, at Bohemia Interactive, discovering české hory a luhy, sipping české pivo, enjoying the view, and working on the ARMA franchise.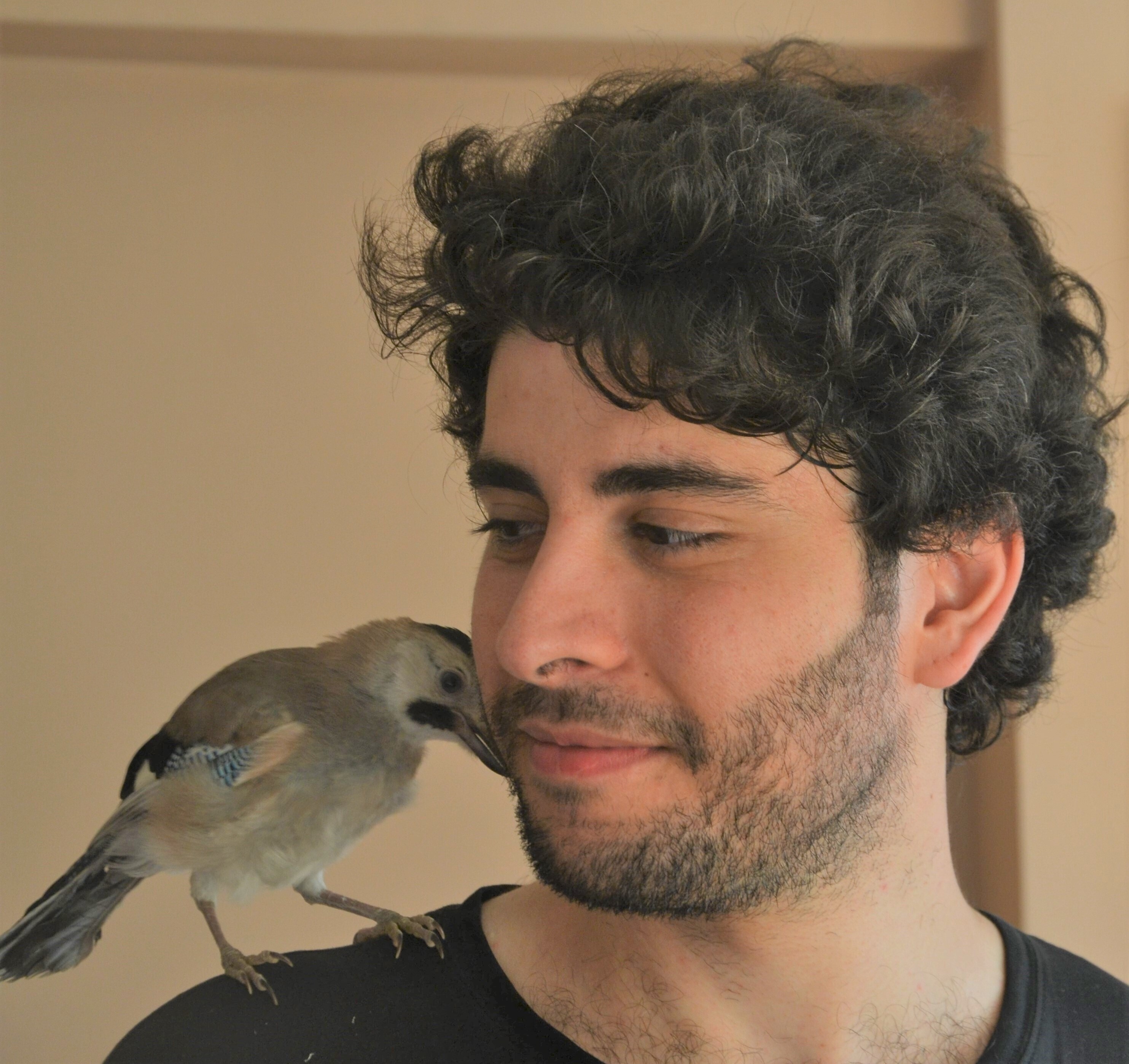 The Eurasian jay Muhittin and me (right).
Can you tell us a random fact about yourself?
A few years ago, I decided to join a Street Fighter II tournament, even though I'm a complete noob. My whole strategy involved going to the edge of the screen and continuing to throw punches with Dhalsim (crouch + light punch). I was 100% sure that I wouldn't survive for long since there were hardcore players in the tournament. Yet (and I still wonder why), nobody was able to come up with a good strategy against my constant crouch + light punches. So, somehow, I defeated all of my opponents, plus three unexpected challengers!
Everybody was understandably furious because of my troll-like gameplay strategy, and I didn't receive my award even though I finished in 1st place.
You can find actual footage of me winning after a close call here.


What's the first positive interaction with video games you can remember?
I am not that old, but I owned an Atari 2600 when I was a kid. That's when I learned that video games exist. There was this frog game that I was completely hooked on. I spent many hours on Frog Pond.
And your most memorable video game moment?
Hearing the PS One intro followed by the Crash Bash intro for the first time. It was a deep, immersive experience for me, and I was completely mesmerized after spending years on Sega Mega Drive and NES.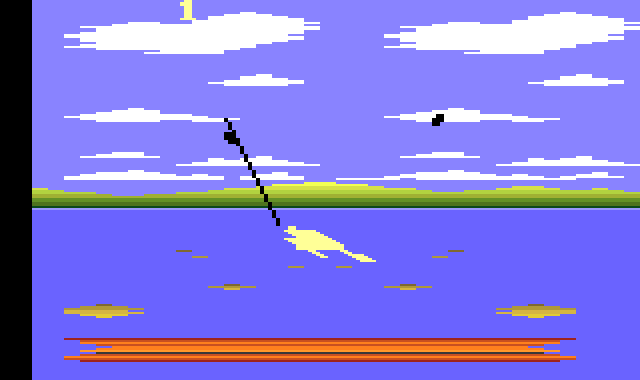 What's your all-time favorite video game? And what sort of game do you generally like to play?
It's definitely GTA 2. I still play it on my PS One and PSP from time to time. I know Anywhere City better than any of the cities I've lived in.
During the last 6-7 years, I remember mostly playing real-time and turn-based strategy, grand strategy and simulation (business/tycoon, CMS, management) games (Booooring!). In general, though, I enjoy action-adventure, specifically its subgenres like stealth and survival horror games. Total War, Tropico, and especially the Hearts of Iron series have a very special place in my heart. I also enjoy Bomberman, Sid Meier's Pirates!, GTA, Splinter Cell, Silent Hill, Resident Evil, the controversial Manhunt series, and the recent Batman games. Other than those, I also spent lots of time on Pro Evolution Soccer (from International Superstar Soccer Deluxe to PES 15), some NBA games, Tekken (mostly Tekken 3), and Mortal Kombat (mostly I, II, IV, and 9).
Who's your all-time favorite video game character and why?
If Batman counts, I'd say Batman. If not, then it's Max Payne. The reason is that even when these characters get broken in every possible way, they just keep coming back and continue to stand, continue to fight. I find this connected to the world and inspirational.
Which game has had the biggest influence on your life?
There's definitely not one single game that's had a complete influence on me. But there are a few different games that have influenced me in different respects.
I'm really impressed by how open and endless Sid Meier's Pirates! gameplay is and how it combines different game genres in a single game. I love how GTA 2 is full of really good details about the city, on the radio, and in dialogues, and how it's a completely fun game to play. I love how Max Payne 2 is artistically made and the way it tells its story. I find Manhunt's usage of sound and shadows, the environmental design, and AI behaviors (especially in regard to the sound) fascinating. I also like how the frustration in Manhunt increases slowly like a really good slow-burn movie. I'm blown away by the chaotic gameplay of the Metal Slug series. I mean, the game is complete chaos; you can't even survive more than a few minutes without seeing the continue screen, yet you keep spending your arcade tokens on it. That's incredible! And last, but not least, Papers, Please. I think it's important proof that you don't need fancy graphics and complicated/deep mechanics to make an awesome game.
What's your favorite movie, TV show, and/or book?
Oh... Well, it's really hard for me to come up with my favorite movie. But when I read the question, Rashômon, Stranger Than Paradise, Little Children, and Lost Highway came to mind. I know Rashômon is based on a short story and Little Children is based on a novel. I haven't read them yet, so I don't think I can pass complete judgement on those movies. Between Stranger Than Paradise and Lost Highway, I think I like Stranger Than Paradise more when I consider the story it tells, how it was shot, and how it conveys the main idea of the movie in the way it was shot. So I'll go with Stranger Than Paradise as my favorite movie.
My favorite TV show might be South Park, Seinfeld, or The X-Files. But when I consider how I am constantly referencing and forcing my friends to watch some episodes, it must be South Park.
Similar to the movie situation, it's hard for me to pick a single book as my favorite. But I think Arabesques by Nikolai Gogol and Human Landscapes from My Country by Nâzım Hikmet Ran stand out among the books I've read so far.
And your go-to music playlist is?
If I need to focus or need something energetic, then I go for albums by Marilyn Manson, Slayer, Arch Enemy, Lamb of God, Behemoth, Burzum, Gorgoroth, Marduk, and so on.
If I need something calm, then I listen to Chet Baker, Sarah Vaughan, Stina Nordenstam, Rasputina, Shannon Wright, Regina Spektor, Fiona Apple, and Zülfü Livaneli.
If I need something in between, then my choices would be PJ Harvey, Stef Chura, La Luz, Mr. Airplane Man, Goat Girl, 7 Year Bitch, Anna Calvi, Gogol Bordello, or Muddy Waters.
Something electronic? Then I'll put on an album by The Knife, Fever Ray, Goldfrapp, iamamiwhoami, АИГЕЛ or Com Truise.
Cats or dogs?
Between those two - dogs!
What do you do as a Programmer? What does a typical day look like?
I design, develop, test, evaluate, and maintain independent systems based on software engineering principles and clients' requirements. Those systems work together to form computer software. In this specific case, the software is a video game.
And my days follow as: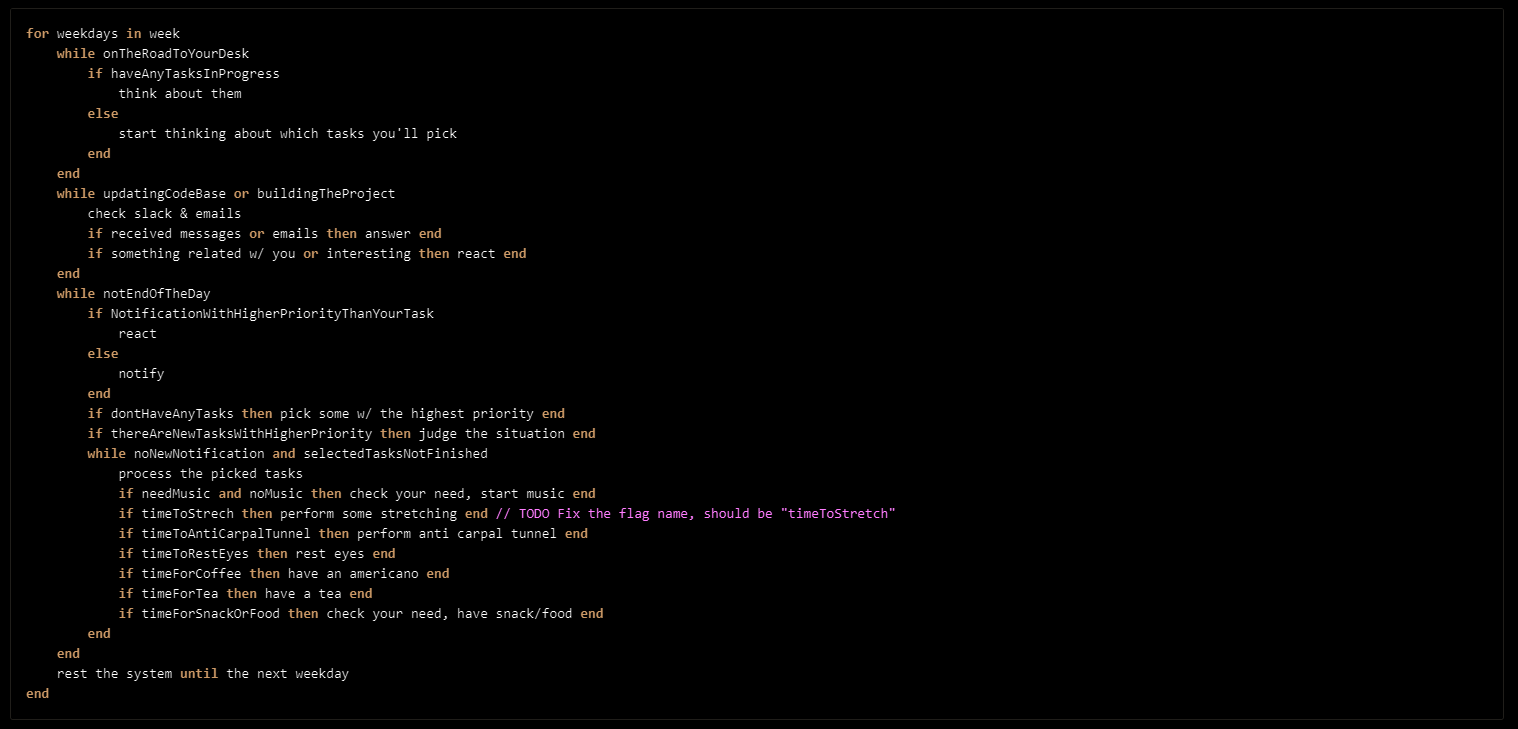 What do you think are the most important skills / traits for someone in your position to have?
Well, the most obvious skill you need is at least upper intermediate level (B2) English. But I think this is a skill you need in general these days. Otherwise, I don't think you can improve yourself and stay up to date.
Next is a software engineering mindset and skills as a whole. We're working in a fast-growing, fast-changing, billion-dollar industry that is directly affected by or has an effect on other industries (movies, sports, etc.) and / or markets (such as hardware). You need to work with advanced techniques and technological tools in order to produce your product (software) and you need to be sure it will operate properly on different platforms/hardware with limited resources. This can only be achieved successfully with software engineering skills and vision. Without the skills, you'll only produce a faulty product (or as it is commonly said: a game full of bugs; can't even run at a proper frame rate). Without the vision, you cannot develop solutions that are reusable in future projects and can handle future needs with minimal changes.
When it comes to gaining software engineering skills and vision... Well, I think the easiest way is getting a proper higher education in computer engineering or computer science, and I definitely recommend this approach in terms of vision. Because gaining vision is the hardest thing to do and having years of experience won't necessarily compensate for a lack of it.
Another important skill is abstraction. It directly affects how you approach a problem, how you model and implement a solution, how you form your architecture, etc.
There are also some soft skills that are important, both for your personal growth and your colleagues' sanity. I think the most important ones are open-mindedness, a constant desire to grow, and self-assessment. Those skills are important for keeping your ego under control, not supporting a toxic environment, not getting stuck in your comfort zone, and not becoming outdated. They even have an effect on producing maintainable, bug-free, quality code.
What do you enjoy about your job and game development in general?
From a software engineering point of view, I enjoy solving problems using technology. In terms of game development, I like obtaining the results of our solutions visually.
What has been your most memorable moment at Bohemia Interactive so far?
Oh, it's definitely the three months I spent at Mníšek as a mocap survivor.
It was the whole package, you know, from fun and happiness (cool fellow survivors, "VIP pass" at BBQ parties, table tennis league, so on) to drama and horror (missing the bus that runs just once every hour, going to the kitchen for cooking and realizing it's completely booked, climbing up Lhotecká during the night with boars, etc.).
What's been your greatest personal accomplishment at Bohemia Interactive?
It's just my opinion, but I think calling something your own personal accomplishment in video game development (unless you're literally doing everything on your own like an indie developer) would be discarding other peoples' work and that would be unfair. We're working in an industry that is formed by people with completely different backgrounds who are constantly collaborating to produce a single, complex product. So I believe it's literally a complete team effort. I can't remember any tasks where I didn't collaborate (directly or indirectly) with a designer, scripter, QA tester, or programmer. I think it's really rare for all of us to work on a task completely alone. In the end, if there was no animation, character, and so on, my fancy pathfinding algorithms would all be for nothing. If there were no scripters, the API and the code I developed would be useless. If we had no game environment, everything would be completely empty. And if there was no engine, well... then there would be no game.
What do you think has been the most important change/shift in the industry since you started?
I can name two big changes: the emergence of mobile gaming and the home office situation due to COVID-19.
Growth in mobile gaming has made our work familiar to people of all ages. It also helped the industry to grow financially and gain more technologically advanced tools. The importance of marketing has increased, and we've even started using unexpected mediums for marketing purposes. I think it has also shaken up the monopoly AAA companies have in the industry. Developers now have a bigger opportunity to develop their own ideas without necessarily depending on a big gaming company's workforce and publishing power.
When it comes to the home office situation, COVID has already changed a great deal of things and it will continue to change them. It helped us reevaluate the system and identify the myths that have been imposed. It revealed which companies in the industry are well-structured, technologically advanced, and formed by people who adapt to changes. It also revealed which companies are not. I also feel the home office situation will introduce a new model to our industry. Many companies have already added home office or remote working options to their job offers and the companies opposing this change may end up losing most of their workforce.
What advice would you give people looking to work in video game development?
Well, first thing's first: they should be 100% sure that game development is a good fit for them. Because playing games is fun but developing them is not necessarily the same. Regardless of the role they want to pursue, it is a very stressful job. You always need to race against time and struggle with limited resources. Developing a game requires lots of effort and, unfortunately, the result you get (both emotionally and financially) doesn't always match the effort you put into development.
I would also suggest they accept the fact that video games are still products and video game development is still a business from a managerial point of view. So the decisions that are made always have the financial side in mind. In other words, even if they have incredibly innovative ideas or the most artistic approach toward a particular game, those may all be discarded due to financial reasons. The sooner they accept this fact, the easier they'll be able to adapt and enjoy their job.
Next, I'd recommend people sharpen their communication and conflict resolution skills. As I've already mentioned, this is a multidisciplinary industry. Regardless of their role, they'll need to constantly cooperate with people who come from different experiences and backgrounds. Having good communication and conflict resolution skills is always handy.
Is there anything else you're currently working on in your spare time?
It depends on how you define "working on something in your spare time".
I'm very interested in economics, history, philosophy, and human behavior. So I'm always trying to do some serious reading on those topics when I have some free time. I'm also trying to learn Czech, which I think can easily be considered a part-time job since the language is really hard (at least for me).
Other than that, I'm working on my own mobile game ideas and developing a development pipeline for it.
Oh! I almost forgot. There is also this thing.
Let's finish with one of your top tips.
If you can't decide on something, just flip a coin. You'll either figure out what you really want or the decision will have been made for you.
Our next featured Bohemian is right around the corner, so keep an eye on our social media pages for the latest updates. Until then, feel free to learn more about working at Bohemia Interactive by checking out our Careers Page. We may just have the perfect job for you. Until next time...