Someday You'll Return: Director's Cut - Photo Mode Contest
What would you do if your daughter went missing? How far would you go to track her down? Venture into the old Moravian woods to find Stela, and unveil the shroud of your sanity in the process. Someday is a critically acclaimed game of psychological horror that has been polished, expanded, and rereleased in this new Director's Cut.
Find out what happened by visiting the place where tragedy first struck. Use your wits, map, and tourist tracks to navigate the mysterious landscape. The forest is full of old memories, abandoned camps, murky swamps, and collapsed bunkers. Discover local stories to solve otherworldly puzzles and maneuver through locations you once knew so well. And don't forget to keep your head down. Something out there might be watching.
If you haven't already, now is the best time to get yourself Someday You'll Return: Director's Cut on Steam or PlayStation.
The game offers an incredible atmosphere and countless beautiful locations that you would just love to stay in and just enjoy the surroundings.
After immersing yourself in the mysterious atmosphere of Someday, you can then also show the world your favorite places or moments from the game, and even win lots of amazing prizes.
That's why we have prepared a Photo Mode Contest for you.
Photo Mode was one of the many new features added to Director's Cut. It allows you to capture your favorite moments and also edit them fully, right in the game.
Someday You'll Return Director's Cut - Photo Mode feature
How it works
After you create your in-game photo, just head over to our Facebook or Twitter and add your creation in the comments section below our post announcing the contest. And that's it, you're in the competition!

The top 5 contestants will be chosen based on the number of reactions to their competing photo under this post. So, even if you are not competing yourself, make sure to show some love by liking your favorite entries.
From the five selected candidates, the top 3 will be chosen by a jury consisting of Bohemia Interactive employees. All five entries will also be featured on our social media.
The contest runs from June 6th (5:00 PM CEST) to June 27th (11:59 PM CEST).
Prices
1st place
can look forward to a
signed poster
from the game's developer Jan Kavan and Bohemia Interactive CEO Marek Španěl, a
Steam Gift Card worth
50 €
, a
free digital copy of our game
of the winner's choosing, and a
50% discount on your next order
on
Bohemia Store
.
2nd place will compete for a 25 € Steam Gift Card, a free digital copy of our game, and a 50% discount.
3rd place wins a 10 € Steam Gift Card, a free digital copy of our game, and a 50% discount.

And lastly, 4th and 5th places will receive a free digital copy of our game and a 50% discount.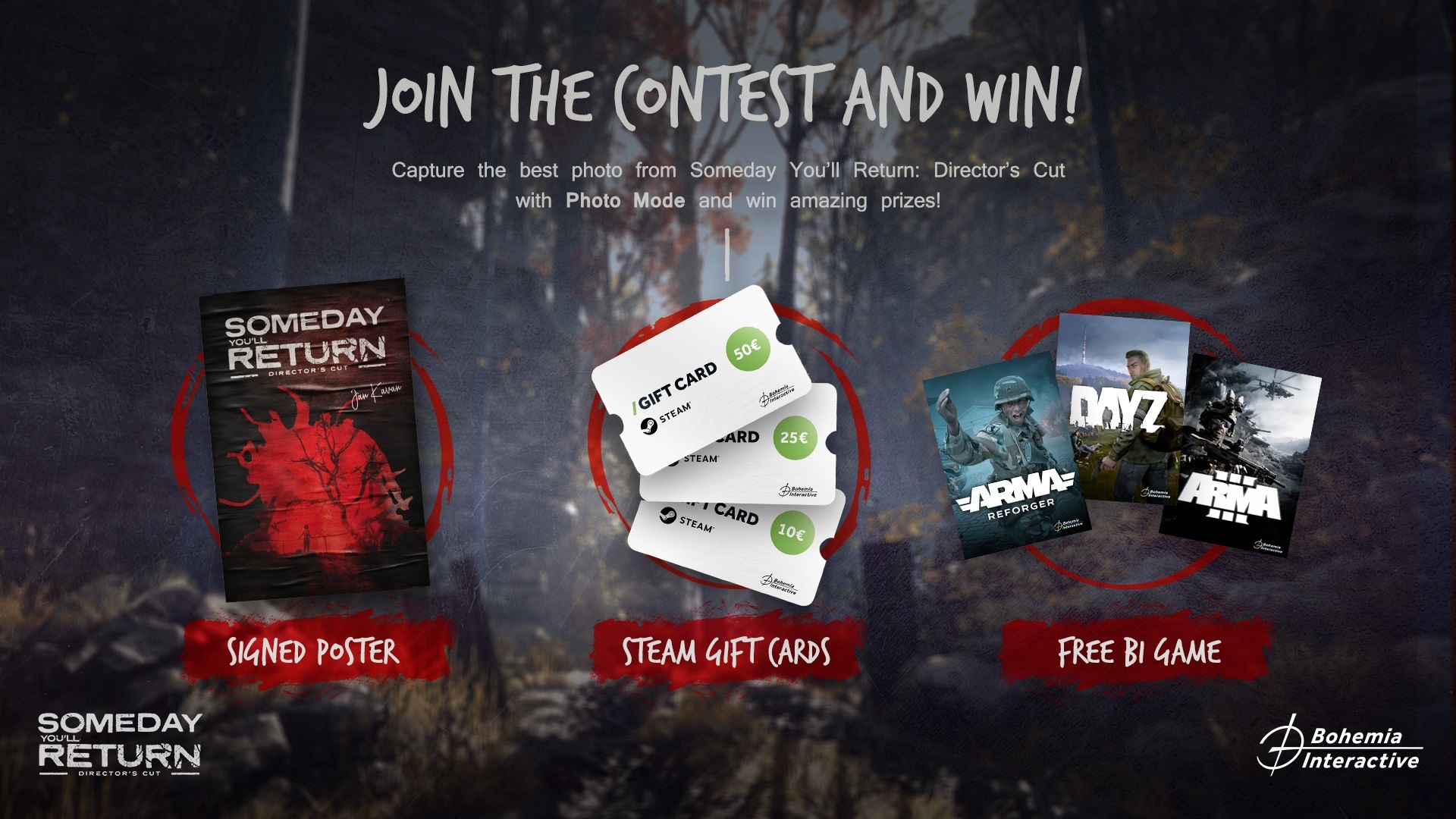 Full terms and conditions of the competition can be found here.
We look forward to your entries!