Vigor Is Out Now On Nintendo Switch
Hei Outlanders.
It's been a long ride, but we're finally here. Vigor just launched on the Nintendo Switch platform and is available as the Founder's Pack edition. Welcome to post-war Norway, Outlanders, we're happy to see you. There's plenty of loot for everyone.
It's been a few months since the Closed Beta, and we utilized that time to address as much feedback as possible. Huge thanks for providing us with insight on what would benefit Vigor on Switch the most. One of the biggest changes was enabling gyro aiming, which should make it easier for skilled Outlanders to hit their targets. We adjusted the controls as well, both in their default sensitivity settings as well as switching the A/B and X/Y button actions while in Encounters. We tweaked the art settings to provide even better results, especially in handheld mode. The team also listened and improved UI readability, fixed audio issues and polished the overall gameplay experience. Last but not least, we added the possibility to play with your friends and leaderboards. There's still a lot of work ahead of us and your feedback during the Founder's Pack period can confirm our direction.
I keep repeating Founder's Pack, let's see what that's all about. We decided to take the same approach as we took on Xbox and release the game as a premium title first before it goes fully Free-to-Play. This allows us to form a bond with our community and gather initial feedback. While we're pretty sure the current version is great, we know that feedback may improve it even further. As a reward for all the Founders, there's a hefty package of exclusive cosmetics, title and Crowns, our premium in-game currency. While we wiped the progression for Xbox Founders before the Free-to-Play release, this step is not going to happen for Switch - you'll be able to carry your progression over.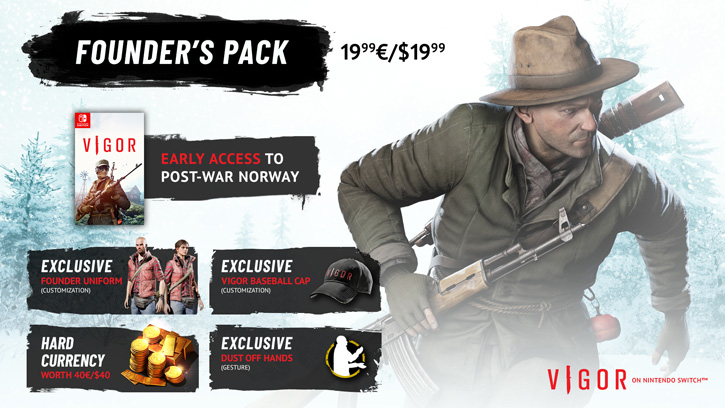 One of the reasons for that is that we share both the back-end and game servers with the Xbox population. That allows us to have cross-play available from the very start - you can expect quite fast matchmaking times compared to the Closed Beta. This is going to be beneficial for both platforms as more people in the matchmaking pool means a faster and better experience for everyone. Facing the Outlanders from Xbox may be an intense experience, still, we tried that vigorously on our tests and results were comparable. Please, keep in mind that while you may even join random duos with Outlanders from Xbox, you're not able to carry your progress from one platform to another.
While the Closed Beta was in the second season, we're releasing in the current Battle Pass season in parity with Xbox. That means we're in the fourth, Warlords, season. There've been many changes in the game meanwhile, new weapons and cosmetics were added, as well as new tools. You're able to obtain for example plans for the jammer and mortar strike in the premium Battle Pass. Or you can test your shooting skills in Shootout and Elimination, our experimental game modes that aim to help in learning the ropes of movement and shooting in Vigor. If you're not a shooter type, you can enjoy looting two sets of mementos, elusive Nordic trolls that giggle if you miss them and lighters that have a distinct sound if you bring them to your Shelter. There's been a ton of new additions and improvements since the Closed Beta, feel free to explore it.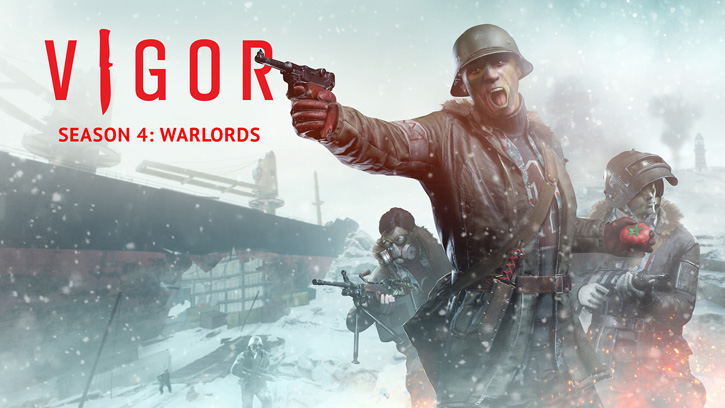 And while you're exploring the game, please don't forget to share your experience. We're checking all the social networks, and our own forums, we even created a Facebook group specifically for our Outlanders on Switch. We're happy to gather feedback as it helps us to improve the game even further. We'd gladly add influencers on Nintendo Switch to the ranks of Vigor Partners as well. Feel free to check their streams and videos to learn the ropes of living in post-war Norway. Added to that, even our current Vigor Partners may have some keys for the Switch version to share as well, feel free to check their content, maybe you'll get lucky and catch a giveaway.
While the Switch version was just released, we can assure you that we're continuously working on new things, improvements and fixes for both platforms. Be prepared for regular updates during the Battle Pass season and major updates with every season as well.
Become the Founder: https://www.nintendo.com/games/detail/vigor-switch/
See you in the Outlands!