Bohemia Recap - April 2021
Welcome one and all to the latest Bohemia Recap!
We started off the month by having some fun on April Fool's Day, then kept things rolling by releasing a few updates, celebrating a six-year anniversary, wishing everyone a Happy Easter, and welcoming aboard a couple of new community managers.
So grab a beverage and get yourself comfortable because it's time to dive into all of April's highlights and happenings.
Bohemia Interactive
Despite loads of positive feedback and multiple demands of "Take my money!", the wildly popular Take On Tank Racing is sadly not real.
Our fun and informative Meet the Bohemians interview series returned, this time showcasing Pattaya-based Senior 3D Artist Nattavut Mantanakul and Brno-based Junior QA Tester Josefína Juhasová. Head on over to Bohemia's blog when you have a moment and Meet Nattavut and Josefína.
Bohemia's Top Tweet in April: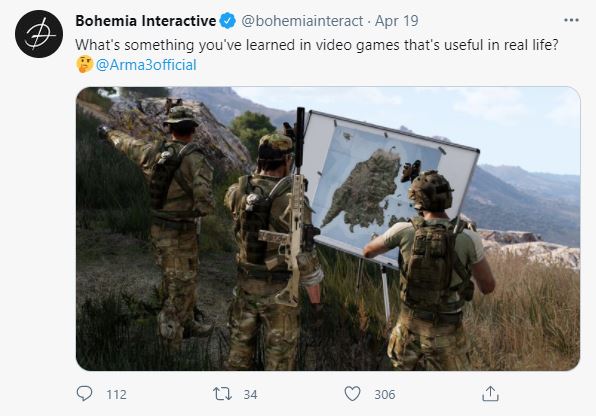 We warned all Outlanders to be wary of April Fool's and wished them a Happy Easter to boot.

The Vigor community continued to thrive thanks to a ton of community corners, community creations, and asking fellow Outlanders all kinds of helpful questions. Speaking of questions, we answered a bunch of them on our Dev stream, which has also begun streaming on YouTube.
We tantalized players with the upcoming season and shared reactions and walkthroughs from our Partners. Not wanting to torture anyone for too long, we released Season 8: Trappers on April 21st. You can read all about the new season on our blog.
Vigor's Top Tweet in April: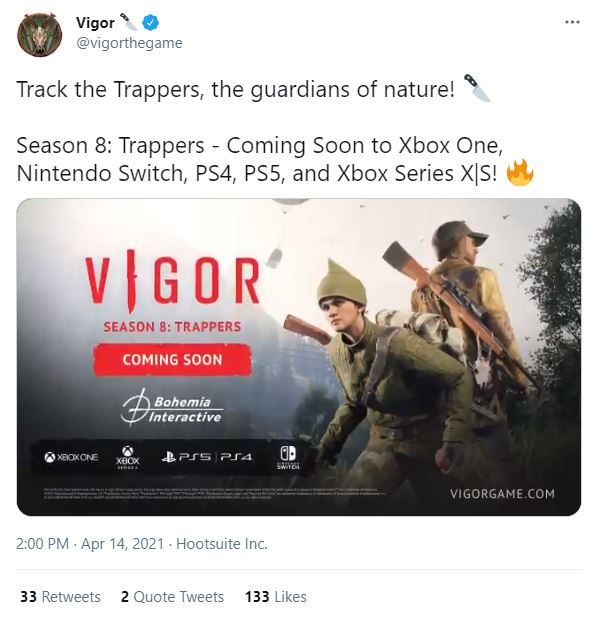 Ylands
If you haven't seen the amazing video by Nikki (featuring Adam) that explains the changing of the Community Manager guard, then drop what you're doing and join us in saying, "CM WHO"? And if you need even more Nikki in your life, take a gander at her introduction here.
Those of you with inquisitive minds can quench your thirst for knowledge by checking out 2 more Q&A sessions with Ales here and here.
In other news, Naru continued to upload more Ylands videos on his YouTube channel, Ales dropped some exciting mobile news while writing about bringing back bigger islands to Ylands, and major changes to crafting are coming soon.
Rounding things up, make sure you don't miss what's in store for Ylands after update 1.6.
Ylands' Top Tweet in April: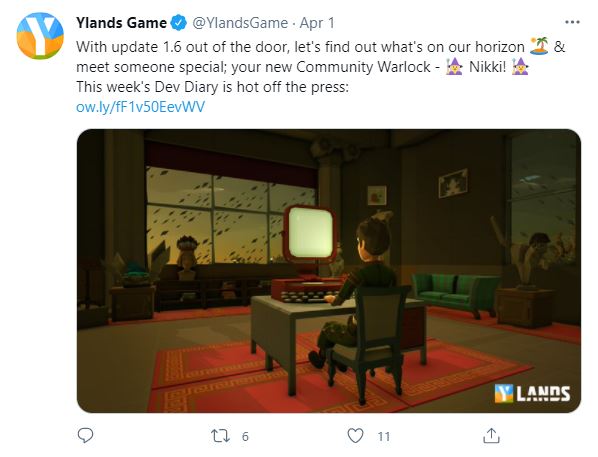 DayZ
April brought with it the release of update 1.12 on all platforms! You can read our article for all the details, as well as the patch notes for both PC and consoles.
Accompanying the update, we'll also be releasing hotfixes in relation to feedback from the community in support of balancing changes. You can find info regarding the first hotfix here.
We wished everyone a Happy Easter and kept the holiday celebrations going a little longer by including an Easter Egg in the form of an Eggsperimental Capsule in our experimental update.
Walpurgis Night typically occurs on April 30th, but we celebrated the witch burning event on the 29th with new cosmetics that included a witch hood, witch hat, witch broom, witch nose, and cauldron. There were also new points of interest to be had in the form of burning bonfires with their very own loot spawns.
On the community side of things, we asked fans and players alike to #FillTheBubble and released another highly entertaining Community Spotlight.
DayZ's Top Tweet in April: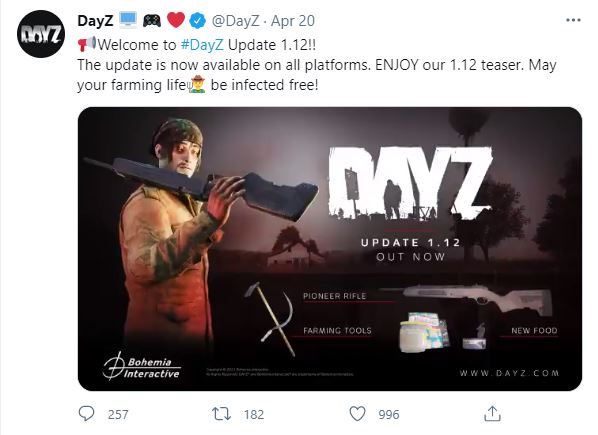 Arma 3
The biggest news that came out of the Armaverse this month was our announcement that Arma 3 Creator DLC: S.O.G. Prairie Fire is coming soon!
Also arriving in the near future is CLSA Studio's Creator DLC – CLSA Iron Curtain, which is scheduled for release later this year. The studio was kind enough to provide a sneak peek of their anticipated work by sharing a few screenshots with the public.
Other goings on included the release of update 2.04, a rather engaging Community Profile interview with our new Community Manager in North America Justin LeClair, and a roundup of special community content and activities, which you can read about in Community Radar #21.
Arma 3's Top Tweet in April: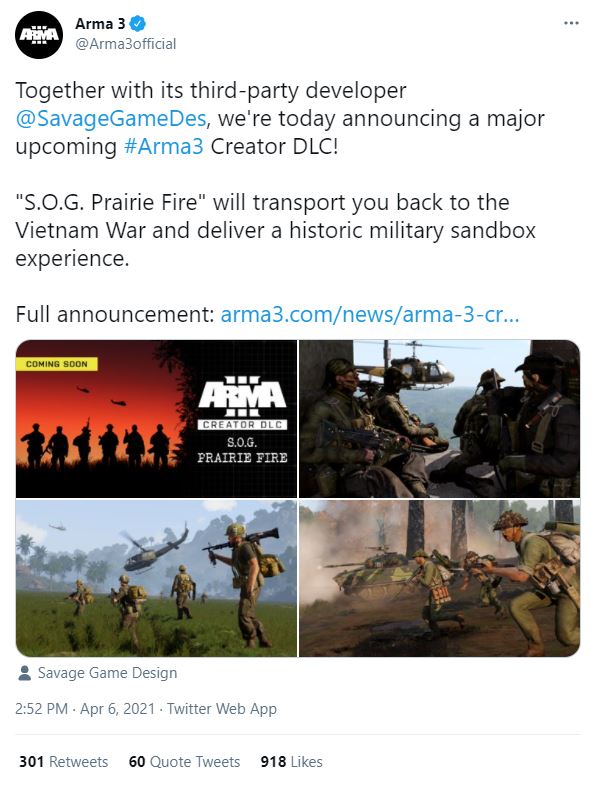 Mini DayZ 2
April 20th marked our six-year anniversary, and there was much rejoicing both in our offices and amongst the game's faithful.
It wasn't all just party hats and celebrations, however. That's because we also released update 0.5.30, which includes fixes to some of the game's most pesky bugs, along with a new quarry building and significant changes to stealth, loot drops, ranged combat, and urban locations. Check out our blog for more details!
Mini DayZ 2's Top Tweet in April: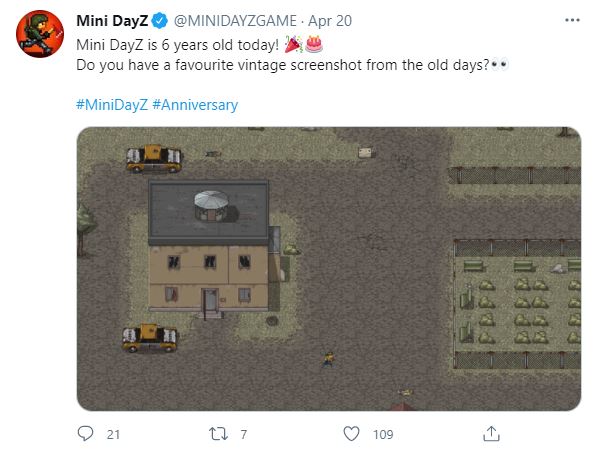 What else?
That's a wrap for this month. If you'd like to learn more, or want to stay updated on all the latest happenings, make sure to follow us on Facebook, Twitter, Instagram, and LinkedIn.
Until next time, stay safe and game on!