Bohemia Recap - July 2021
July was marked by soaring temperatures, jaw-dropping thunderstorms, and all kinds of goings-on at B.I.
We were featured on Czech national television, released a number of major updates to our games, supported a great cause in Brno, and a whole bunch more.
So kick back and relax with all the latest highlights for the Bohemia Recap has returned!
Bohemia Interactive
We're always happy to share stories about the people behind Bohemia Interactive. Which is why we allowed Czech National TV to peek behind our studio's curtains. Check out the footage starring Bohemia Interactive CEO Marek Španěl, Creative Director Ivan Buchta, Senior QA Tester Míša Bodi, and Edita, our very own MBT, here (Czech IP addresses only though). Some pictures from the report can be found below.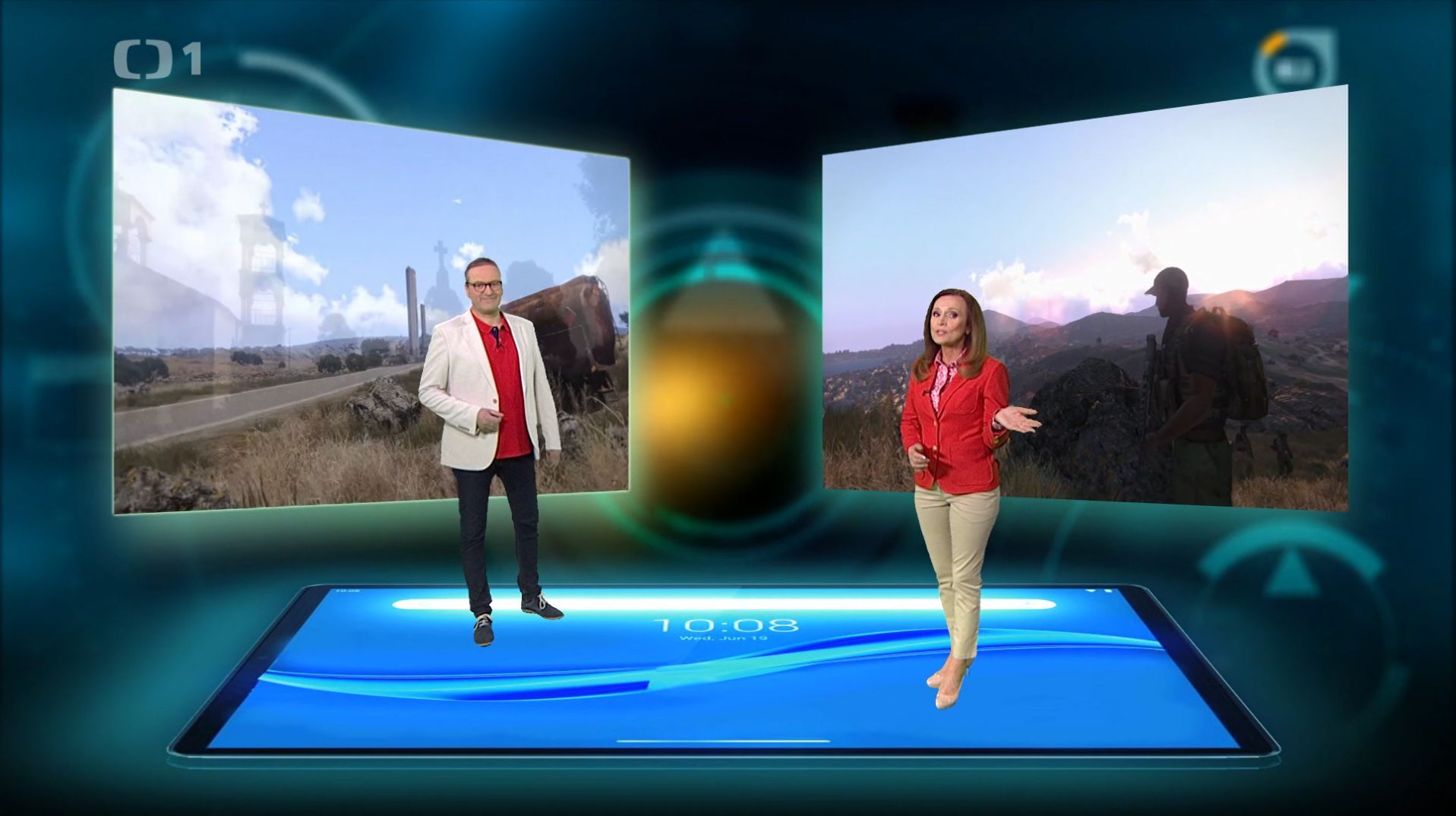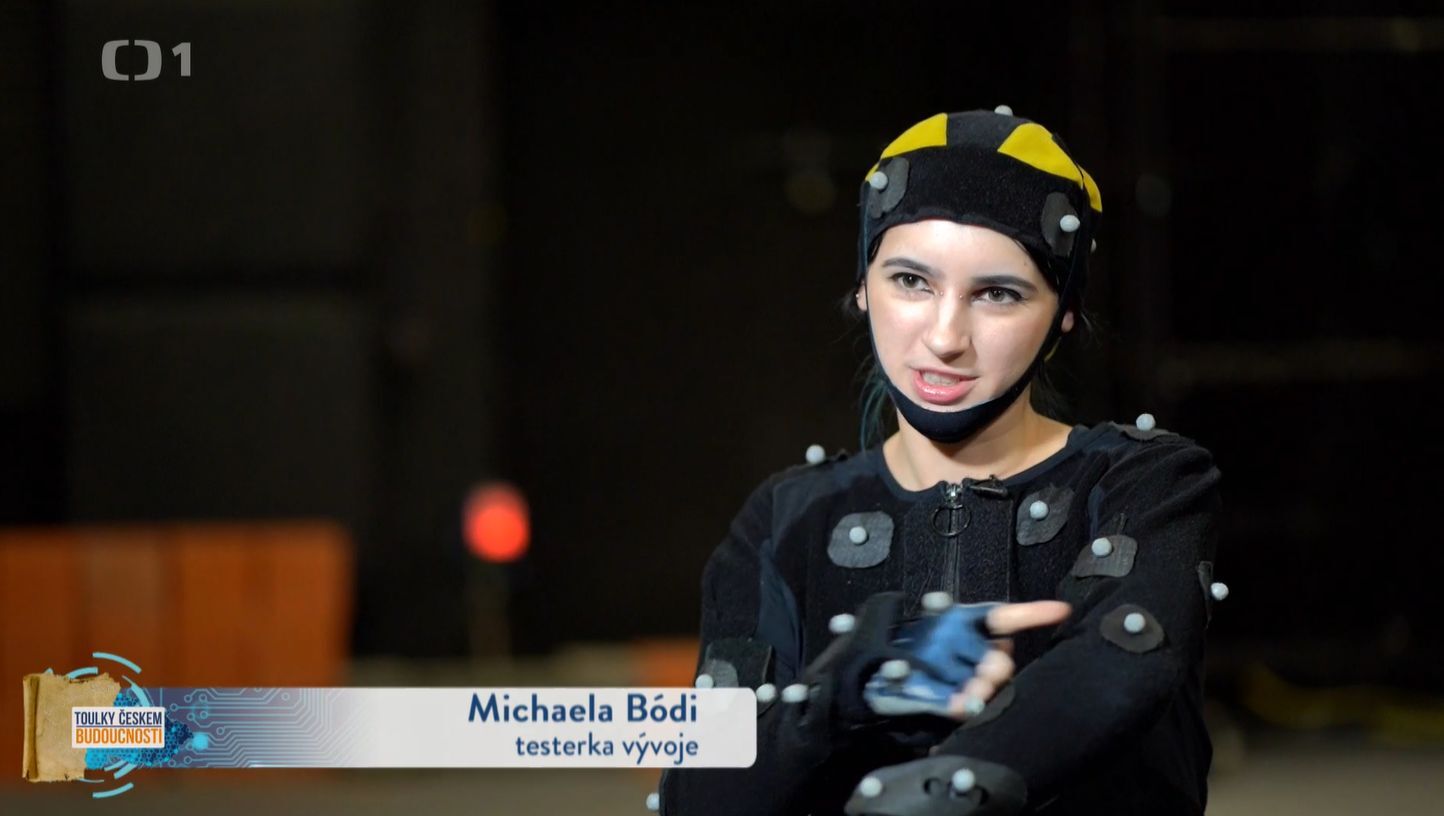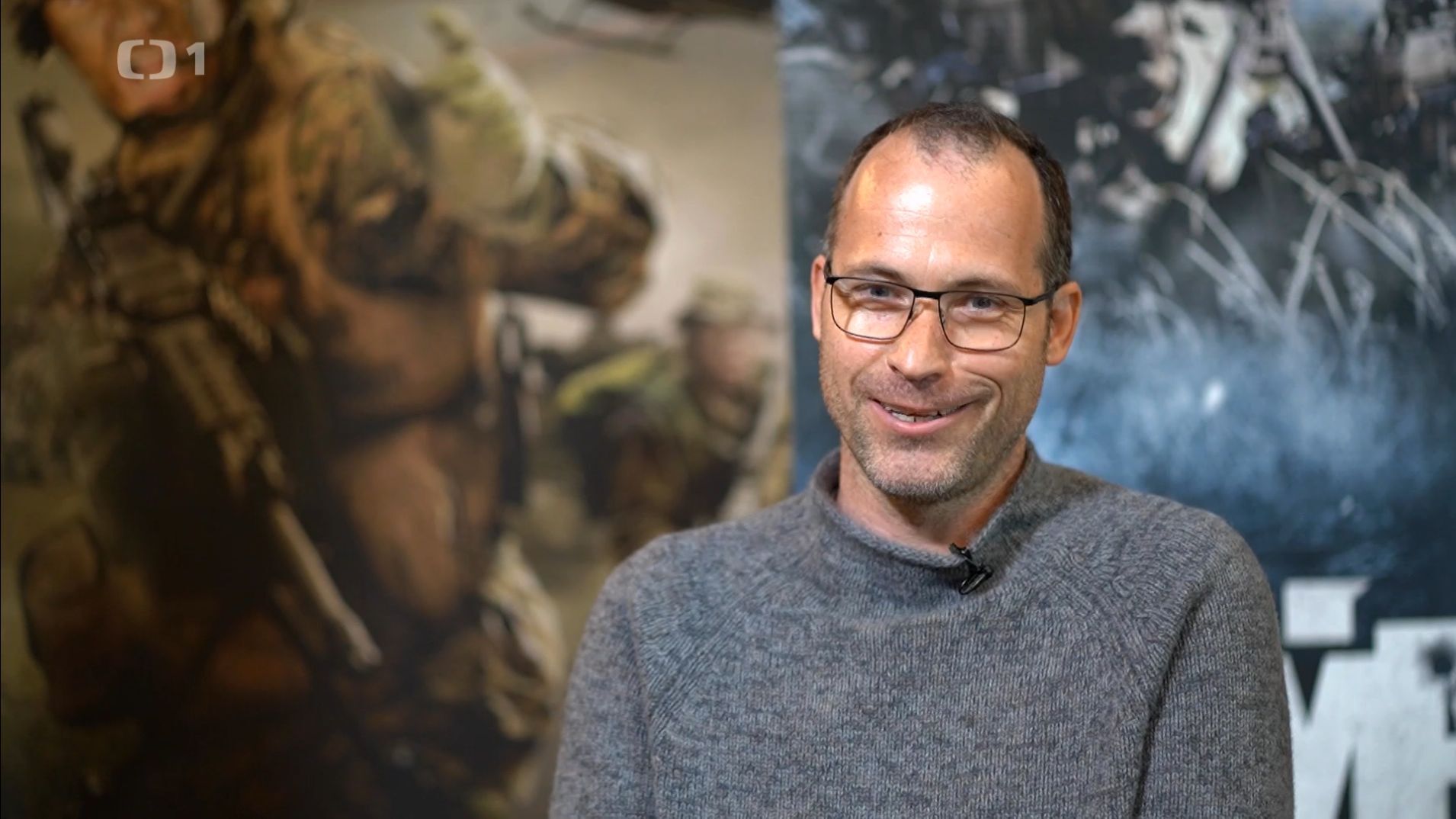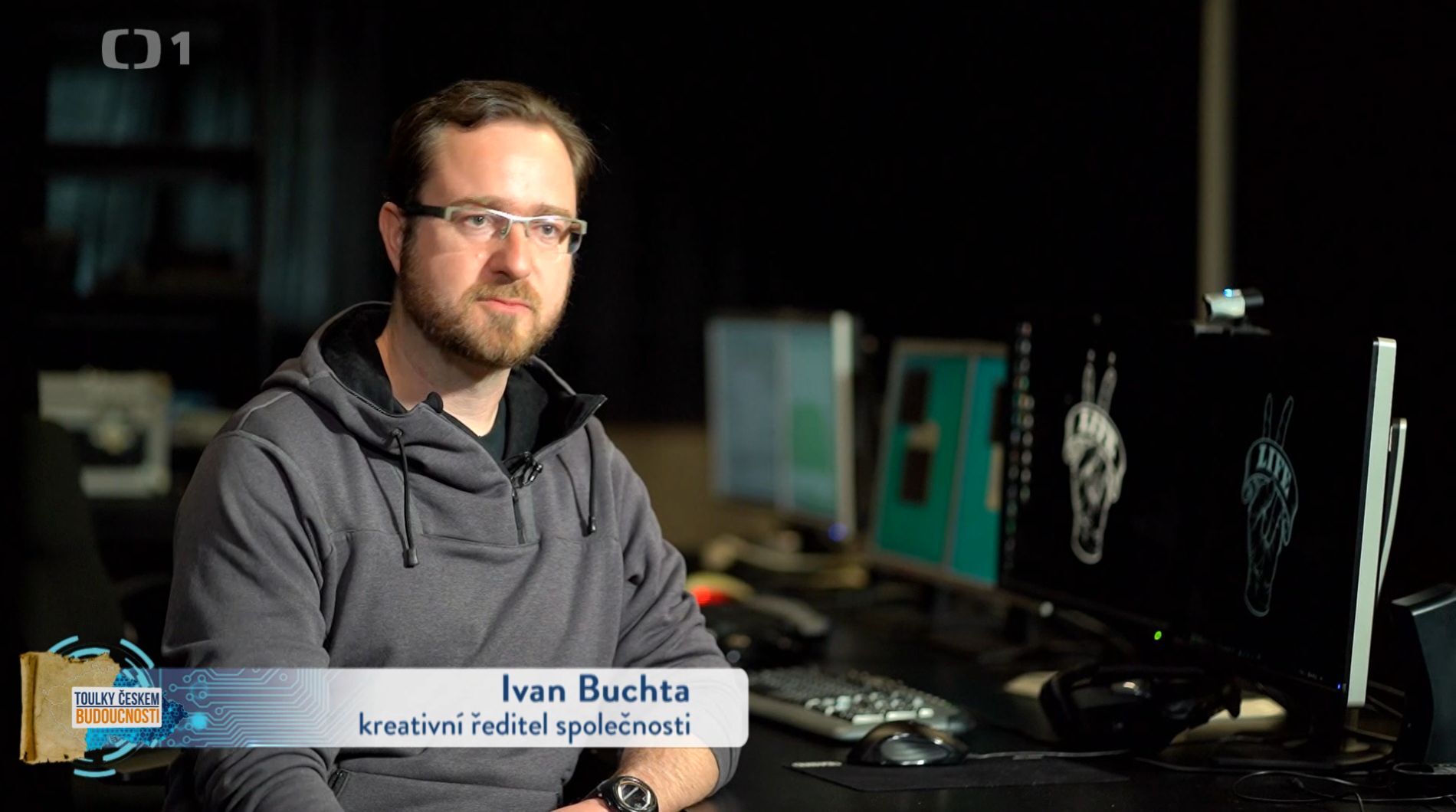 In other news, our popular Meet the Bohemians series delivered not one, but two entertaining interviews this month. Make sure you set aside some time and learn more about your colleagues Rakpon (Senior QA Tester) and M. Cihan (Programmer).
Vigor
We released Update 8.1 on June 30th, which introduced Legacy Season 1: Preppers, as well as changes to consumables, titles for devs and Partners, and a whole lot of fixes. We know this is a recap for news that went down in July, but we wanted to mention it here since it was a rather important development.
If you prefer to watch videos, don't miss the Dev Diary that covers the basics of Update 8.1: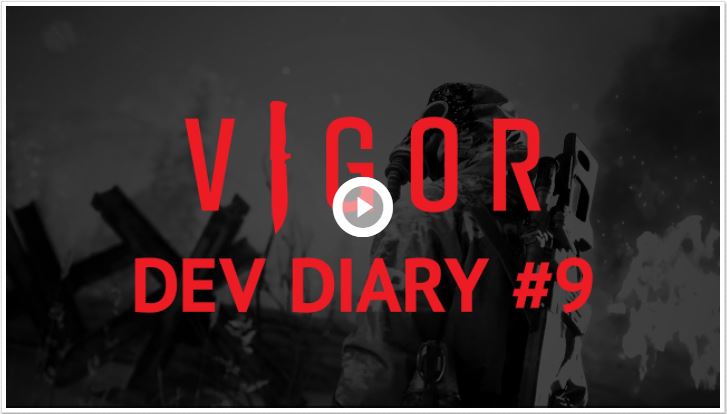 Moving on, Outlanders enjoyed a Double XP Weekend between July 3-4, and we released a new version of the PlayStation Plus Bundle. If you are a PS+ member, you can claim it for free.
We also have a new Thank You Charity Pack which is available on all three consoles (Xbox, PlayStation, Switch). Proceeds will go to University Hospital in Brno where the Vigor team is located. So pick up a Charity Pack and support a good cause!
Want to help out your favorite looter shooter? Then we'd love to hear your feedback on which Premium Pack you liked the most. You can submit your vote here.
Wrapping things up, we continued with our regular competitions, interesting data, tips, and Dev Streams!
Top Tweet in July: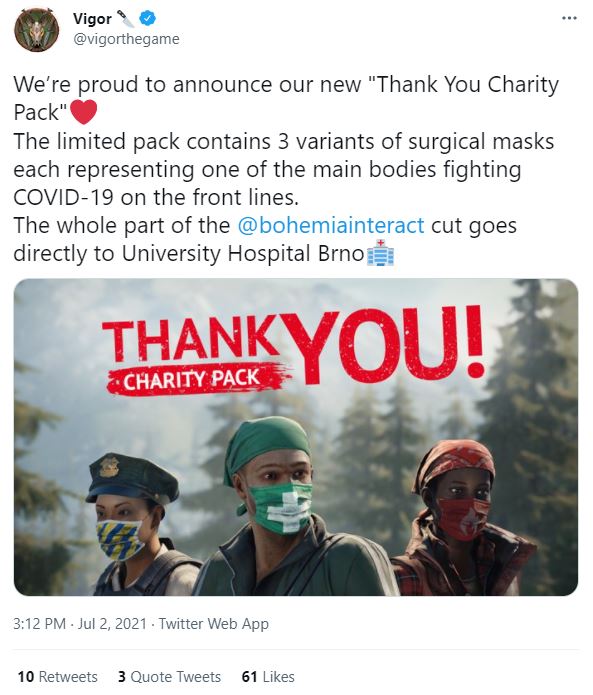 Ylands
In July, Ylanders dusted off their spyglasses and refreshed their map reading skills to ready themselves for Update 1.7 - Marvelous Mysteries! Out of nowhere, these new ylands appeared on the map and required our skilled adventurers' help in solving the challenges that lie within.
Since the newest update was so feature-packed, Nikki, Naru, Equi, Rudy, and Aleš introduced some of them in a live stream. Oh, you missed the stream? Worry not, you can watch the recording right here!
If you've been waiting for Ylands to add some form of progression to the game, this is it! Get back on your ship and start solving these wonderful, epic, fantastic MARVELOUS MYSTERIES!
Top Tweet in July: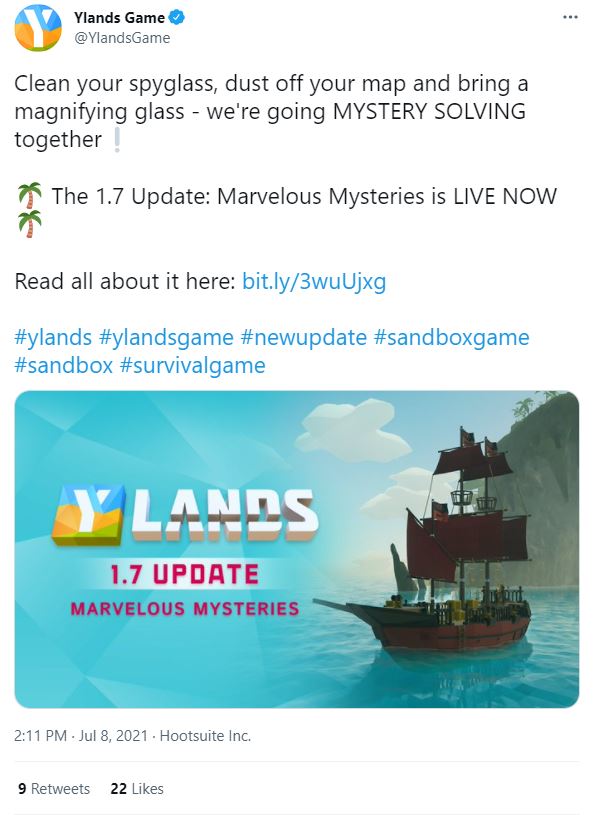 DayZ
We kicked off a busy month by celebrating the 4th of July with our American brothers and sisters. Then we really started cooking with gas when we released Update 1.13 on July 13th. Check out the teaser and dive into this blog post, and if you really want to know your stuff, you can peruse the changelog for PC and consoles. We also supported Hotfix 1 that dealt with the surround audio issue on Xbox and Hotfix 2 which balanced the infected attack range.
We announced our DayZ competition winners on July 17th then watched with awe the following day as our Spanish speaking fans created the Spanish Community Takeover. The event involved 1 server, 2 weeks, 70 streamers, and 4 exclusive spots in a helicopter that would fly them somewhere safe. We live for stuff like this, which is why we supported the fantastic idea with social shares and stream engagements, along with keys and promo codes for our merch store.
Rounding things up, we celebrated Nitrado's 20th anniversary, released DayZ's wallpaper for August, published our monthly Community Spotlight, and are currently putting together an interview with our Junior Community Manager Lynn for an upcoming edition of Meet the Bohemians.
Top Tweet in July: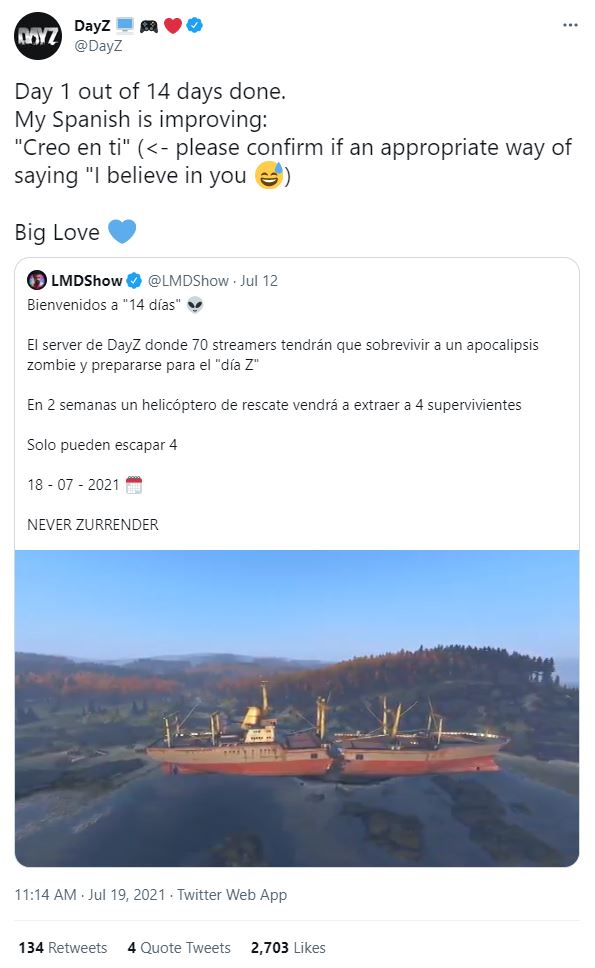 Arma 3
Just a couple of quick shots out of a relatively quiet Armaverse this month.
The first is that CSLA Iron Curtain got a boost this month with the release of Hotfix #2.
The second is that we got plenty of great responses for Community Spotlight #78.
And we'd be remiss if we didn't mention that our Community Manager Niles left the Czech Republic and returned home to the States. Luckily, he's still a part of our team, and while we'll miss his physical presence in our office, at least we have this memorable video of him that we'll cherish forever.
Top Tweet in July: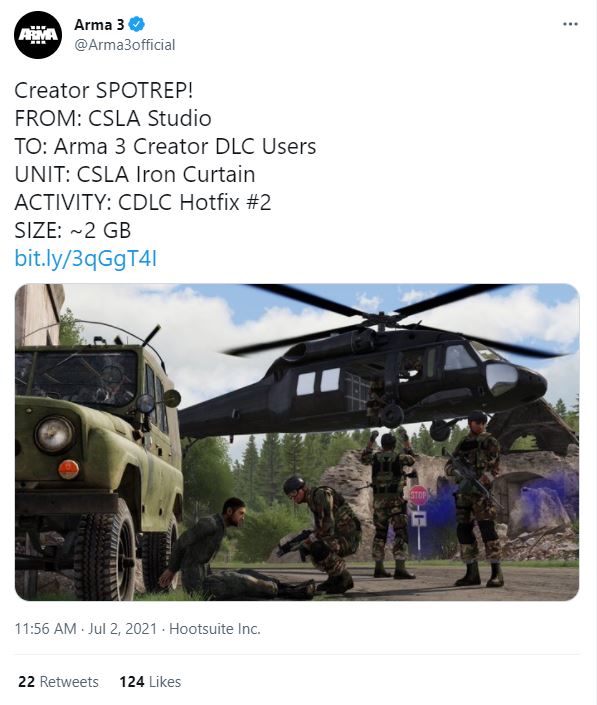 What else?
That's a wrap for July. If you'd like to learn more, or want to stay updated on all the latest happenings, make sure to follow us on Facebook, Twitter, Instagram, and LinkedIn.
Until next time, stay safe and game on!